Do famous people just get more attention when they get sick, or are more and more well known figures managing to live through cancer in a way that somehow surpasses the rest of us?
There have been a huge number of stories in the past year alone about celebrities being diagnosed with, and living with, cancer — from legendary singer/actress Olivia Newton-John to political commentator Rush Limbaugh to "Jeopardy!" host Alex Trebek. All three have recently revealed that they are dealing with really difficult cancer battles, yet all three continue to work and make public appearances regularly, inspiring millions of us.
Read More
The livelihoods of the aforementioned survivors raise an important questions about access to cancer care, and perhaps information. It's very reasonable to believe that people with high profiles tend have an easier time getting information about top doctors or cancer centers when challenged with a diagnosis. Not to mention, having a higher income makes
traveling to the top cancer centers
for your individual disease a whole lot easier.
RELATED: People Traveling for Cancer Treatment Can Get Free Housing With New AirBNB Program
While it may not be possible for everyone to get to a comprehensive cancer center, they are typically the best options for people facing cancer — especially if the disease is complex.
Dr. Heather Yeo, a colorectal cancer surgeon at Weill-Cornell Medical Center, explained to SurvivorNet in a previous interview that because she meets with her colleagues at the cancer center regularly to discuss advances in their field, they can be sure to always offer patients to most up-to-date treatment options.
Colorectal cancer surgeon Dr. Heather Yeo explains the importance of being treated at a multidisciplinary cancer center.
"I work very closely with medical oncologists, radiation oncologists, radiologists, pathologists — and we meet every week to talk about all of the patients," Dr. Yeo explained. "While colon cancer has standard courses and standard treatments, there are new drugs and new trials coming out all the time."
Disparities
In trying close the gap between famous and not so famous, rich and poor, racial disparities are one of the most important factors to address, according to Dr. Otis Brawley, the Bloomberg Distinguished Professor of Oncology and Epidemiology at Johns Hopkins University, who previously spoke to SurvivorNet.
For instance, says Brawley, researchers were "actually able to figure out that people who do not have insurance — and [that usually means] poor people — did not have a decline in the melanoma death rate, whereas insured people did have [an acceleration in the] decline in melanoma death rate. That implies that there are treatments, cures for cancer that Americans cannot get because they cannot afford them."
Still, many of the famous faces living with cancer today are doing their part to raise awareness and advocate so that the care they were fortunate enough to receive is more widely available. Below, we've compiled a list of celebrity cancer survivors and the advocacy work they've done since they were diagnosed.
Alex Trebek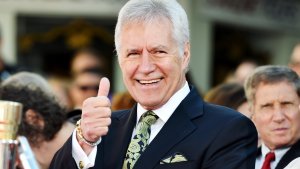 Earlier this month, longtime "Jeopardy!" host Alex Trebek hit an incredible milestone: getting to the one-year mark after his pancreatic cancer diagnosis. Trebek was diagnosed in March 2019 with stage 4 pancreatic cancer, an extremely difficult disease that has a five-year survival rate of only 3%.
RELATED: 'Jeopardy!' Cancels Live Tapings Because of Coronavirus
Yet Trebek has used his platform, and his incredibly loyal fanbase, to share a crucial message. He has not only become a spokesman for pancreatic cancer awareness, participating in campaigns to spread knowledge about symptoms of the disease, he has also been really candid about the trials and tribulations of going through cancer treatment.
In a video celebrating hitting the one-year mark, Trebek explains that he is among only 18% of people who make it to the one-year mark after being diagnosed with advanced pancreatic cancer — and while he's incredibly grateful, it's been a very difficult journey.
"I'd be lying if I said the journey was an easy one," the host said. "There were some good days, but a lot of not so good days. I joke with friends that the cancer won't kill me, but the chemo treatments will. There were moments of great pain, days when certain bodily functions no longer functions and sudden massive attacks of great depression that made me wonder if it really was worth fighting on. But I brushed that aside quickly because that would have been a massive betrayal — a betrayal of my wife and soulmate Jean, who has given her all to help me survive. And it would have been a betrayal to other cancer patients who have looked to me as an inspiration and a cheerleader of sorts."
Rush Limbaugh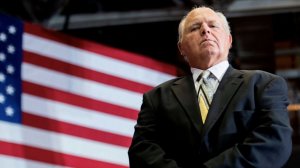 After conservative radio host Rush Limbaugh went public with his advanced lung cancer diagnosis last month, telling his "The Rush Limbaugh Show" audience that he had a great team of doctors and they were moving with treatment full steam ahead, he stayed quiet about the cancer for a number of weeks.
RELATED: Cancer Over Politics — Support From All Sides Comes in For Limbaugh After Cancer Diagnosis
The reason for that, he shared in a post titled "My Cancer Conundrum" published a few weeks after he went public, is that, like so many people living with cancer, he doesn't want to be talking about the disease all the time.
"If you're not careful, this disease can take over your life … it can become all-consuming, which I don't think is good," he said. "I don't want every day to become [about] scans, blood draws, notes, records, phone calls to doctors."
Limbaugh also noted, however, that he realizes how important it is to be a public figure facing a really serious illness — noting that he finds the message Alex Trebek has been sharing since his diagnosis inspiring.
"I don't want to keep everybody updated every day. … Then the other side of it is, I know full well how inspiring it can be. Alex Trebek is inspiring a lot of people," he said. "So, to me, it's about finding a happy, a proper balance here. 'Cause I guarantee you, you could get sick and tired of me talking about [my cancer treatment] if I did."
Olivia Newton-John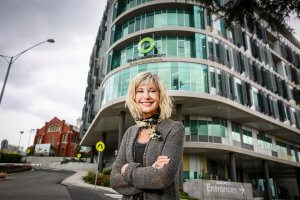 The "Grease" star is currently battling breast cancer for a third time — this time, her disease advanced to stage four. But she hasn't let the prognosis dampen her spirit. The singer/actress is incredibly active, and has taken an integrative approach to cancer care that many people find inspiring.
She helped establish the Olivia Newton-John Cancer Wellness & Research Centre in Melbourne, which incorporates traditional cancer treatments with wellness techniques and approaches to help alleviate some of the mental and physical side effects that can come after a cancer diagnosis.
In an interview with SurvivorNet last year, Newton-John said the "holistic" approach to treatment has been incredibly important for her own cancer journey.
RELATED: Olivia Newton-John Shares Amazing Cancer Update: 'Things Are Shrinking'
"I said I would lend my name only if they include a wellness center, that was really important to me — to support the whole person going through this journey," Newton-John said. "We have acupuncture and meditation and yoga and homeopathy, and all the things that I was able to do for myself and that people can't always afford to do. I wanted to make that a part of the program, and I've been very grateful and very thrilled that the patients are getting to experience those things as well."
Abby Lee Miller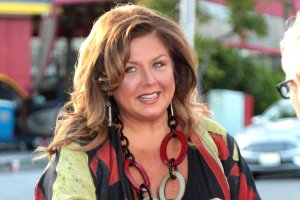 The image "Dance Moms" star Abby Lee Miller shared to social media when she announced she had just been treated for cancer sent shockwaves through her fan base. Miller, just after being released from prison for tax-related charges, revealed that she had been diagnosed with a rare cancer called Burkitt Lymphoma in 2018. Included with her announcement was an image taken after surgery with a massive scar running down the reality star's back. She explained that she had to undergo emergency surgery followed by an intense chemotherapy regiment.
Miller's recovery from cancer treatment has not been an easy one. To this day, she still uses a wheelchair to get around. But she has been keeping fans updated about her journey to getting back on her feet, regularly sharing videos from physical therapy of her small, but strong, steps.
Miller also used her experience to urge her followers to advocate for their health, sharing that she was initially ignored by doctors.
"Why didn't the ER doctors on duty do their jobs? I came in twice with the same symptoms[.]," Miller wrote of her cancer diagnosis. "Why didn't someone listen to me, the patient? I finally found the right team that's why I live to tell my story, I have a lot to say!"
Learn more about SurvivorNet's rigorous medical review process.