For people going through cancer treatment, milestones can be especially poignant. Philip Dwyer and Katerina Mesa, who met when they were both being treated for cancer, are planning their dream wedding after the groom learned his cancer was terminal.
"When the oncologist said our time with Phil was going to be short, we decided we were going to do everything we wanted to do. One of those things was getting married. The other was getting a puppy," Mesa told WBZ4 CBS Boston.
Read More
The pair have been engaged for the last year, and were about to head to Florida to look at venues for their wedding when they got the terrible news that Philip's cancer had spread. Now, friends and family are pulling together to raise money online, so that Philip and Katerina can have the wedding they've always dreamed of before Philip's cancer takes over completely.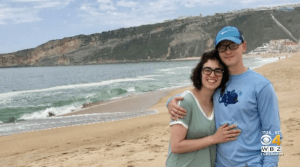 Philip has been fighting a rare cancer that begins the bone called osteosarcoma for the last 6 years. While in treatment, he met his beautiful bride Katerina, who was receiving treatment for breast cancer at the time.
Osteosarcoma, A Rare Cancer That Begins in the Bones
Osteosarcoma, is a type of cancer that begins in the bone tissue. The cancer is most commonly diagnosed in children and young adults, and according to the American Cancer Society, the tumors tend to begin in the bones around the ends of the leg or arm bones — that is, near the shoulders and knees, areas in which the bones grow quickly in young adults.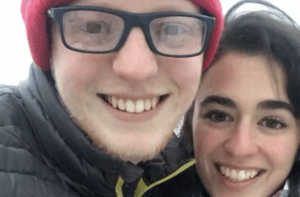 When it's spread throughout the body, the cancer has around a 27 percent 5-year survival rate, which means roughly 27 percent of patients diagnosed with osteosarcoma will go on to live five years or more. Though every patient is different and treatment regimens differ from patient to patient, standard treatment for osteosarcoma usually includes surgery to remove the bone tumor(s) as well as chemotherapy to target the cancerous cells.
Philip and Katerina's cancer journeys
"I fell in love with her face. And she's like, the kindest person I've ever met," Philip said of his bride-to-be.
Philip and Katerina met at the Jimmy Fund Clinic when he was being treated for osteosarcoma and she was being treated for breast cancer. First they became close friends, and then they started dating.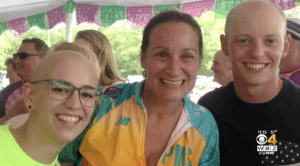 "I went home (to Miami) and I wasn't with Phil all the time. That's when it hit me. I never want to be without Phil," Mesa said.
The couple, now lives in Lunenburg, Canada. They got engaged last year. But just as they were about to get on a plane to Florida to look at wedding venues, Phil they received the news that Phil's cancer had spread.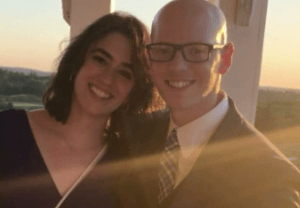 The couple quickly decided that they want to spend their last weeks together as husband and wife, and are hoping to get married on November 4.
Unfortunately, Philip's condition has deteriorated since. Last week, Philip was sent home from the hospital after doctors decided to stop his treatment, and he is currently in hospice, according to the fundraising page. But he's staying focused on the parts of life he loves, and his lovely Kat.
"If I'm sitting in my bedroom every day crying and worrying about when it's going to happen or what's going to happen, what I'm not able to do, I'm not going to be able to enjoy the people I love… I like to focus on the good parts that I still have. I was always kind of in love with her, for many reasons," Dwyer added.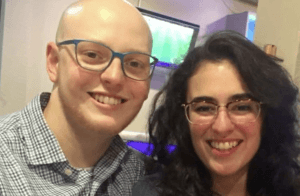 And the response to their fundraiser has been really great, "We are so incredibly blown away by people's generosity. Phil and Kat have decided that funds that come in over the cost of the wedding festivities and related expenses will be donated to The Jimmy Fund Clinic at Dana Farber Boston. This is where they met, received treatment and care. Thank you for your continued donations!"
Learn more about SurvivorNet's rigorous medical review process.