"For the first time, I felt like my job was making me choose between my life's work and the wellness of my family," says Dr. Lauren Jenkins, a obstetrician-gynecologist who is helping on the front lines of COVID-19.
In March, Dr. Jenkins, 37, had to make some extremely tough decisions concerning the safety of her family when one of her colleagues tested positive for the virus, and possibly exposed her. Dr. Jenkins' husband, Jay Roux, is currently battling stage 4 lung cancer, and Dr. Jenkins knew it could be extremely dangerous for him to be exposed to the virus. Additionally, she had to consider the health of her two sons. Even though she tested negative for COVID-19, she didn't want to take any chances, and decided to move out of her home and stay at an apartment lodging other medical workers.
Read More
Related: My Life Depends on Social Distancing– An Ovarian Cancer Patient's Plea
During her temporary move, she still wanted to see her two children. So, Dr. Jenkins decided to dress in a full hazmat suit so she could read them stories and spend time with them while keeping all of them safe.
"It's a whole lot of questions with no answers, because nobody really knows," says Dr. Jenkins. "Nobody knows when it's going to end. We don't even know antibodies actually confer immunity or if it means you can get it the second time. What happens then?"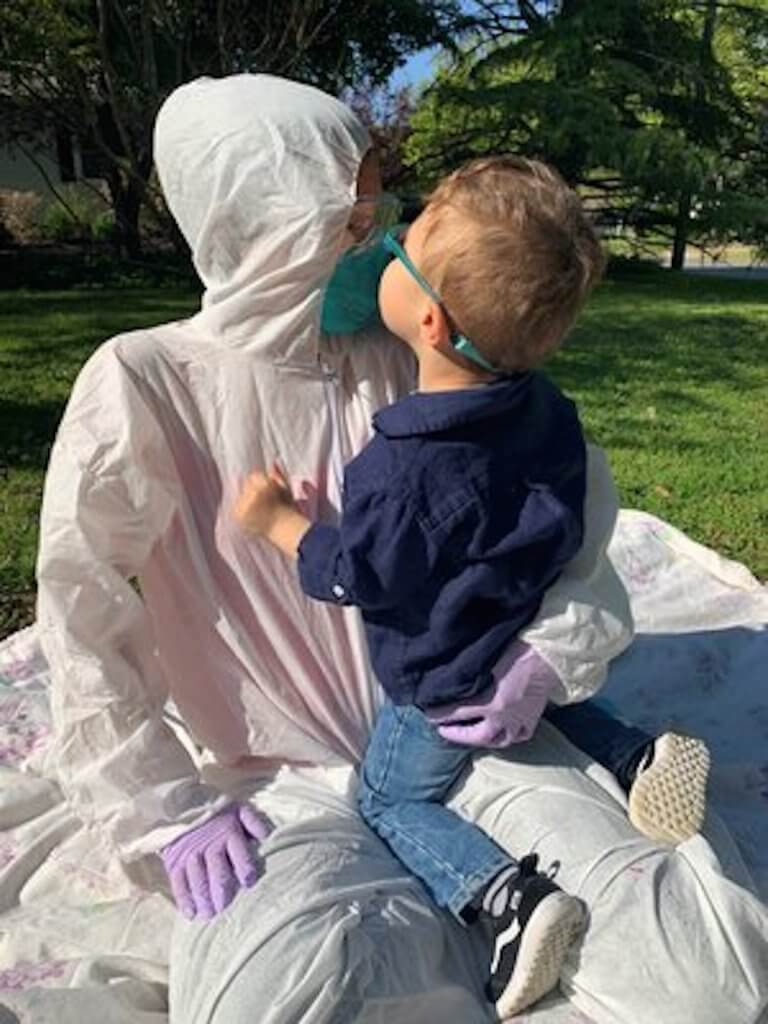 Lung Cancer And COVID-19
While many lung cancer patients don't have an increased risk, most people in treatment for the disease do have compromised lung function — meaning they could have a more severe reaction if they do contract COVID-19.
While doctors are quickly adjusting to new guidelines caused by COVID-19, some lung cancer patients may be especially worried since COVID-19 is a respiratory virus. However, there is still hope for those seeking treatment and experts tell SurvivorNet that options are still available.
Related: Actress Chrishell Stause Can't Visit Her Mother, Who Is Battling Stage 4 Lung Cancer, Due To COVID-19 — Her Father Passed Away From Same Disease
"We're doing everything we can to make sure that our cancer patients get cared for in the appropriate fashion during that time as well," says Dr. Brendon Stiles, a thoracic surgeon at Weill Cornell Medical Center. "You have to tell [patients] that we're going to get through this and really just convince patients that we're all in this together. [My] patients are doing surprisingly well."
Dr. Brendon Stiles says his lung cancer patients are doing well amid COVID-19
Cancer Survivors Coping With COVID-19 Anxiety
Since people with compromised immune systems are often more susceptible of contracting COVID-19, SurvivorNet has talked to survivors about how they're handling anxiety during the outbreak. Ovarian cancer survivor Maris Scheiss admitted that she had increased anxiety once the virus started spreading across the United States. Despite being young and healthy, Scheiss knows that she is immunocompromised from past treatments during her battle with cancer, and news of Covid-19 was a scary, unexpected surprise.
"The fact that getting something very rare is is just now in my history, it's my DNA," says Scheiss. "It happened to my once, why wouldn't it happen again?"
Related: From Handling Anxiety to Tele-Therapy, Mental Health Expert Gives Tips For Cancer Patients During the COVID-19 Pandemic
To stay healthy, Scheiss started taking extra precautions and following all recommended guidelines like washing her hands, constantly making sure her home is sanitized, and staying home as much as possible. However, as a cancer survivor, Scheiss says she feels prepared to take on yet another health risk.
Ovarian cancer survivor Maris Scheiss explains anxiety she experienced amid COVID-19
"I do find some sort of calm in having gone through not something similar, but this level of anxiety before," Scheiss says. "I know sometimes you have to put life on the back burner and worry about your health for five months, but I've been lucky to find the other side of that once before, and I have to continue to remain positive and look for that other side of this again."
Follow SurvivorNet's latest news and research about COVID-19
Learn more about SurvivorNet's rigorous medical review process.