Learning About Lymphoma
Ben Grosskopf, a 14-year-old social media personality known on TikTok as @bengrosskopfofficial, has revealed he's battling type B lymphoma and must undergo four months of chemotherapy.
There are more than 40 different types of lymphoma, but Hodgkin lymphoma and non-Hodgkin lymphoma are the main two sub-categories with the latter being much more common. One thing to note about lymphomas is that this type of cancer often creeps in quietly, without symptoms.
One thing to note about lymphomas is that this type of cancer often creeps in quietly, without symptoms. And even when symptoms do show up, they don't necessarily point directly to cancer.
Ben Grosskopf, a TikToker, Instagramer, and YouTuber known for his lip-sync videos, took to social media this week to share his cancer diagnosis.
The 14-year-old social media personality, known on TikTok as @bengrosskopfofficial, revealed to his fans he is battling type B lymphoma and must undergo four months of chemotherapy.
Read More
"This really isn't a fun, joyous video to be making and anyone who has my condition knows that this isn't really something that's fun to be sharing," Grosskopf explained to his fans in a TikTok video shared on January 23. "Ripping off the bandaid, I have cancer. But I have also known about this for three or four days now, so I have had time to process it."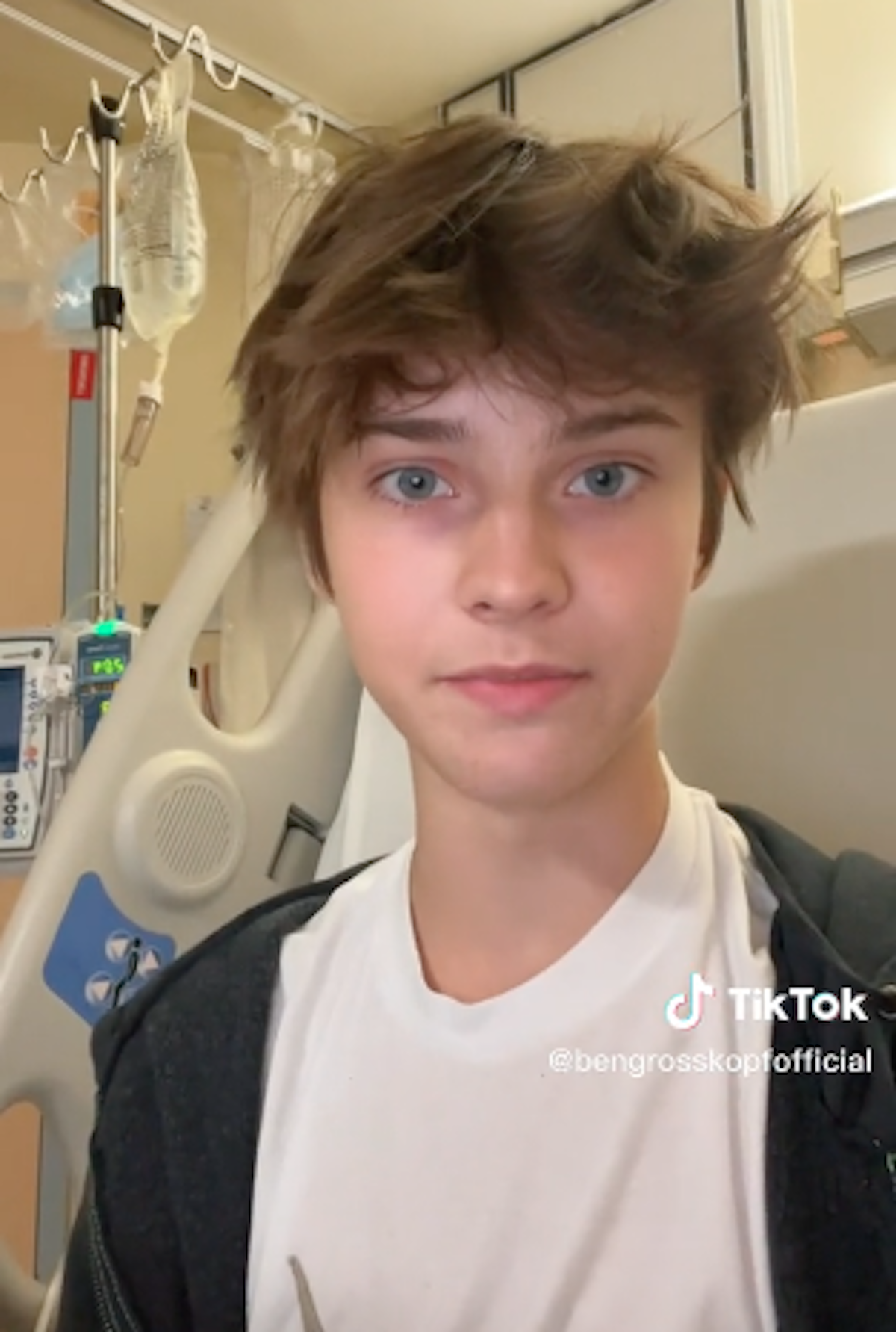 He admitted that he's known about his cancer for approximately three to four years, allowing him time to process the news, which was discovered through undergoing several tests in the hospital.
"I am very grateful that I didn't have cancer in my bone marrow already because that would've meant another two months of chemotherapy," Grosskopf told his fans. "But this still does mean a good four months of chemo."
Grosskopf then spoke about how he'll be using a cold cap, a helmet-like hat worn during chemo, to prevent losing his hair as a side effect of cancer treatment.
"Even that most people have been telling me that using a cold cap isn't gonna stop most of my hair from falling out, I still want to try it because there's been some people who have been told that, but then they got amazing results," the teen said.
RELATED: 32-Year-Old Father-Of-Two From Omaha, Nebraska Beats Non-Hodgkin Lymphoma and Gets the Job of His Dreams
"Not that my hair is the most important thing right now, but that's the only thing that I care about because I not going to die," Grosskopf, who is undergoing treatment in his hometown of Toronto, Canada, added.
Grosskopf will need to hold off on his schooling in New York for a couple of months while he is away, but he remains optimistic that he will return soon.
His cancer announcement comes about four months after he shared a vlog of his recent Italy trip, which ended with him getting sick and in the hospital.
"Hey everyone, it's been a while! In today's video we see my trip to Italy, and my favorite moments of the whole vacation. Traveling to Positano, North Italy, and Rome, making it one of my favorite trips EVER! Apart from the fact that I got sick for around 3 weeks after the vacation," he explained alongside the footage.
"Just a little backstory, I noticed something was wrong 4 days before we left Italy, with getting SEVERE stomach cramps, and then after I got home it went downhill from there. LUCKILY I'm all ok now."
Fans of Grosskopf took to the comments section of his Italy vlog wishing him a "speedy recovery."
"This really hits different now that we know why he was sick," another fan wrote.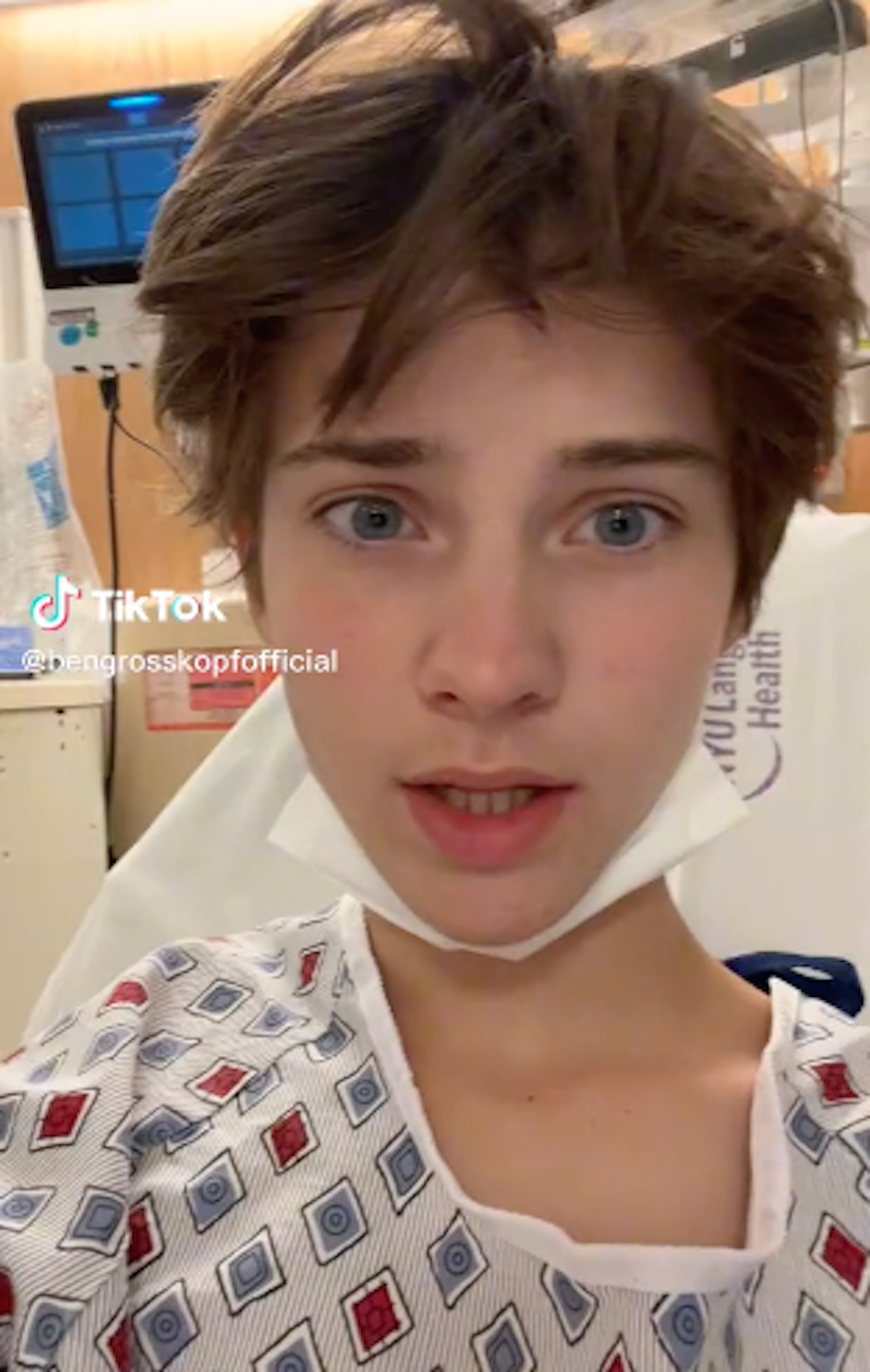 What is Lymphoma?
Lymphoma is different from cancers of specific organs like the lung or breast. It's not one cancer, but an umbrella term that encompasses several different types. Knowing which kind of lymphoma you have is important as you and your doctor plan your treatment.
What Kind of Lymphoma Do You Have? Why Your Type Matters
"I always advise that people understand their specific type of lymphoma, because there are over 40 different types," Dr. Elise Chong, medical oncologist at Penn Medicine, tells SurvivorNet. "One of the best ways to wrap your head around lymphoma is to start thinking about the different ways we categorize lymphoma."
In general, lymphoma is a cancer of your immune system. It starts in the lymphatic system, a network of vessels, ducts, and nodes that runs throughout your body. This system drains excess fluid and waste from your tissues and drains them into your bloodstream. It also produces disease-fighting white blood cells called lymphocytes that defend your body against infections.
Lymphoma starts when lymphocytes develop a genetic mutation that makes them multiply much faster than usual. The mutation also makes older cells that would normally die stay alive. The quickly multiplying lymphocytes start to collect and build up in your lymph nodes, the small glands in your neck, armpits, and other parts of your body.
From there, the disease is divided into a number of different categories, Dr. Chong says.
Hodgkin and Non-Hodgkin Lymphoma: What's the Difference?
The first differentiator is whether you have Hodgkin or non-Hodgkin lymphoma. Hodgkin lymphoma has distinctive, giant cells called Reed-Sternberg cells. The presence of these cells, which can be seen under a microscope, will help your doctor determine which of the two lymphoma types you have.
There are a few other important differences to note. For one thing, non-Hodgkin lymphoma is much more common. And you're more likely to be diagnosed with it after age 55. People usually develop Hodgkin lymphoma at a younger age.
Another difference is that non-Hodgkin lymphoma is more likely to spread in a random fashion and be found in different groups of lymph nodes in the body, while Hodgkin lymphoma is more likely to grow in a uniform way from one group of lymph nodes directly to another.
Do You Have B-Cell or T-Cell Lymphoma?
Once you've been diagnosed with non-Hodgkin lymphoma, the next question your doctor will want to answer is whether you have B-cell or T-cell lymphoma. That answer is important, because it will help to determine which treatment you get.
B-cells and T-cells are two kinds of lymphocytes. They're both infection-fighting cells, but they work in different ways.
Most non-Hodgkin lymphomas – about 85% — affect B-cells. These cells produce antibodies – proteins that react to foreign substances like viruses or bacteria in your body. The antibodies attach to another protein on the surface of the invading cells, called an antigen, to target and destroy them.
Types of B-cell lymphoma include:
Diffuse large B-cell lymphoma
Follicular lymphoma
Small lymphocytic lymphoma (SLL)/chronic lymphocytic leukemia (CLL)
Mantle cell lymphoma
Marginal zone lymphomas
Burkitt lymphoma
T-cell lymphomas make up only 15% of non-Hodgkin lymphomas. Unlike B-cells, T-cells directly destroy bacteria and other invaders.
Types of T-cell lymphoma include:
T-lymphoblastic lymphoma/leukemia
Peripheral T-cell lymphomas
Cutaneous T-cell lymphoma
Next Steps
Being diagnosed with any cancer can feel overwhelming, especially when you have a cancer as complex as lymphoma. Dr. Chong recommends that, once you know which type of cancer you have, start reading up on your cancer. Learn how your cancer might affect you, and which treatment options your doctor has available to use against it.
However, there are a lot of resources on the Internet that may be hard to navigate, and it may be hard to judge which ones are good, credible resources. Your doctor can provide you with more information and guide you toward reliable resources.
Don't be afraid to ask questions. Your doctor and other members of your health care team (nurses, social workers) are good resources. You can also find information and advice at a lymphoma support group, which hospitals and organizations like the Leukemia & Lymphoma Society sponsor.
Sneaky Lymphoma Symptoms Often Lead to a Late Diagnosis
Signs of Lymphoma
One thing to note about lymphomas is that this type of cancer often creeps in quietly, without symptoms. And even when symptoms do show up, they don't necessarily point directly to cancer. In a previous interview, Dr. Chong explained that lymphoma symptoms could be difficult to detect.
"The symptoms of lymphoma, especially if you have a low-grade lymphoma, often are no symptoms," Dr. Chong explained. "People say, but I feel completely fine, and that's very normal."
People with lymphoma do not always have symptoms, but common ones are:
Swollen glands in your neck, armpit or groin
Fever
Chills
Night sweats
Unexplained weight loss
Feeling tired
Swelling in your stomach
No matter what, it's important to communicate anything usual happening to your body with your doctor. Even if you think there's nothing to worry about, it's good to rule out the possibility of more serious issues.
Contributing: SurvivorNet Staff
Learn more about SurvivorNet's rigorous medical review process.
---