Support after a Cancer Diagnosis
Country star Toby Keith recently announced he was diagnosed with stomach cancer last fall. Now, he's seeing an outpouring of support from fellow celebrities.
Stomach cancer, also known as gastric cancer, is more likely to form in the gastroesophageal junction – the area where the long tube (esophagus) that carries food you swallow meets the stomach for people in the United States.
Having support through cancer, whether it's from big-time celebrities or your nearest and dearest loved ones, is critical, and there are many people out there for cancer warriors to be vulnerable with.
By now, you've probably heard the news: Toby Keith, 60, is battling stomach cancer. Thankfully, the country star has been showered with messages of love and support.
Keith, husband to Tricia Lucus since 1984, is a father of three known for his signature twang and catchy tunes. The Red Solo Cup singer burst on to the country scene with his hit song Should've Been a Cowboy in 1993, and the rest is history.
Read More
Now, the country music fixture is feeling grateful for the community of friends and fans he's built along with his successful career. After announcing his cancer diagnosis on Sunday evening, Keith was received so many messages of support from all sorts of people.
Poison frontman and skin cancer survivor Bret Michaels made sure his friend and fellow singer knew he had his back by sharing a touching picture of the two.
.@tobykeith my heart, soul & prayers are always with you & your family. My friend keep your incredible warrior spirit. pic.twitter.com/6jcGdFpORK

— Bret Michaels (@bretmichaels) June 12, 2022
"My heart, soul & prayers are always with you & your family," Michaels wrote under the picture. "My friend keep your incredible warrior spirit."
Country icon John Rich also made a point to show support for the fellow star with a simple message.
Hang in there, @tobykeith👍 https://t.co/hAWFXj01GS

— John Rich (@johnrich) June 12, 2022
"Hang in there," Rich wrote on Twitter.
Singer Sammy Hagar, also known as The Red Rocker, chimed in too.
wishing my big buddy a speedy recovery and a whole lotta love from most redheads around the world @tobykeith #SeeYouInCabo pic.twitter.com/RlDuCYKTTo

— Sammy Hagar (@sammyhagar) June 12, 2022
"Wishing my big buddy a speedy recovery and a whole lotta love from most redheads around the world," the rock star wrote under a photo of the two.
CMT host Cody Alan and country singers Scott Stevens and Lance Carpenter also made the effort to share some words of encouragement on Keith's Instagram announcement post.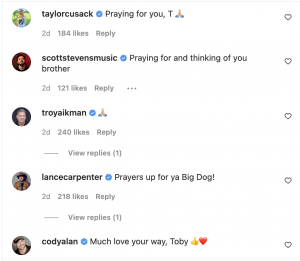 "Much love your way, Toby," Alan commented.
But his well wishes weren't confined to the music world. Even retired NFL quarterback Troy Aikman and golf media personality Taylor Cusack made sure to support
"Praying for you, T," Cusack wrote.
Needless to say, Keith has a whole army of supporters rooting for him as he continues to recover.
Toby Keith's Cancer Announcement
Toby Keith told fans about his stomach cancer diagnosis just a few days ago.
View this post on Instagram
"Last fall I was diagnosed with stomach cancer," Keith posted to Instagram. "I've spent the last 6 months receiving chemo, radiation and surgery. So far, so good. I need time to breathe, recover and relax.
"I am looking forward to spending this time with my family. But I will see the fans sooner than later. I can't wait."
RELATED: 'I Need Time To Breathe!' Beloved Country Star Toby Keith, 60, Announces Stomach Cancer Diagnosis Amid Tour
After releasing his first album in five years last October, Peso In My Pocket, Keith had been on tour. But now any upcoming tour dates have been removed from his website.
But as he continues on his cancer journey ahead, Keith has made a point to thank the people that have stepped up to support him during this difficult time.
View this post on Instagram
"Thank you for all your love and support," he wrote in his most recent post. "I have the best fans in the world."
We don't know too many specific details about Keith's ongoing cancer battle, but the SurvivorNet community is wishing him all the best as he navigates the road ahead.
Understanding Toby Keith's Type of Cancer: Stomach Cancer
Stomach cancer, also known as gastric cancer, can affect any part of the stomach. Interestingly enough, stomach cancers usually develop in the main part of the stomach (stomach body) for most of the world, according to the Mayo Clinic.
When Cancer Runs In The Family: Mother and Son Share Their Cancer Prevention Story
In the United States, however, stomach cancer is more likely to form in the gastroesophageal junction – the area where the long tube (esophagus) that carries food you swallow meets the stomach.
Risk factors
Factors that increase your risk of having stomach cancer include:
Gastroesophageal reflux disease
Obesity
A diet high in salty and smoked foods
A diet low in fruits and vegetables
Family history of stomach cancer
Infection with Helicobacter pylori
Long-term stomach inflammation (gastritis)
Smoking
Stomach polyps
Treatment
Treatment options for stomach cancer can include surgery, chemotherapy, radiation therapy, targeted drug therapy and immunotherapy. The decision-making process for choosing a treatment path can vary depending on a few factors including:
The cancer's location
The stage of the cancer
How aggressive the cancer is
Your overall health
Your treatment preferences
Symptoms
Signs and symptoms of stomach cancer are not exclusive to the disease, but they may include:
Difficulty swallowing
Feeling bloated after eating
Feeling full after eating small amounts of food
Heartburn
Indigestion
Nausea
Stomach pain
Unintentional weight loss
Vomiting
When Cancer Runs in the Family: Survivor Amy Armstrong On The Importance of Genetic Testing
As always, having these symptoms does not necessarily mean you have stomach cancer. These things are more likely to be caused by other issues, but it's always a good idea to see your doctor if you're worried. You never know when speaking up about an issue can lead to a very important diagnosis.
Finding Support During a Cancer Journey
During a cancer battle, it's important to know that you are not alone. There's a community out there for you to be vulnerable with, if you'd like, and connecting with people as you battle the disease can make a world of difference. Toby Keith may have a huge country music community to lean on, but there are many other ways to find the support you need.
Kate Hervey is another cancer warrior who received support after sharing her cancer journey. A young college girl, she was shocked to be diagnosed with synovial sarcoma, a rare type of cancer that tends to form near large joints in young adults, after seeing her doctor for tenderness and lumps in one of her legs.
Inspiring College Student, 20, Builds Community on TikTok Sharing Her Cancer Journey During COVID-19
Hervey, a nursing student at Michigan State, had to handle her cancer battle during the COVID-19 pandemic and scale back on her social activities as a high-risk patient. That's when she turned to TikTok as a creative outlet, and inspired thousands.
"One thing that was nice about TikTok that I loved and why I started posting more and more videos is how many people I was able to meet through TikTok and social media that are going through the same things," she says. "I still text with this one girl who is 22. If I'm having a hard time, I will text her because she will understand. As much as my family and friends are supportive, it's hard to vent to someone who doesn't know what it's really like."
Hervey is now cancer-free, and says she couldn't have done it without the love and support of her TikTok followers.
"I feel like I've made an impact on other people and they have made an impact on me through TikTok, which is crazy to say. I can help people go through what I've been going through as well." She has graciously agreed to allow SurvivorNet to use her content in order to help our community.
So while sharing your story to a vast TikTok audience might not be your thing, it's important to consider opening up to others during your cancer battle. Even if it's with a smaller group, you never know how much the support can help you – or help those you share with – unless you try.
Learn more about SurvivorNet's rigorous medical review process.