Dating as a Survivor
Hoda Kotb, 58, is reportedly ready to start dating again.
Dating after a cancer battle can be a unique experience, as the journey makes lasting changes to your mind and body.
One breast cancer survivor told SurvivorNet she's really adamant on honesty with potential partners about what she's been through.
Some survivors struggle with intimacy after cancer. It's important for cancer survivors to know there's support and guidance out there for you.
Cancer survivors can experience a unique set of challenges when dating. But beloved "Today" host Hoda Kotb won't let that stop her from finding the one.
The 58-year-old broadcast journalist was diagnosed with breast cancer in February 2007 after doctors found lumps in her breast tissue during a routine exam. For treatment, she underwent a mastectomy and reconstruction, followed by five years of taking the drug tamoxifen (Nolvadex).
Read More
"Cancer shaped me, but it did not define me. It's part of me, but not all of me," Kotb said at an annual Breast Cancer Research Foundation New York Symposium and Awards Luncheon in 2017.
Hoda Kotb Gets Back to Dating
She's still cancer-free today, but it's possible her experience with the disease may affect how she goes about dating now that she's split from financier Joel Schiffman, 64.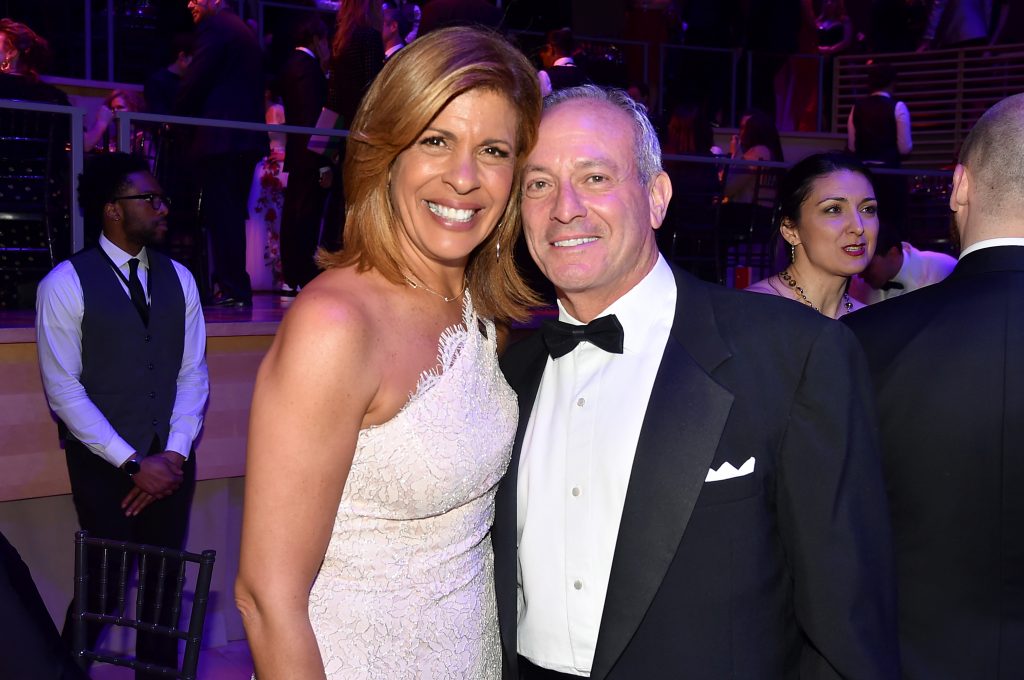 Kotb shared the news of her split from Schiffman last year, but the two have seemingly maintained a successful relationship as co-parents to their little girls: Haley Joy, 6, and Hope Catherine, 3. Kotb adopted Haley in 2017 and Hope two years later, both with Schiffman.
RELATED: 'When Do I Tell a Potential Partner About My Health Battle?' Five Key Dating Tips for Breast Cancer Survivors
Though the children have always been her number one priority, a source for RadarOnline.com says she's ready to "tiptoe" into the dating scene.
"Hoda's ready. She's not signing up for dating apps, but she's making it clear to friends she would like to meet Mr. Right," an unidentified source said.
Body Image, Sex, and Adjusting to a New Normal After Cancer Treatment
Kotb is reportedly hoping to find love the 'old-fashioned way,' but she's also calling upon her friends – journalist Maria Shriver, 67, and her former TODAY co-anchor Kathie Lee Gifford, 69, for help.
"Katie Lee has found love again and Maria Shriver is happy with her man," the insider said. "They're helping Hoda because clearly what she's doing so far hasn't worked."
Dating after Cancer
Now, we don't know the details of Kotb's plans for her love life at the moment. However, we do know that dating and finding love as a cancer survivor can be a unique experience. Cancer can cause some serious changes to your mind and body. It's easy for women, in particular, to view themselves differently because society has imprinted the harmful belief that their value depends on their looks, sexuality and functionality as a caretaker or mother. So, dating as a cancer survivor can be really hard.
But breast cancer survivor and author Laura Morton knows her cancer history does not have to be hidden for her to have a successful dating life. In fact, she says transparency is key.
Dating after Cancer: Getting Intimate with the New You
"It is a part of who I am … but it's by no means who I am," she told SurvivorNet. "It's not anything that I feel any shame about. It's nothing that I feel any regrets about. If anything I need them to know I don't have a lot of feeling there … it doesn't do much for me if you're playing with my boobs."
RELATED: We Won't Be Written Off As Grandmas After Menopause– Sex and The City' Author Candace Bushnell, 63, On Changing The View of Women After Age 50
Morton says talking about how your cancer journey changed your life is crucial too. And if a current or potential partner lacks empathy about everything you've gone through, she recommends a swift sayonara.
"If you're with someone who has an issue with it … quite frankly, why are you with them? Show them the door … fast," Morton said.
On top of simply connecting with the right person, revisiting intimacy can be a challenge after a cancer battle, too. In a previous conversation with SurvivorNet, clinical psychologist Jeanne Carter discussed the emotional struggles she sees many women face when trying to have sex after or during cancer treatment.
RELATED: Sex After Cancer: Learn How This Amazing Survivor Overcame Years of Suffering to Finally Have Sex Without Pain, or Shame
"Sexuality is physical and emotional, and they're completely enmeshed, so you can't really treat this without addressing both of those issues," the certified sexual health therapist with Memorial Sloan Kettering Cancer Center said. "I think women going through a cancer experience are just really trying to make sense of what their body is going through."
Sex After Cancer: The Mind-Body Connection
Carter hears a lot of women express feelings of guilt when they're dealing with sexual problems resulting from cancer.
"When you have to have changes in your sexuality, it feels like another huge loss," she said. "So, it's not uncommon for women to express aspects of guilt to me, about feeling guilty that they can't share their body, feeling guilty that they can't meet their partner's needs, feeling guilty about having the cancer experience affect them, their family, their loved ones.
"But I always say guilt is a wasted emotion that we could use energy someplace else. Nobody asked for cancer. Nobody asked for these changes, but different doesn't have to mean that it's bad."
Whether your biggest concerns center around mourning the loss of a body part, like your breasts, or trying to find the confidence to date again after treatment, it's important to remember there is support and guidance available to help you. Don't be afraid to talk to a therapist or join a support group if you're looking to address any changes to your sexuality after cancer.
"A lot of these changes [to the body] happen very quickly and I think people are ready at different times to be ready to address it," Carter said. "Taking time and effort to actually pay attention to these areas and to touch these areas and to try to heal these areas I think wakes up something for women that there's a part of their body that maybe they weren't paying attention to."
Learn more about SurvivorNet's rigorous medical review process.