Finding Moments of Joy
The Wanted's Tom Parker, 32, is currently battling glioblastoma.
He is the father of two little ones, a 1-year-old girl and a newborn baby boy.
Support from family, spouses, and loved ones while battling cancer can help make the journey easier; a positive mental attitude can help, too.
Lead singer 
Tom Parker
from
The Wanted
is delighting in his young daughter, Aurelia Rose, as he
battles brain cancer
. His daughter turned one year-old over the summer and is now dressing up in, what appears to be, a Belle costume from 
Beauty and the Beast, 
as she plays with a young friend. Parker captioned the story, writing, "Flirt!!" as his daughter pal'd around with her buddy.
Related: Should The Wanted's Tom Parker, 32, Consider Optune for Inoperable Brain Tumor? The Treatment Can Extend Survival Time in Some Patients
Read More
Parker has
glioblastoma
, a malignant tumor of the brain (or spine). He is currently undergoing chemotherapy and radiotherapy treatments to try to shrink his tumor.  While this is surely a difficult time for him and his family, we're happy to see he's seeking out moments of joy with those he loves. Just this year, Parker 
became a father for a second time
, so there are even more bundles of joy for him to be with right now.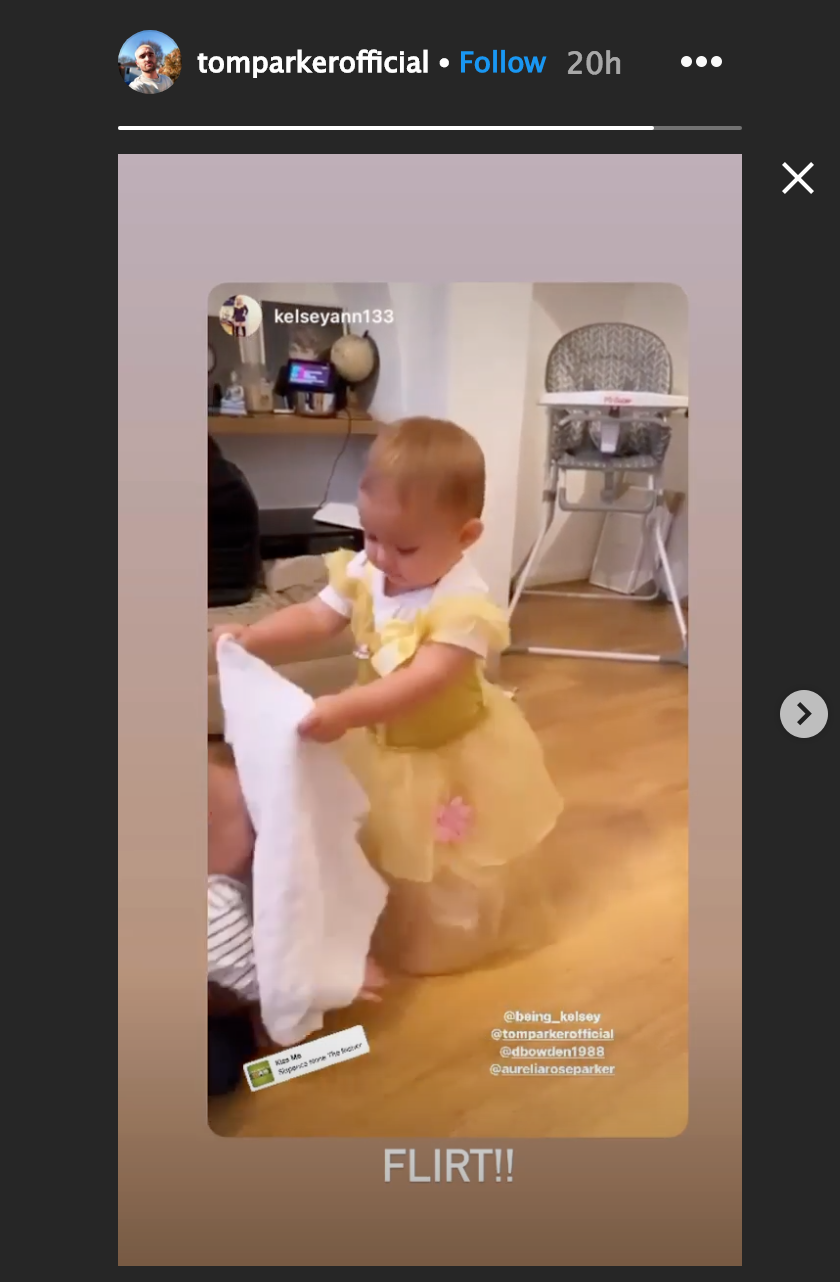 Tom's Family Support
Parker is married to Kelsey Hardwick, 30, an English actress and vlogger. With their two children, the couple are beginning their cancer journey as Parker undergoes treatment.
Related: Shannen Doherty's Dear Friend is Perfect Example of the Kind of Sisterhood of Support Needed When Battling Metastatic Breast Cancer
View this post on Instagram
Having a supportive partner, spouse, or network of family and friends is so important when battling cancer.  Many find the support they need from their family. Ovarian cancer survivor, Beverly Reeves, spoke with SurvivorNet and emphasized the importance of having support as you go through cancer treatment. "This is a cancer that not a lot of people want to talk about. Being open and honest with your loved ones about what you're going through can help them understand exactly what support you need, so they can provide it."
Related: "Therapy Saved My Life": After Losing A Loved One, Don't Be Afraid To Ask For Help
Follow Reeves' example, and ask for the support you need. "Get a strong support group together," she said. "Get your close friends. If you're connected to a faith community, get your faith community, and get your family. Let them know what's going on and let them help you."
'Faith, Family, and Friends' Helped Beverly Reeves Get Through Ovarian Cancer Treatment
Positive Mental Attitude
It's clear that Parker is trying to focus on the good, as he puts his attention onto happy things, like his daughter playing dress-up. A good attitude while undergoing cancer treatment goes a long way. Dr. Zuri Murrell, a colorectal surgeon at Cedars-Sinai Medical Center, talked with SurvivorNet and he backed it up: Attitude matters.
Related: "Be Patient With Your Emotions": A Social Worker's Insights Into Handling a Cancer Diagnosis
Dr. Murrell said, " My patients who thrive, even with stage 4 cancer, from the time that they, about a month after they're diagnosed, I kind of am pretty good at seeing who is going to be okay. Now doesn't that mean I'm good at saying that the cancer won't grow. But I'm pretty good at telling what kind of patient are going to still have this attitude and probably going to live the longest, even with bad, bad disease. And those are patients who, they have gratitude in life."
Related: A Major Step in the Cancer Journey: Learning to Deal With Vulnerability
As Parker continues going through cancer treatment, we hope he continues to focus on the good things in life such as family. We'll be cheering him on through treatment along the way.
Learn more about SurvivorNet's rigorous medical review process.