Val Kilmer supporters, eager to hear word from the fiercely private throat cancer survivor, will be happy to know that the actor has been out and about, recently attending a star-studded party, and settling a lawsuit filed last year.
Kilmer rose to fame in comedy films like "Top Secret" and "Real Genius!" and became well known for starring in iconic films such as "Batman Forever," "Top Gun" and "The Doors." He went public with his diagnosis in 2017, and often wears a neck scarf to cover up the trachea device he wears as a result of his surgery.
Read More
Last week, the actor attended a charity concert in New York City for the Rainforest Fund — a conservation group founded by musician Sting and his wife Trudie Styler. Sting and Styler put the star-studded event together, according to
The New York Times
.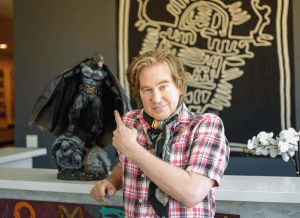 Kilmer was just one of many famous faces at the event, held at the Beacon Theater in Manhattan. Robert Downey Jr., hosted, and performers included such musical legends as Deborah Harry, John Mellencamp, James Taylor and Bruce Springsteen, according to Variety.
Audience members included actor Chazz Palmentari and record producer Clive Davis. At the after party, the Times reported, held at the Mandarin Oriental Hotel, Kilmer apparently fell off a chair.
Lawsuit Settled
News also broke this week that Kilmer has settled a lawsuit with an artist who claimed he ripped off his work. Kilmer denied this. He and the artist, Bale Creek Allen, came to a settlement agreement this week, according to court documents obtained by The Blast.
In the lawsuit, Allen alleged that Kilmer copied gold colored tumbleweed sculptures that he had been creating for years. The lawsuit sought unspecified damages and an injunction to prevent Kilmer from infringing on Allen's copyrights.
RELATED: Val Kilmer expresses gratitude to fans for embracing his art
Val Kilmer's Throat Cancer Battle
Kilmer has never disclosed whether he was declared cancer free after his surgery, or what stage of cancer he was diagnosed with — but he has spoken openly about some of the affects cancer treatment have had on him.
This past summer, when giving a speech during the NOVUS Summit at the United Nations headquarters in New York City, Kilmer acknowledged that the tracheostomy device attached to his throat does hinder his ability to speak. Kilmer was being honored at the time for his work with his charity, the TwainMania Foundation, which educates children about writer Mark Twain's legacy at the event.
RELATED: Fans Thrilled To See Val Kilmer Out and about at His Art Gallery Despite Throat Cancer Battle
"I won't speak long because I can't speak long," Kilmer said at the beginning of the speech, which received lighthearted laughs from both the audience and Kilmer himself. The actor has also acknowledged in the past that he is living with some serious side effects of cancer treatment. He told The Hollywood Reporter in 2017 that his throat surgery left his voice raspy and affected his breathing.
RELATED: Check Out Val Kilmer's Super Cool Art! — He's Digging Deep in His Soul and Sharing With Other Painters During His Cancer Recovery
Still, Kilmer has been making more appearances in recent months, which gives fans hope for his recovery. He's also spoken openly about how fortunate he feels to have found creating art to turn to during the difficult cancer battle.
Learn more about SurvivorNet's rigorous medical review process.