The 59-year-old throat cancer survivor and iconic actor Val Kilmer is embracing art as therapy for life. After having his own exhibition, he's going out and finding inspiration in other artists, their work, and the painting processes.
Kilmer rose to fame in comedy films like "Top Secret" and "Real Genius!" and became well known for starring in iconic films such as "Top Gun," and "The Doors.
Val Kilmer's Original Art

Read More
"I love being able to get a glimpse of the artist's process," Kilmer wrote in a recent Instagram post alongside a photo of a fellow painter in action. "The technique, whether its by feel or predetermined composition or plan, are subjected to the concepts of change and transience. Its what elaborates the work."
He also talked a little bit about what he observed from watching the artist, "For artists like @hrnjakart, it is an intuitive process. As if the canvas and paint is guiding him where to go. He captures such reverberating energy, building up textures and inherent motion. I just love his work and I can't wait until everyone gets to experience the art. On Friday you have the opportunity to join us and celebrate the opening of his exhibit ODYSSEY at @helmelstudios."
Supporters totally understood why Kilmer is so transfixed, "Always the interpretation and expression of one's art, truly reflects what is in their soul! The twist about it is everyone who admires it see's something different! Art is so much like music! Love it[heart]‼️"
And offered words of support for the actor, "You sound so happy. How wonderful for you."
Information about art during cancer recovery
SurvivorNet has spoken with a lot of people who have said that art has been a really important part of their recovery from cancer — making it, viewing it, and sharing it. Marianne Cuozzo is one of those survivors — she's been through a lot, she can laugh at herself a bit, and she always turns to art during the most difficult times.
As a three-time cancer survivor, she says it might be accurate to say that cancer has been her whole life. However, as a mother and an artist, she has turned her life into a lot more than her diagnosis.
Marianne was first diagnosed with Hodgkin's Lymphoma in 1994 at age 28. In 1997 she had a recurrence, and in 2014 she was diagnosed with breast cancer. She underwent a double mastectomy and immediate reconstruction–but after years of infections, she decided to have the implants removed and "go flat."
"I'm doing the best I can to feel beautiful in this new body, " she says. Cuozzo has always found comfort expressing herself through art. Her work reflects a deeply personal evolution of body image and sexuality.
Val Kilmer's and art during cancer
Kilmer recently opened his own art gallery in Los Angeles, "HelMel Studios" and showcased his own original works at the Lumberyard Gallery in Malibu, California.
"I'm so grateful for the response to my art," Kilmer wrote on Instagram. " I'll be returning to Lumberyard Gallery on Sat to say thanks to all that joined, bought art or just wanted to get a glimpse at some of my work. I think For anyone interested, I'll bring some prints along to make the evening extra special. See you there!"

In addition to the original works that Kilmer showed at Lumberyard Gallery, he also collaborated with other artists, including the talented graffiti artist Kelly "RISK" Graval and photographer and director Brian Bowen Smith, to create what he referred to as "special, one-of-a-kinds."

Kilmer's artwork is often colorful and bold, using enamel paints on metal to create eye-catching pieces. In the past, Kilmer has used stencils and enamel paint to create art that features the iconic film characters he's played in the past — including "Ice Man," Batman, and Jim Morrison.
Kilmer's artwork also depicts Mark Twain, an author that has captured his passion for many years. Kilmer was recently honored for his work with his charity, the TwainMania Foundation, which educates children about writer Mark Twain's legacy.
When Kilmer accepted an award for his work with the TwainMania Foundation several months ago, he acknowledged that the tracheostomy breathing device in his neck hinders his ability to speak.
What is a Tracheostomy?
A tracheostomy (or tracheotomy) may be needed when a person needs to have part or all of either their larynx (voice box) or pharynx (throat) removed. The procedure connects the trachea (windpipe) to a hole (stoma) in the front of the neck. This allows a person to breathe by letting air in and out of the lungs through the stoma, according to the American Cancer Society.

Val Kilmer's throat cancer journey

It's encouraging for fans to see Kilmer out and about and in high-spirits, because for a while, Kilmer's health condition remained a mystery. The star had kept his cancer journey a secret for two years after his diagnosis — initially denying he had cancer at all in a 2016 Facebook post, after the actor Michael Douglass—who has been battling throat cancer himself—told the press about Kilmer's condition.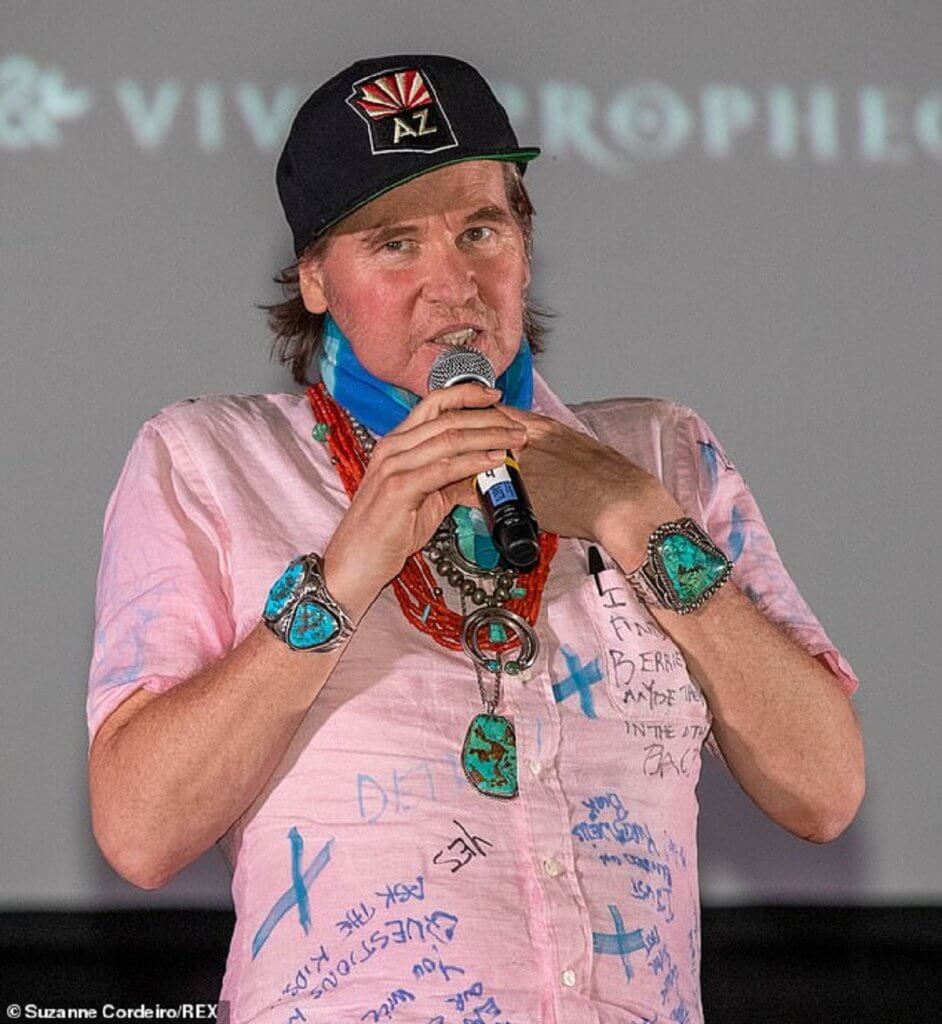 RELATED: "Top Gun" Star Val Kilmer, 59, Makes Rare Public Appearance With Neck Covered By Scarf And Binoculars After Brave Battle With Throat Cancer
The denials continued until 2017, at which time Kilmer bravely admitted in an interview with the Hollywood Reporter that he did indeed have throat cancer, and that he'd had surgery on his trachea, which affected his breathing and left his voice raspy and labored. He revealed shortly thereafter that he'd had a "healing of cancer," and that his "tongue was still swollen," but did not explicitly say whether he was cancer-free.

Although Kilmer did finally confirm he had throat cancer, he has been keeping the details—including the type and stage of his cancer and the treatment he's received—to himself. The star told the Hollywood Reporter that the disease had "taken its toll" on him, but did not elaborate.
Learn more about SurvivorNet's rigorous medical review process.