Actor Val Kilmer is not your typical Hollywood star. Never one to be out and about and making red carpet waves, it came as no surprise to fans and supporters that when he was diagnosed with throat cancer, Kilmer, now 59, valued privacy over sharing. Initially denying he had the disease, he went public with it in 2017.
RELATED: "Top Gun" Actor Val Kilmer Is Living with a Tracheostomy; What Is it and What Are the Next Treatment Steps?
Read More
What a difference two years makes. The the delight of those who love him, Kilmer came back into his own in 2019, appearing at his art gallery for an opening, speaking at the United Nations in New York City, filming a new movie in the desert, and joyously introducing the poster for the sequel to his hit movie, "Top Gun."

"It may be 'ice' cold outside, though maybe this will warm you up," he writes. "Finally get to share this @topgunmovie poster. Even better, a new trailer… TOMORROW!"
Kilmer's Cancer — from Mystery to (Some) Details
For a while, Kilmer's health condition remained a mystery. He initially denied he had cancer in a 2016 Facebook post, after actor Michael Douglas, battling throat cancer himself, told the press about Kilmer's health.
The denials continued until 2017, at which time Kilmer told the The Hollywood Reporter that he did indeed have throat cancer, and that he'd had surgery on his trachea, which affected his breathing and left his voice raspy and labored. He revealed shortly thereafter that he'd had a "healing of cancer," and that his "tongue was still swollen," but did not explicitly say whether he was cancer-free.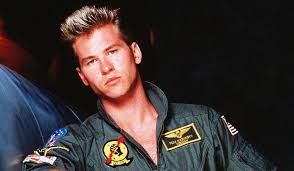 Kilmer has still been keeping other details to himself, including the type and stage of his cancer and the treatment he's received. While he told The Hollywood Reporter that the disease had "taken its toll" on him, he chose not to elaborate.
RELATED: "Top Gun" Actor Val Kilmer Embraces Artistic Passions During Cancer Recovery — Many Survivors Find Solace in Art
Appearing in Public — and Embracing Art
As he appears in public for more events, supporters are excited to see he's feeling better and taking his throat cancer recovery in stride.
This past summer, he delivered a speech during the NOVUS Summit at the United Nations headquarters in New York City. (NOVUS looks to change the world using science, innovation, and technology.) Kilmer was being honored for his work with his charity, the TwainMania Foundation, which educates children about Mark Twain's legacy.
Kilmer's speech reportedly was difficult to understand due to his tracheostomy device, which hindered his ability to speak. He began his speech by saying, "I won't speak long because I can't speak long"—which received lighthearted laughs from both the audience and Kilmer himself.
TwainMania got Kilmer out again in June, when he attended a fundraiser there. Also making appearances were his son, Jack, 23, and his ex-wife, "Scandal" star Joanne Whalley.
Fans have also been encouraged to see Kilmer embracing his passion for art. Several pieces of his original artwork were on display at Lumberyard Gallery in Malibu.
And he was out at this HelMel Studios in Los Angeles in November to celebrate an art opening for artist Tamie Adaya.
Val Kilmer's Original Art

The Iceman Cometh
Kilmer also appears in the "Top Gun" sequel, "Top Gun: Maverick," which comes out in June 2020 — 34 years after the 1986 original. Kilmer isn't seen in the two-minute trailer, but fans are standing staunchly behind the actor as he reprises his role as Tom "Iceman" Kazansky, arch-rival to star Tom Cruise's Pete "Maverick" Mitchell.
"If Val Kilmer isn't in this, we riot!" Omaha fan diego @legomydiego tweeted.
If Val Kilmer isn't in this, we riot. https://t.co/VvW8ssjWj7 pic.twitter.com/dW1T2KMTgm

— diego (@legomydiego1) December 16, 2019

Kilmer and Tom Cruise are the only original cast members to return for the sequel.
The actor, it seems, is not stopping there. In addition to promoting the "Top Gun sequel," he reportedly is filming in California's Coachella Valley for his next movie, "Pay Dirt," with co-star Luke Goss, according to KESQ-TV in Palm Springs, Calif.
Early reports describe "Pay Dirt" as a "crime heist thriller" with Kilmer playing the sheriff.
Fans and supporters were also heartened to see Kilmer appear in Manhattan this month at a charity concert at Manhattan's Beacon Theatre, hosted by Robert Downey Jr. The charity concert benefitted The Rainforest Fund, a passion project backed by Sting and his wife, Trudy Styler. After the concert, Kilmer joined a group who headed uptown to the elegant Mandarin Oriental hotel, near Columbus Circle in the west 50s.
Art and Healing
Members of the SurvivorNet community have also turned to art to deal with a cancer diagnosis.
Marianne Cuozzo, for instance, told SurvivorNet that art has helped her through the most difficult times.
As a three-time cancer survivor, she says it might be accurate to say that cancer has been her whole life. However, as a mother and an artist, she has turned her life into a lot more than her diagnosis.
Marianne was first diagnosed with Hodgkin's Lymphoma in 1994 at age 28. In 1997 she had a recurrence, and in 2014 she was diagnosed with breast cancer. She underwent a double mastectomy and immediate reconstruction–but after years of infections, she decided to have the implants removed and "go flat."
"I'm doing the best I can to feel beautiful in this new body, " she says. Cuozzo has always found comfort expressing herself through art. Her work reflects a deeply personal evolution of body image and sexuality.
Learn more about SurvivorNet's rigorous medical review process.
---