Pushing Forward
Newlyweds Owen Murray, 39, and Laura Dear, 37, from Warwickshire, England found out four days after the birth of their baby that Owen's bowel cancer is terminal.
Despite the prognosis, Owen is researching his cancer and participating in a trial to help prolong his life. The couple wed this week at a country estate in the UK and are moving forward with life plans despite the tragic prognosis.
It is important to be your own advocate and always go into a doctor's office with a plan, according to a top specialist from Cedars-Sinai who spoke with SurvivorNet.
Owen Murray and Laura Dear from Warwickshire, England are not putting life on hold for advanced stage cancer, and recently experienced wedding and baby joy amid the family's emotional battle.
The couple met in October 2019, and Laura gave birth to baby Luna this past December, just four days before finding out her husband's stage 4 bowel cancer was terminal. Despite this tragic news, Owen, 39, and Laura, 37, just tied the knot earlier this week at historic country house Coombe Abbey in Warwickshire, England. They had an intimate wedding with 30 friends and family members, keeping it tight due to the pandemic.
Read More
Related: Groom-To-Be Diagnosed With Bowel Cancer An Hour After Testing Positive For COVID-19; Couple Relies On The Power Of Love
Murray expressed thoughts on his surreal wedding day, and fighting cancer during COVID.
"It was strange and lovely, I kept saying to everyone it was nice to be with all friends and family, but it was quite weird," the new dad said in an interview with BBC. "I struggle to find any words to describe the day… it was incredible… I couldn't have hoped for any more."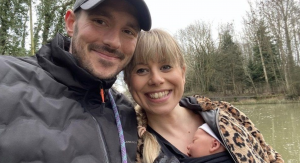 Now, the family's goal is to get Murray lifesaving treatment so that he can see his baby girl grow up. Owen's online fundraiser to help pay for alternative treatments is already at £29,000.
Murray's Diagnosis
Murray, an army vet in the motor trade business, was diagnosed with bowel cancer in March 2020.
He underwent multiple surgeries and treatments to try to get the cancer under control. The treatment was going well at first and showed promise but then in December doctors told him the treatment did not work, that the tumor had grown, and the cancer had spread. Luckily, Owen is proactive and started doing his own research. He found a clinic in London that was doing a trial for his type of cancer.
Related: A Mother's Bowel Cancer Was Misdiagnosed as Heartburn and Hemorrhoids; The Importance of Advocating for Your Health
Earlier this year he started an early stage chemotherapy drug trial in Oxford and should know how it is going next month.
"I do still think I am seeing a slight improvement but I don't want to get ahead of myself," he said. "It has had its challenges, the side effects of drugs have been up and down. Laura has been an absolute superstar, I am so lucky I married her."
Owen and Laura met through a dating app. The formative years of their relationship have been a whirlwind but they have managed to establish a life together, overcoming this challenge together thus far. We are hoping for the best for this couple and their new baby.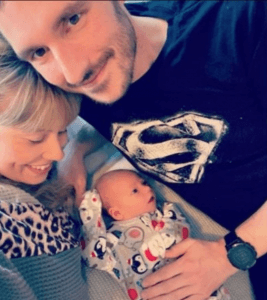 What is Bowel Cancer?
Bowel cancer is a general term for cancer that begins in the large bowel, according to the UK's National Health Service, and is one one of the most common cancers in the UK. It can also be referred to as colon cancer or rectal cancer, depending on where it starts.
A change in bowel habits is a common indicator of colon cancer; other symptoms like unintentional weight loss can be more difficult to identify.
Dr. Paul Oberstein, an oncologist at the Perlmutter Cancer Center at NYU Langone Health, tells SurvivorNet early detection is key to better outcomes in colon cancer.
"One of the most important facts about colon cancer is that the earlier and smaller it's detected, the easier the treatment is and the more likely it is to be cured," he says, explaining that because colon cancers grow in the lining of the colon, they sometimes can cause problems with digestion. "So someone may have constipation or diarrhea or problems going to the bathroom. Sometimes, they'll cause pain if they're growing large. Rarely, they can grow large enough to be felt as sort of a firm growth in the abdomen."
Related: 'The Bachelor' Star Tia Booth Reveals Dad's Stage 4 Colon Cancer Diagnosis; What To Know About This Disease
The growths can cause bleeding. "A person might see what's called black tarry stools. So they might see darkness in their bowel movements. They go to the bathroom, and they notice a change in their bowel habits. And that's a sign of bleeding in the stool that's caused by the cancer."
If a person has significant bleeding, they can develop what's called anemia, which is low blood counts, and be tired or have trouble with normal activities because of those blood counts.
"We often recommend to patients that if they see a change in their bowel movements and they feel more fatigued than usual, or they have new issues, it's something to be concerned about and to be pursued with their physician," Dr. Oberstein says.
Be Your Own Advocate
Murray is taking matters into his own hands by participating in research that could potentially prolong his life.
When you see a doctor, don't hesitate to make sure that your questions are fully answered and that you are comfortable with the plan moving forward. From a doctor's perspective, every problem should have a diagnosis, a treatment, a plan for follow-up, and a plan for what happens next if the treatment doesn't work.
As a patient, if you don't feel like each of these four things has been accomplished, just ask. Even if it requires multiple visits or seeing additional providers for a second opinion, always be your own advocate.
Dr. Zuri Murrell, a colorectal surgeon at Cedars-Sinai Medical Center in Los Angeles, offers important perspective.
"The truth is you have to be in tune with your body, and you realize that you are not the statistic," Dr. Murrell says. "It's important for you to actually educate yourself and be your own health care advocate. And that's something that I think is really important. You should lead each doctor's appointment with a plan."
Be Pushy, Be Your Own Advocate… Don't Settle
Learn more about SurvivorNet's rigorous medical review process.