Woman Changes Diet & Job after Cancer Returns
Antonia Hall, 51, changed her diet and went vegan, and became a sex therapist after her cervical cancer returned.
Every year in the U.S., approximately 14,480 women will be diagnosed with cervical cancer.
Symptoms of cervical cancer include abnormal vaginal bleeding, unusual vaginal discharge, pain during sex, and pain in the pelvic region.
Antonia Hall, 51, upended everything in her life – including her diet – after a recurrence of cervical cancer upended her life.
Hall "began orgasming daily," reports The Daily Mail, "putting cannabis in her vagina," and she also changed her diet, deciding to go vegan. She ditched her 16-hour workdays, too, after her cervical cancer came back. She says she did this to "stay alive."
Read More
The Los Angeles resident, who formerly worked in publishing and is now a sex therapist, loved her former career so much that she even worked through chemotherapy after she was first diagnosed with cervical cancer in 2007.
At the recurrence of her cervical cancer in 2018, Hall developed arthritis; she became vegan, switched jobs, and used cannabis to help with her health challenges.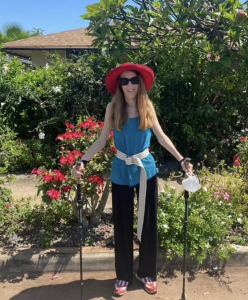 Hall says that she keeps a positive mindset, in spite of her physical setbacks, which have also included gallstones and severe pain. She now splits her time between Los Angeles and Hawaii.
Understanding Cervical Cancer
Hall is one of approximately 14,480 women diagnosed each year in the U.S. with cervical cancer. And nearly a third of women diagnosed will pass away from this disease.
Screening for cervical cancer is done via pap smear and HPV DNA testing, which is recommended by the World Health Organization (WHO) as the best screening option for cervical cancer. Cervical cancer treatments may include surgery, radiation, and chemotherapy. Getting screened for cervical cancer is critically important because an earlier diagnosis may mean a better prognosis and broader treatment options.
The most common symptoms of cervical cancer can include:
Abnormal vaginal bleeding, such as bleeding after vaginal sex, bleeding after menopause, bleeding and spotting between periods, or having (menstrual) periods that are longer or heavier than usual.
Bleeding after douching may also occur.
An unusual discharge from the vagina − the discharge may contain some blood and may occur between your periods or after menopause.
Pain during sex.
Pain in the pelvic region.
Should I Give My Kids the HPV Vaccine? A Leading Doctor On Why She Says "Yes!"
Diet & Cancer
Hall changed her diet after her cancer came back in 2018. She began a vegan, in an effort to maintain a healthier lifestyle, including diet.
Marisa Gholson, a Physicians Assistant at Compass Oncology says in an earlier interview, "We get questions all the time about whether they should cut out dairy or sugar or soy. And basically what I tell patients is that you should eat a well-balanced diet."
Gholson says, "There's not great evidence that cutting out sugar or dairy or soy is going to slow down or reverse the growth of your cancer. So I think just making sure that you're getting the nutrition that you need."
She says that due to some cancer treatments, like chemo, some people may lose their appetite during their cancer journey. "One of the side effects of chemo can be a loss of appetite," Gholson explains. "You can also taste changes. So when those side effects occur, I tell patients just to try and eat whatever tastes good and to supplement with nutritional shakes like Ensure or Boost, just to make sure that they're getting the nutrition that they need to make it through treatment."
"Everything in moderation," she says.
A Healthy Diet During Ovarian Cancer
Learn more about SurvivorNet's rigorous medical review process.