How One Cancer Fighter Realized Her Dream of Motherhood
Katy Sanchez, who's been fighting advanced brain cancer for three years, was able to start a family through the surrogacy of a long-lost friend in a beautiful story of sisterly love.
Some cancer treatments can impact your fertility, but there are many ways to keep your dream of having a family alive.
Freezing your eggs or embryos can nearly double your likelihood of having a baby after cancer.
A woman battling an aggressive brain tumor was told she couldn't have her own children. Now, thanks to the incredible kindness of a long-lost friend, she can hold her baby in her arms as her battle continues.
Related: Motherhood After Chemotherapy — Yes, It's Possible; Here's What You Should Know About Fertility Preservation
Read More
Katy Sanchez has been battling advanced brain cancer for three years when she reconnected with old high school friend Christy Acevedo online. Sanchez had her heart set on becoming a mother, something her treatments had made impossible. In an ultimate act of sisterly love, Christy decided to make Katy's dream come true by
becoming her surrogate
.
"I just felt this undeniable calling from God; that's the best way I can describe it," Christy told FOX47 News. "We went to high school together, and I saw her post on Facebook. I reached out to learn more about her story. My husband and I talked about how blessed we were to have our two girls and the opportunity to give that to someone else. We realized the sacrifice it would be, but also that it was a short time in our lives to forever change theirs."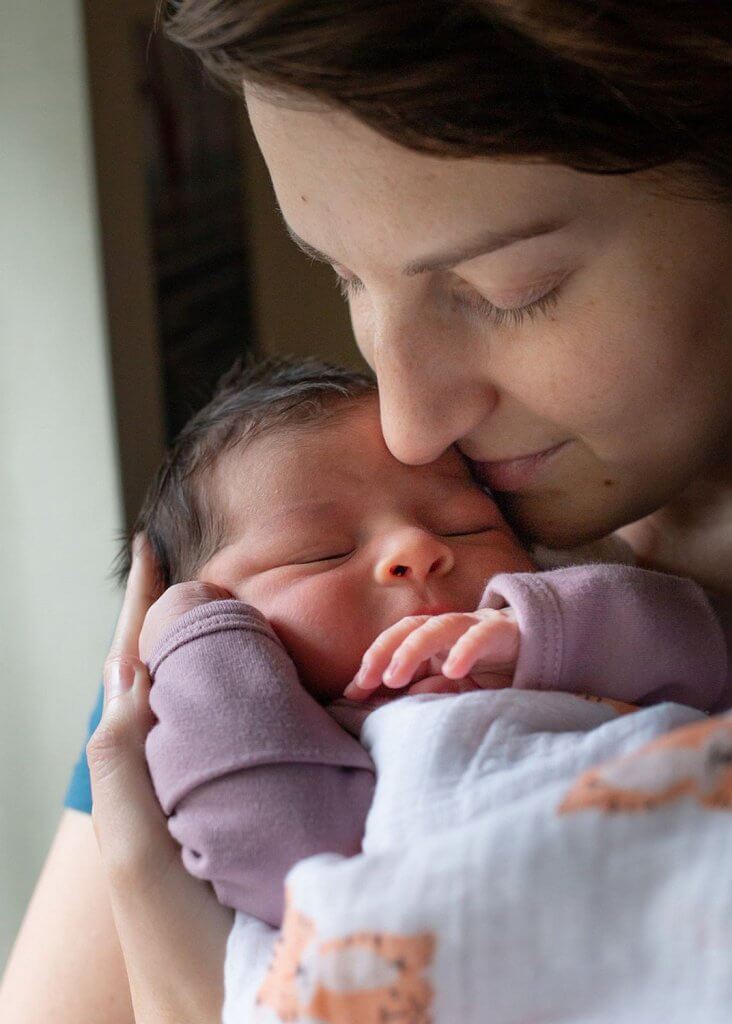 Katy Sanchez with her newborn daughter.
Katy's dream came true on October 1, 2020, when Christy gave birth to a healthy baby girl. Since then, Christy and Katy have become closer than ever, with their husbands and children forming one big happy family.
Related: 'Ask Any Question That's on Your Mind': Giuliana Rancic Talks Advocating for Yourself and Having Kids After Cancer
"It's still so amazing to me what we were able to accomplish in a year," Kristy said. "A baby was born, yet, so were a mother, father, grandparents, aunts, uncles, cousins, and so on. The journey has been very humbling."
What to Know About Fertility After Cancer
Katy was diagnosed with glioblastoma multiforme IV, an incredibly challenging form of brain cancer, in 2017. While not curable, months of radiation and chemotherapy, combined with an experimental clinical trial at Cleveland Clinic, have been able to slow the tumor's growth following her initial surgery.
But Katy said the clinical trial that helped her so much also made having children unlikely, if not impossible.
"Since it is unknown how the medication could affect a growing fetus, it would be unethical to become pregnant and continue to participate in the trial," Katy told People. "Since the treatment has been very successful it wasn't a choice for us to discontinue my cancer care treatments."
Related: Motherhood After Chemotherapy — Yes, It's Possible; Here's What You Should Know About Fertility Preservation
For many women diagnosed with cancer, the question of whether pregnancy is still possible is at the front of their minds.
"When a women is diagnosed with cancer in her childbearing years, fertility preservation should be a part of the conversation, like it's part of the treatment plan," Dr. Jaime Knopman, Director of Fertility Preservation at CCRM NY, previously told SurvivorNet. "Everyone in their reproductive years should be advised of their options."
Chemotherapy can sometimes cause infertility by destroying the eggs in their ovaries, although this can vary widely depending on your age and the intensity of your treatments.
Dr. Jaime Knopman explains how freezing your eggs or embryos can keep your dreams of motherhood alive.
But there's reason to hope: leading oncologists say that there are many ways to preserve your fertility as you undergo cancer treatment. In the words of Dr. Terri Woodard, director of the onco-fertility program at MD Anderson Cancer Center, "It's not all doom and gloom."
The two main methods of preserving fertility are freezing your eggs and freezing fertilized embryos.
Related: Freezing Eggs or Embryos: What Should I Do?
After you finish your cancer treatment, doctors can implant these fertilized embryos into your uterus or, like Katy's case, a surrogate's uterus. If you freeze eggs, they can fertilized with sperm in vitro and then transferred.
Dr. Terri Woodard lays out the pros and cons of egg vs. embryo freezing.
Dr. Woodard and other experts agree that there are pros and cons to each of these approaches. Talk to your doctor about which option will work best for you.
These methods show incredible promise in helping you achieve your dream of having a family. One study found that women who underwent fertility preservation were twice as likely to get pregnant and deliver healthy babies.
Friends & Family Make All The Difference
For Katy and millions of people fighting cancer, friends can become a crucial source of support and emotional release during the fight of their lives. The people we keep close can be the ones who comfort us through treatment, help us keep our lives in order, and maybe, just maybe, realize your dreams.
Beverly Reeves, an ovarian cancer survivor, told SurvivorNet that her friends, along with support from family and faith groups, helped her get through treatment. She tells people going through difficult cancer battles to stay connected to their loved ones and the critical support they offer.
'Faith, Family, and Friends' Helped Beverly Reeves Get Through Ovarian Cancer Treatment
"If you're connected to a faith community, get your faith community, and get your family," she told SurvivorNet in a previous interview. "Let them know what's going on and let them help you.
Whether it comes from friend faith, family, or another source, strength and positivity are key to overcoming cancer. SurvivorNet's medical experts urge those fighting cancer to talk to their doctors and loved ones to develop a support system for their battle.
The Benefit of Support Networks for Cancer Patients
Learn more about SurvivorNet's rigorous medical review process.