Going Through Breast Cancer in the Public Eye
Five incredible breast cancer survivors spoke to SurvivorNet about their experience with the disease.
"E! News" host Giuliana Rancic discussed speaking up about what you need, and her own experience with infertility after treatment.
Jaclyn Smith, an original "Charlie's Angels" cast member, spoke about what she calls "the power of girlfriends."
A
breast cancer
diagnosis often brings with it a whirlwind of emotions—uncertainty, confusion, fear, remorse, you name it.
SurvivorNet
has interviewed many survivors and every single one tells us about a different experience after the diagnosis. However, one theme that runs through so many survivor stories is how comforting it can be to connect with—or get advice from—someone who has been through it.
In honor of Breast Cancer Awareness Month, we've put together some very wise words about taking on the cancer journey, from some women who went through it in the public eye. From worrying about fertility to chemo side effects to surgery recovery—here are just a few of the most helpful, and most uplifting, pieces of advice that we've heard thus far.
Giuliana Rancic: 'Ask for What You Need'
Read More
"E! News" host Giuliana Rancic was 36 years old when she was diagnosed with breast cancer, and has been very open publicly about how the diagnosis affected her plans to have a child in the future. 
When she sat down with SurvivorNet
, she told us that one of the biggest pieces of advice she gives to other women facing cancer is to speak up about your concerns. For a lot of young women, that means speaking up about fertility issues.
Related: Shannen Doherty, 49, Twirls Around At-Home Dance Floor With Husband (And Dog) Through Stage 4 Breast Cancer
"First and foremost, it's talking to your doctor and letting them know, this was my plan," Rancic said. "[Let them know] we were planning on having a child or I want to have a child down the road, whatever it is. Getting that out there early on so you can work that into your treatment plan."
"It's very important to ask any question that's on your mind," she added. "If it matters to you, that's all that matters."
Jaclyn Smith: 'The Power of Girlfriends'
Jaclyn Smith, of original "Charlie's Angels" fame, said that having a couple of friends she could really depend on made a world of different during her experience with breast cancer.
"I talk about the power of girlfriends," Smith told SurvivorNet. "…The family was so emotionally tied to [the cancer journey]. I saw them worry. Whereas the girlfriends would say, 'OK, we're going to lunch. Should we go to Johnny Rockets today?'"
Related: Understanding Gene Mutations in Your Metastatic Breast Cancer Diagnosis Is Crucial to Your Treatment
"They were just always cheery and they were always up, and they wouldn't let me get down," Smith added. "And if I heard anything, they diffused the story. It's nice to have family, but it's nice to get that support from friends, too."
Amy Robach: 'Let People Help'
TV news Journalist Amy Robach was diagnosed with breast cancer after getting a mammogram on live TV during a "Good Morning America" segment. When we asked her for her biggest piece of her advice, she explained that something that was difficult for her personally — letting other people step in and help — made a huge difference.
"It was hard for me at first too because no one likes to be vulnerable," she said. "Nobody likes to be a charity case. But when you let people help you, when you share your story, when you tell people what you're going through and you let your friends and you let your family make dinner for you and pick up your kids for you, just be there for you, hold your hand with you, take your mind off it by taking them to lunch or dinner, if you let people in, that support and that love will strengthen you."
Novlene Williams-Mills: 'Get Back Out There'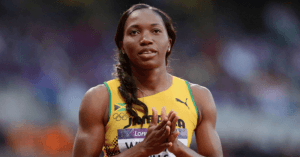 Olympic sprinter Novlene Williams-Mills was diagnosed with breast cancer when she was just 30 years old and weeks away from competing in the 2012 Games in London. As a professional athlete, Williams-Mills told SurvivorNet that it was really difficult to get back to her training regiment after going through treatment. Her advice: Just get out there and do what you can.
"The times were not the times I used to run," Williams-Mills says of her first competition after undergoing breast cancer surgery. "But it was a confidence booster for me because, knowing the training I had, knowing what I'd been through the past couple months … and to still be able to be like, 'OK, I still got it.' It's not that bad."
Joan Lunden: 'Let it Focus You'
TV news legend Joan Lunden said that being diagnosed with breast cancer had an unexpected effect—focusing her on causes that she became really passionate about. A lot of survivors have told us that facing cancer makes you truly focus on what's important in life, and Joan was no different.
"I probably ended up where I needed to be," Lunden said about her experience with the disease. "Those are the things, when you fight a life-changing battle, that you contemplate — and maybe you would never have contemplated them otherwise. So, when you contemplate those things it sure does focus you on what you want to do with the rest of your life."
Learn more about SurvivorNet's rigorous medical review process.