A Bollywood Star's Very Public Cancer Journey
Bollywood actress Sonali Bendre, 47, is reflecting on her fight against metastatic breast cancer
She credits an outpouring of support from fans and the media after her 2018 diagnosis.
Bendre traveled to the United States from India for treatment, where doctors said her prognosis for survival was just 30 percent.
She now considers herself cancer free.
Stage 4, or metastatic breast cancer, is defined as cancer that has spread to distant areas of the body.
Bollywood actress Sonali Bendre, 47, is reflecting on her fight against metastatic breast cancer and the outpouring of support she received from fans and the media.
"There was a lot of empathy," she said in an exclusive interview with the entertainment website Bollywood Hungama. "I felt a lot of empathy from everybody, and that includes the media. I just got a lot of love."
Read More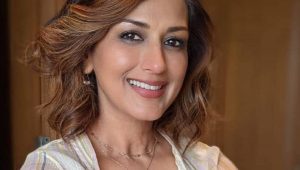 Back in 2018, Sonali was diagnosed with metastatic cancer and she travelled to the United States from her native India to get treatment for her illness.
An extensive course of medical therapy helped the actress recover and emerge stronger.
"I think my illness was the time when most of the media really came behind me," she said. "And maybe that was because social media was so out there."
Bendre now considers herself "cancer free."
But in an Instagram post from 2018, she expressed her raw feelings about her diagnosis to her 3.6 million followers.
View this post on Instagram
"Sometimes, when you least expect it, life throws you a curveball. I have recently been diagnosed with a high grade cancer that has metastasized, which we frankly did not see coming," she wrote. "A niggling pain led to some tests, which led to this unexpected diagnosis."
Bendre went on to express her gratitude for having a loving support system, including her husband movie director Goldie Behl, 47, and the couple's 17 year old son Ranveer.
"My family and close friends have rallied around me, providing the best support system that anyone can ask for," she shared. "I am very blessed and thankful for each of them."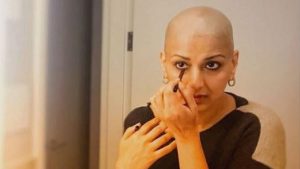 Following her Instagram announcement, Bendre gave an interview to the entertainment and lifestyle website, Bollywood Bubble, saying her prognosis for survival after her cancer was just 30 percent.
"It was a shock to all of us. It was totally unexpected. When I went for my treatment, the day doctor tells me that you've 30% chance of survival, you are on the 4th stage," she revealed.
"And we've gone to New York we don't have an Apartment or anything. Goldie and me. Only the two of us by the time everybody could be collected or whatever."
Bendre's latest project titled 'The Broken News,' shows her playing the character of a news anchor, and was asked to share her opinion on how media focuses on the sensational part of a celebrity's health condition.
""I've had a career which has been spanned so many years. So most definitely, there have been times when [the] media has been upset with me", Bendre said, adding the time of her cancer diagnosis and treatment was different.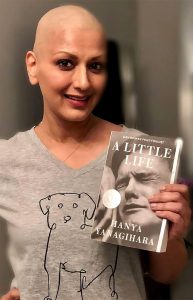 ""This was the time that most of the media really came behind me."
The actress has appeared in a number of Bollywood films, including Aag, Diljale, Sarfarosh, Hum Saath-Aath Hain, and Lajja amongst others.
In addition, she has served as a judge on several reality TV shows, including India's Got Talent, Hindustan Ke Hunarbaaz, and India's Best Dramebaaz.
Bendre has also dabbled in the OTT world with the most current season of "The Broken News."
She credits her upbringing and her love of reading for being so adaptable to different roles.
"When you read, it just opens your mind up to so many other possibilities, so many other worlds," she said. "Maybe the way you look at characters, the way you kind of live those characters when you read them. I'm sure that helps me when I'm playing the roles that I'm playing. But more than anything else, it just gives me so much knowledge."
Bendre says her formative years were also full of change.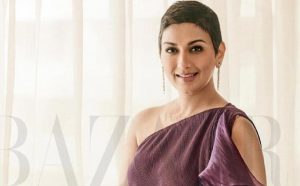 "So every two years I was in a new school. So I was meeting new people, new students. And you know you're always an outsider," she shared. "And so even in the movies when I was an outsider, I never really felt like that because I'm so used to being an outsider."
After her own battle with cancer, Bendre has been an outspoken advocate for the early detection of breast cancer among women.
Understanding Stage 4 Breast Cancer
Stage 4, or metastatic breast cancer, means that your cancer has now spread to distant areas of the body. Even though there is currently no cure for metastatic breast cancer, doctors have many options to treat this stage advanced stage of breast cancer.
Related: Olivia Newton John, 73, Gives Fans an Update on Her Health Amid Metastatic Breast Cancer Fight: 'Your Mind Is a Very, Very Important Part of Your Healing'
Hormone therapy, chemotherapy and targeted drugs are all options to talk to her doctor about, depending on your individual needs. Sometimes surgery and/or radiation is considered as part of the treatment, but mainly it is important to focus on improving your quality of life.
The treatment plan for metastatic breast cancer patients depends on the specific needs of the woman, whether they need an aggressive chemotherapy or depending on the doctor's assessment, they may benefit from another medication.
A Leading Expert Discusses Metastatic Breast Cancer
For hormone receptive positive cancer breast cancer patients, doctors try to see how long they can keep patients on oral therapies. Very often, newly diagnosed metastatic hormone receptive-positive breast cancers (where cells have either estrogen (ER) or progesterone (PR) receptors or both) respond best with different hormonal medications, and sometimes for many many years.
Treating Metastatic Breast Cancer
Dr. Erica Mayer, a medical oncologist at Dana-Farber Cancer Institute, says clinical trials have shown that hormone medicines are more effective when paired with targeted therapies. At some point, chemotherapy will be introduced. And according to Dr. Mayer, it's delivered at a dose and schedule that's as well-tolerated as possible.
"We are so lucky in breast cancer that we have so many effective and well-tolerated treatments," Dr. Mayer tells SurvivorNet. "I'm so gratified to see that patients are doing better and living longer today with metastatic breast cancer than they have ever done before."
Bottom line, there are more and more options becoming available for patients to manage symptoms of advanced stage disease, and it's best to talk about specific treatment plans and what is best for you with your own doctor.
Learn more about SurvivorNet's rigorous medical review process.
---