Family holiday traditions can provide a special degree of comfort and a sense of normalcy for those going through tough times. Whether it's making a favorite dish or decorating a tree, annual rituals can be healing.
On insidewink, the blog co-founded by Jean Trebek, wife of "Jeopardy!" host Alex Trebek — who is battling stage 4 pancreatic cancer — there are several pieces about holiday traditions, including Jean's piece on the Norweigan Christmas Cake she made as a child with her beloved grandmother. Trebek does not allude to her husband's illness, and is intensely private about their relationship, but it's clear that she cherishes the chance to share what she learned by her grandmother's side with those she loves.
Read More
Trebek is far from alone. This holiday season, boundless numbers of families, including those with cancer survivors, are keeping the season's spirit going strong with treasured traditions. Here are some of our favorites:
For a woman named Barbara Ostrander from Salem, Ore., diagnosed with ovarian and kidney cancer this past October, the most important holiday tradition is the family Christmas tree. When doctors told her she may not make it to the holidays, reported KOIN Portland, her husband decided to buy and decorate a tree in November — weeks earlier than they usually would.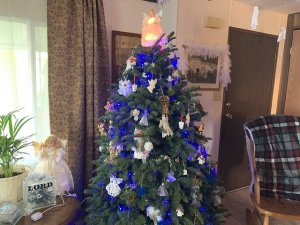 "It's the most beautiful tree. There's no spaces in that tree at all. It's totally perfect all the way around and I just know God picked out that tree," Barbara told KOIN about the beautiful tree.
In Cleveland, Ohio, stage 4 throat cancer survivor Jon Thibo, who learned to make gingerbread houses with his late mom, is building them this holiday season with his own children, and selling them to raise money for charity.
"We're kind of passing on the tradition, and we're sharing some fun for the holidays," he told News 5 Cleveland. Jon's mom died of breast cancer in 1975, and his sister died of the illness as well, News 5 reported.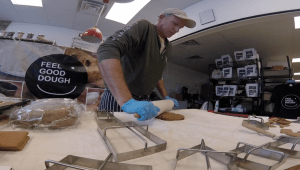 And for Tyler Orban, 28, in Bradenton, Fla., who recently lost his father to lung cancer, carrying on family traditions means selling the colorful Christmas poinsettias from his father's poinsettia farm, reported WTSP in St. Petersburg, Fla. When his father died, 200 people attended his funeral, partly due to his beloved plants.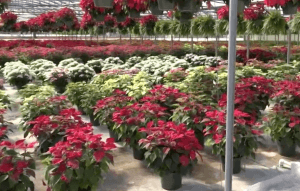 "Christmas will be the toughest," Tyler told WTSP. "I see [my dad] in every poinsettia that there is here. It's kind of weird but it's kind of nice at the same time."
Cancer During the Holidays
During the holidays, cancer survivors can feel particularly overwhelmed. Karen Ballou, a Hodgkin's lymphoma survivor, told SurvivorNet that focusing on the positive things in your life can make a huge difference.
Hodgkin's lymphoma survivor Karen Ballou on getting through the holidays by staying positive and focused.
"My advice to others is to stay focused," Ballou said. "Think about one thing in your life or two things in your life that you can see when you're well that you want to go after. … That's what got me through the holidays."
Learn more about SurvivorNet's rigorous medical review process.