In the months leading up to former Purdue student Tyler Trent's death, the incredible football superfan made headlines several times for the work he was doing to raise awareness and money for cancer research. And now, he's left his mark on the cancer research community as well.
Trent battled a form of bone cancer called osteosarcoma three times. He tragically passed away at age 20 on New Year's Day last year, but definitely left his mark on the Purdue University community.
Read More
RELATED: Thousands of Sports Cars Join Funeral Procession for Missouri Teen Who Died of Rare Bone Cancer
Trent, who was known not only for his cancer advocacy but for his dedication to his football team, the Purdue Boilermakers, decided to donate his tumors to doctors at Riley Hospital for Children at Indiana University, hoping they could be used to develop treatments to help patients after him.
Now, researchers at the Indiana University School of Medicine are saying Trent's tumors helped them to discover a new combination therapy that actually stopped the growth of osteosarcoma in models built from Trent's cells, according to RTV6 Indianapolis.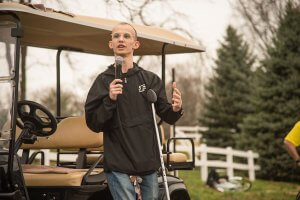 The IU research team, led by Karen E. Pollock, Ph.D., found a variation in Trent's tumors that allowed them to test two drugs to see if cancerous cells would react, the station reported, and concluded that combining the drugs together was able to halt growth.
RELATED: Beautiful Embrace — College Football Player Returns to the Field for the Undefeated Minnesota Gophers After Beating Cancer in His Bones
Dr. Pollock told RTV6 that the two drugs (a Chk1 inhibitor and a bromodomain inhibitor) led to some pretty promising results. According to a press release issued by the school, when the two treatments are administered over a four-week period, tumor growth essentially stopped. When treatment was stopped, tumors began growing again.
"Tyler Trent has truly left us a legacy," Pollock told the outlet. "While we still have much work to do, we are hopeful that new therapies for osteosarcoma will be possible in the near future."
Tyler Trent's Cancer Journey
Osteosarcoma is the most common type of cancer that originates in the bones, and is usually seen in younger patients like children and young adults, according to the American Cancer Society. Tyler's osteosarcoma began in his shoulder, came back in his hip after going into remission, and then returned again in his spine. The third time his cancer returned, he made the difficult decision to withdraw from Purdue in the fall of 2018. However, he used his tough situation for good until his very last days.
RELATED: A Remarkable Young Man Who Made a Difference–Remembering Tyler Trent
He withdrew from school as a sophomore, but the school decided to give him an inaugural "Giant Impact" alumni award, Tim Bobillo, chief development officer for the Purdue University Center for Cancer Research, told SurvivorNet at the time.
"It was possible because he had earned, in less than two years, the credits to gain an associate degree in his major in the college of Polytechnic at Purdue University. So, he was an alum!"
A Lasting Legacy
The school decided to give Trent an additional honor as well, starting an endowed fund within the school's Center for Cancer Research in honor of and named for Trent.
"It'll always be here, it will continue to grow, and it will fund research at his beloved Purdue," Bobillo said of the fund.
Trent himself, who always approached his adversities with an incredibly positive attitude, also did a huge amount of work encouraging others to donate to cancer research. Millions of dollars have been donated in Tyler's name, including $180,000 for the Tyler Trent Cancer Research Endowment for Riley Hospital.
After the news broke that Trent's tumors had led to a promising medical discovery, those who followed his story took to social media to show their appreciation, with one even suggesting the young fighter be given a posthumous Nobel Prize.
That's amazing to hear. I'm sure T2 is smiling at his continuing effort to rid the world of this terrible illness! #BoilerUp #TylerStrong

— Dakota Isgrigg (@TheDawg40) January 16, 2020
Cane we please award Tyler Trent a posthumous Nobel Prize? Like please let's get this to happen. https://t.co/X6FBDE3fjo

— Eian (@mulvane16) January 16, 2020
Learn more about SurvivorNet's rigorous medical review process.