"When you think courage, you think Casey O'Brien" — that's what the undefeated, 20th ranked in the nation University of Minnesota Gophers Football Team had to say about their incredible player, who played his first game since treatment for cancer and hugged his coach in a beautiful, welcome-back embrace.
Casey O'Brien originally played quarterback, and even with a history of cancer, the coach in Minnesota allowed him to walk onto the team. He now plays place holder who and helps the team score field goals. Minnesota has a 7-0 winning record this season.
Read More
He has beat cancer four times since age thirteen. His most recent diagnosis was osteosarcoma, a rare cancer of the bone. After this last bout with the disease, he has a scar in  his chest where a port delivered chemotherapy treatments.
"When I look back at it, football has been probably the main thing that has been consistent through it all," O'Brien said at the Big Ten's Kickoff Luncheon about his experience with bone cancer.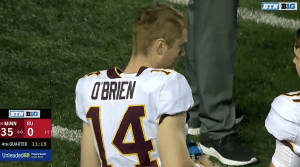 For O'Brien, football is the pillar of stability, and kept him going throughout his treatment process, "Whether I'm playing or just being around the game, it's something that's always been in my life, and it's somewhere where I can always go to get away from everything. And especially when I'm in the locker room with my teammates, I just feel like another kid. So no matter what's going on, that's probably my favorite place to be."
Osteosarcoma, A Rare Cancer That Begins in the Bones
Osteosarcoma, is a type of cancer that begins in the bone tissue. The cancer is most commonly diagnosed in children and young adults, and according to the American Cancer Society, the tumors tend to begin in the bones around the ends of the leg or arm bones — that is, near the shoulders and knees, areas in which the bones grow quickly in young adults.
"That's what college football's all about."

Four-time cancer survivor Casey O'Brien just got his first hold for @GopherFootball.

It was perfect, and so was everyone's reaction. pic.twitter.com/mnaGvgsErF

— Big Ten Network (@BigTenNetwork) October 19, 2019
When it's spread throughout the body, the cancer has around a 27 percent 5-year survival rate, which means roughly 27 percent of patients diagnosed with osteosarcoma will go on to live five years or more. Though every patient is different and treatment regimens differ from patient to patient, standard treatment for osteosarcoma usually includes surgery to remove the bone tumor(s) as well as chemotherapy to target the cancerous cells.
O'Brien's Cancer Journey
"I would have been lost," O'Brien said at the Big Ten meeting, "without football."
Since his initial cancer diagnosis, O'Brien has been through a knee replacement, months of chemotherapy, three lung surgeries, and an immunotherapy treatment, which uses the body's own immune system to fight the disease.
At first, doctors told O'Brien he shouldn't play football again because of his knee operation — they said that any blow to the knee would be terrible. But O'Brien found a way to play again regardless, displaying what his mom calls his "fear second, go first" attitude.
For real though, @MortellAward Holder of the Week level stuff here. pic.twitter.com/7H44r4XPmm

— Minnesota Football (@GopherFootball) October 19, 2019
O'Brien's dad, Dan O'Brien, said that his son has had an incredible attitude throughout his cancer journey, "He is a special kid, and we know the way he's handled the whole situation that there's something different about him," he said.
And was especially proud that Casey gets to share his story with the entire conference, "But to be on a stage like this and have an opportunity to give his message and how he wants to help other people. He said to me before he went up, he said, 'Dad, this is like a dream come true.' "
From his speech, it's pretty clear that O'Brien has football in his heart through every step of his cancer journey, and had complete resolve never to quit the sport, "I took chemo pills before every spring practice at my first spring ball at Minnesota. I did not miss a practice," he said.
"I spent all last season wearing a specially made shirt with a pad sewn into it to protect the port in my chest while I was still getting treatment [every Wednesday after practice]. I did not miss a practice," he continued.
"When you think courage, you think Casey O'Brien."

"Nobody can ever take away that he played college football in the Big Ten." pic.twitter.com/qZrVlJZ4s4

— Minnesota Football (@GopherFootball) October 19, 2019
O'Brien has shown no signs of cancer for the past year and a half, and receives scans every three months to make sure. He also has a low sugar, high chicken-and-broccoli diet to maintain his health.
Learn more about SurvivorNet's rigorous medical review process.
---