A Youthful Spirit
90-year-old Christine Beard, a proud great-grandmother, has been running a 10k race for 32 years.
The 18-year breast cancer survivor maintains her independence by staying active; She rides horses, hits the gym at the YMCA and even maintains a lively Facebook page.
Basic guidelines to follow—whether you are a cancer survivor or not—include getting at least two hours of exercise per week and eating a colorful diet.
90-year-old Christine Beard is the epitome of inspiration. The great-grandmother and breast cancer survivor is independent, drives a car, works out at the YMCA regularly, rides horses, is text and social media-savvy, and most impressively … has been running a 10k race for 32 years in a row.
Related: Chemotherapy Fatigue: Think of it as 'Running a Marathon'
Read More
Beard runs the
Peachtreee Road Race
in Georgia every year, running until she gets out of breath then fast-walking her way to the finish line. She finished in under two hours this year but said she would have been faster if she hadn't been stopped to take photos with people who recognized her. Yes, she's also locally—and now nationally—famous.
Related: An Incredible Feat — Man Runs Marathons in Every Country in the World to Raise Money for Prostate Cancer
"I was pretty nervous," the Marietta, Georgia native told TODAY. "I tied my shoes so tight — I thought they were going fall off my feet. And my husband thought for sure I'd end up in the first aid tent, so at the end of the race, that's where he was looking for me."
Beard likes that running is a full-body workout and overall, makes her feel good. Her secret for staying young? The 18-year breast cancer survivor insists that it's her positivity, generosity, and balanced diet, not to mention an active lifestyle.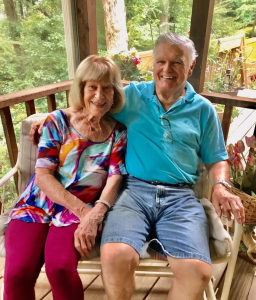 Beard has unfortunately suffered great loss, including losing her late husband and her daughter—who died from a brain tumor at 61—and runs for a list of her nearest and dearest, while also running for herself.
Related: Being The Parent Of A Sick Child Or The Child Of A Sick Parent: Dr. Marianna Strongin Addresses These Topics
"I've had different people in my thoughts and that's kept me going because when you're facing 6.2 miles, you think, 'Oh my, am I going to make it?'" she said. "I would think about these people as I ran and it helped a lot to make the time go by."
She also frequents the local library and is an avid world traveler, saying she could be ready to fly to France that same day and only require about 15 minutes to get ready. Legend!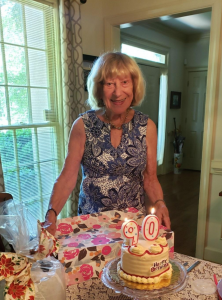 Beard shares what much younger generations can learn from her.
"I think they should get outside and play and use their imagination rather than sit indoors, always with a phone or a TV or something," she said.
A Healthy Lifestyle
The general recommendations for a healthy lifestyle are the same whether you have cancer or not, and even though some people are just blessed with better genes than others and can get away with bending the rules a bit more, there are still basic things to keep in mind to strive for youthfulness, longevity and a healthier lifestyle like Christine Beard.
Dr. Ken Miller, the director of outpatient oncology at the University of Maryland Greenebaum Cancer Center, has some guidelines for cancer survivors who are concerned about a recurrence:
1. Exercise at least two hours a week–and walking counts.
2. Eat a low-fat diet. The Women's Intervention Nutrition Study, which looked at early stage breast cancer patients, found that a low-fat diet was associated with reduced risk for cancer recurrence, particularly in those with estrogen receptor-negative cancers. Other studies have found that foods with a high glycemic index that are digested quickly and cause a spike in blood sugar may lead to tumor growth in lung cancer patients.
3. Eat a colorful diet with lots of fruits and vegetables. The American Cancer Society recommends aiming for two to three cups of vibrant vegetables and fruits each day.
4. Maintain a healthy weight. Studies have shown that being obese can increase your risk for several types of cancer.
Recommendations for a Healthy Lifestyle—One Doctor's Advice for Cancer Survivors
This Cancer Survivor Turned To Training For A Marathon After Treatment 'If I Can Get Through Cancer, I Can Get Through Anything'
Learn more about SurvivorNet's rigorous medical review process.