Advocating for Your Health as a Woman
Bindi Irwin, the 24-year-old daughter of late "Crocodile Hunter" Steve Irwin, revealed she underwent endometriosis surgery as she aims to end the stigma surrounding the "awful disease."
Endometriosis is when tissue, similar to the tissue that normally lines the inside of the uterus, known as the endometrium, grows on the outside of the uterus. Though it can come with debilitating pain, it can often be difficult to diagnose.
Since the disease can be tricky to diagnose, women experiencing symptoms should consider seeking multiple opinions if they are not getting the answers they need about their health.
Bindi Irwin, the 24-year-old daughter of late Australian zookeeper and "The Crocodile Hunter" Steve Irwin, revealed this week that she had surgery to treat endometriosis, a condition in which tissue like the lining of the uterus grows outside of the uterus. She said she is hoping to help prevent other women from dealing with the "years" of pain she endured before receiving her diagnosis.
Irwin, who shares daughter Grace Warrior Irwin Powell with her 26-year-old husband Chandler Powell, didn't hesitate to go public about her recent endometriosis surgery as she aims to end the stigma surrounding the "awful disease." Irwin's surgery comes during Endometriosis Awareness Month (March), and her openness is sure to bring comfort to her followers and others who struggle with what can be a debilitating condition.
Read More
In a heartfelt
Instagram post
, showing Irwin recovering in a hospital bed, the Australian TV personality opened up about her difficult journey with endometriosis.
View this post on Instagram

"Dear Friends, I battled for a long time wondering if I should share this journey with you in such a public space. It came down to the responsibility I feel to share my story for other women who need help," she wrote.
The conservationist explained how she's been dealing with "insurmountable fatigue, pain & nausea" over the past decade while working to stay positive on what she's described as a "very long" and "painful" road.
"These last 10yrs have included many tests, doctors visits, scans, etc. A doctor told me it was simply something you deal with as a woman & I gave up entirely, trying to function through the pain," she continued. "I didn't find answers until a friend @lesliemosier helped set me on a path of regaining my life. I decided to undergo surgery for endometriosis."
The mother of one admitted she was scared of going into surgery, but she couldn't see herself continuing to live in such a painful state.
"Every part of my life was getting torn apart because of the pain. To cut a long story short, they found 37 lesions, some very deep & difficult to remove, & a chocolate cyst," Irwin explained. "@seckinmd's first words to me when I was in recovery were, 'How did you live with this much pain?' Validation for years of pain is indescribable."
I love you today, tomorrow and every moment of forever. ❤️ pic.twitter.com/aJ6dNYLxwy

— Bindi Irwin (@BindiIrwin) March 2, 2023
Now, as Irwin begins her road to recovery, she has expressed her gratitude toward her family, friends, doctors, and nurses who have helped her get through the hard times.
She also acknowledged she's neglected to answer messages and hasn't been present in certain areas of her life as she's been focusing her energy on her daughter and family.
Now, Irwin is urging others to think again before questioning her or other women on whether they are expecting to have more children.
"I'm aware of millions of women struggling with a similar story. There's stigma around this awful disease. I'm sharing my story for anyone who reads this & is quietly dealing with pain & no answers," she concluded, as she shared a link to The Endometriosis Foundation of America. "Let this be your validation that your pain is real & you deserve help. Keep searching for answers."
According to EndoFound.org, approximately 1 in 10 women across the U.S. have endometriosis.
"So this Endometriosis Awareness Month, we are asking you to show your solidarity; whether you've been diagnosed with endometriosis, you're supporting someone who has, or you're a caregiver or friend," the foundation states on its website.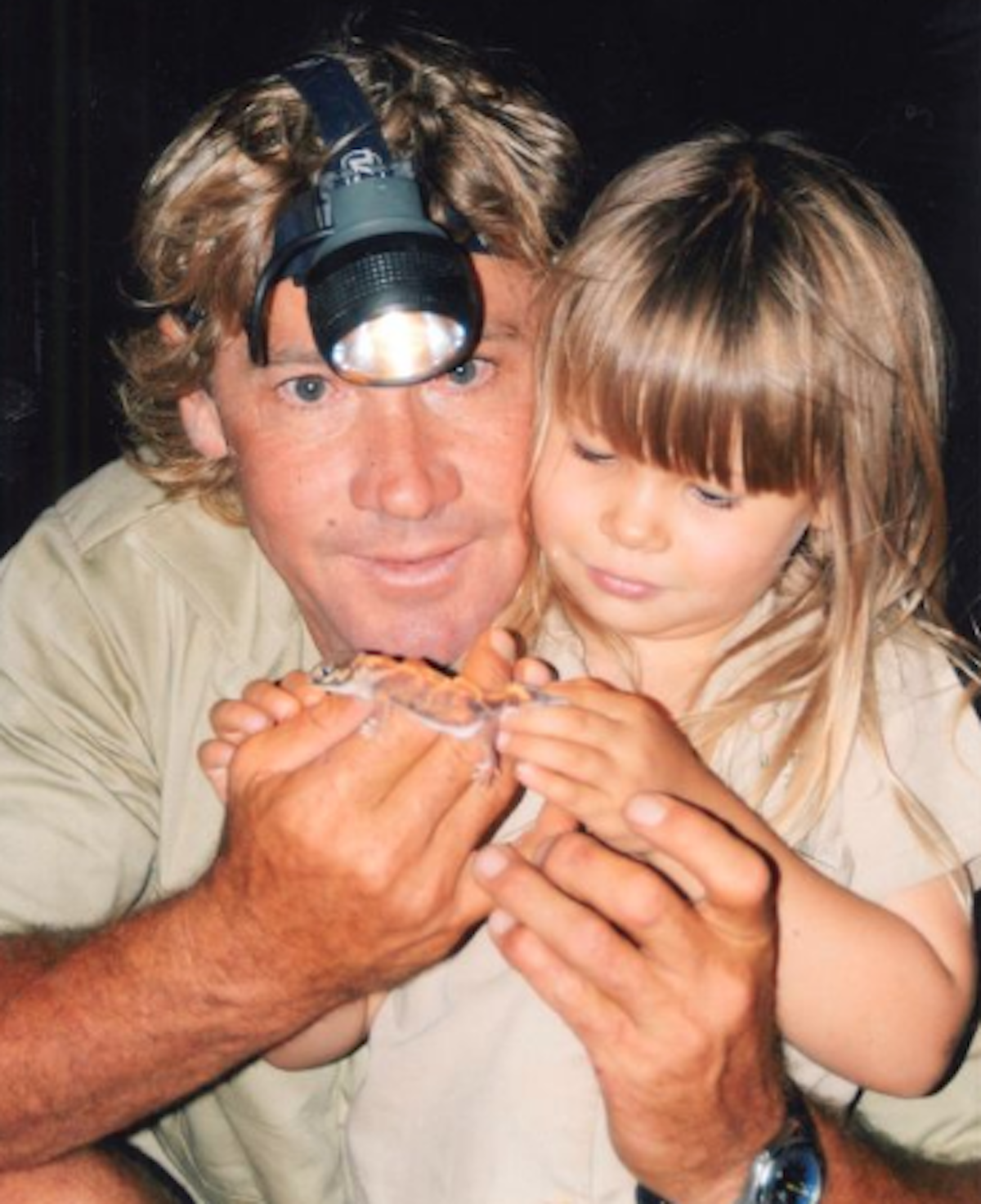 What Is Endometriosis?
Endometriosis is when tissue similar to the tissue that normally lines the inside of your uterus, known as the endometrium, grows on the outside of your uterus. It can often be difficult to diagnose.
The disorder "most commonly involves your ovaries, fallopian tubes and the tissue lining your pelvis," the Mayo Clinic explains, adding, "Rarely, endometrial-like tissue may be found beyond the area where pelvic organs are located."
"With endometriosis, the endometrial-like tissue acts as endometrial tissue would — it thickens, breaks down and bleeds with each menstrual cycle. But because this tissue has no way to exit your body, it becomes trapped," the clinic adds. "When endometriosis involves the ovaries, cysts called endometriomas may form. Surrounding tissue can become irritated, eventually developing scar tissue and adhesions — bands of fibrous tissue that can cause pelvic tissues and organs to stick to each other."
The pain that stems from endometriosis can sometimes be painful and severe, with increased discomfort occurring during menstrual periods. Fertility issues may also arise when a woman has endometriosis.
Dr. Terri Woodard Discusses Your Options For Preserving Fertility After A Cancer Diagnosis
Pain from endometriosis is most likely to be felt in the pelvic area, which is often the reason it may be attributed to menstrual periods.
However, women with endometriosis report having worsened menstrual pain during their menstrual periods.
According to the Mayo Clinic: the following are common signs and symptoms of endometriosis:
Painful periods (dysmenorrhea). Pelvic pain and cramping may begin before and extend several days into a menstrual period. You may also have lower back and abdominal pain.
Pain with intercourse. Pain during or after sex is common with endometriosis.
Pain with bowel movements or urination. You're most likely to experience these symptoms during a menstrual period.
Excessive bleeding. You may experience occasional heavy menstrual periods or bleeding between periods (intermenstrual bleeding).
Infertility. Sometimes, endometriosis is first diagnosed in those seeking treatment for infertility.
Fatigue
Diarrhea
Constipation
Bloating
Nausea
Since endometriosis can be tricky to diagnose, it may be helpful to push for multiple opinions if you feel the changes happening to your body aren't being addressed appropriately.
Advocating For Yourself While Navigating the Medical World
Be Your Own Advocate
Dr. Zuri Murrell, who works as the director of Cedars-Sinai Colorectal Cancer Center, told SurvivorNet in an earlier interview that healthcare guidelines are meant to do the correct thing for the largest number of people while using the least amount of resources.
"The truth is you have to be in tune with your body, and you realize that you are not the statistic," he said.
Be Pushy, Be Your Own Advocate… Don't Settle
Dr. Murrell noted that not all patients will "fit into" the mold, so patients must "educate" themselves and be their "own health care advocate."
"Every appointment you leave as a patient, there should be a plan for what the doc is going to do for you, and if that doesn't work, what the next plan is," Dr. Murrell added. "And I think that that's totally fair. And me as a health professional – that's what I do for all of my patients."
Contributing: SurvivorNet Staff
Learn more about SurvivorNet's rigorous medical review process.
---