The Power of Gratitude, According to Michael J. Fox
Michael J. Fox, 60, says in a new interview he's focusing on gratitude and optimism while living with Parkinson's disease.
Fox was diagnosed with early-onset Parkinson's in 1991 when he was just 29 years old.
Expressing gratitude and keeping a positive mindset can help during health battles like cancer; in some cases, positivity can lead to an improved prognosis.
Actor Michael J. Fox is a Hollywood icon and a Parkinson's hero, and now we're learning how he stays positive and moving forward, despite his decades-long health struggles; he stays grateful and positive.
In a new interview with AARP, Fox, who's known for his roles in blockbuster film and TV hits like Back to the Future and Family Ties, shares how gratitude has radically transformed his life. He says, "For one thing, I am genuinely a happy guy. I don't have a morbid thought in my head — I don't fear death."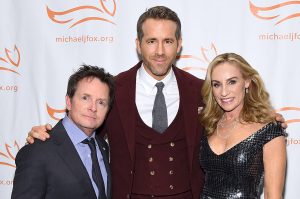 Read More
Fox describes how his late father-in-law influenced his thinking on gratitude. He tells the magazine, "But as I came through that darkness [of being diagnosed with Parkinson's], I also had an insight about my father-in-law, who had passed away and always espoused gratitude and acceptance and confidence. And
I started to notice things I was grateful for
and the way other people would respond to difficulty with gratitude. I concluded that gratitude makes optimism sustainable."
Fox affirms that we're all capable of gratitude. He explains this, saying "if you don't think you have anything to be grateful for, keep looking. Because you don't just receive optimism. You can't wait for things to be great and then be grateful for that. You've got to behave in a way that promotes that."
Fox's Parkinson's Journey
Fox was diagnosed with early-onset Parkinson's in 1991 when he was just 29. He kept his diagnosis private for seven years before sharing it with the public in 1998, and has since become a spokesperson for Parkinson's and led the charge on more research and funding for this disease. His organization, The Michael J. Fox Foundation for Parkinson's Research, is dedicated finding a cure for Parkinson's disease by funding research and developing therapies.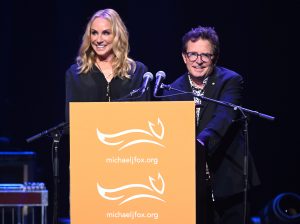 Parkinson's is a chronic illness that impacts the nervous system. Over time, more symptoms start to appear in the body. There is currently no cure for Parkinson's, but researchers like those at The Michael J. Fox Foundation are working to change that.
Related: "Be Patient With Your Emotions": A Social Worker's Insights Into Handling a Cancer Diagnosis
Medications can be taken to mitigate and control some symptoms of Parkinson's. Some of these medications include dopamine promoters, antidepressants, cognition-enhancing medication, and anti-tremor medication.
For people living with a disease like Parkinson's, Fox shares some advice during his AARP interview, saying, "Have an active life and do not let yourself get isolated and marginalized. You can live with it. People sometimes say that a relative or a parent or a friend died of Parkinson's. You don't die of  Parkinson's. You die with Parkinson's, because once you have it, you have it for life — until we can remedy that, and we're working hard at it."
"So, to live with it, you need to exercise and be in shape and to eat well," says Fox. " If you can't drive, find a way to get around. Maintain friendships. Don't say, 'Oh, I don't have anything to say to Bob.' Bob might have something to say to you. Just make the call.
Prioritizing Mental Health & Acceptance After a Diagnosis
The Importance of Gratitude Through Health Battles
Living in gratitude – like the kind Fox is promoting – takes work; it requires effort to focus on the positives over the negatives. And that extra mental legwork is especially true if you're battling a difficult disease like Parkinson's or like cancer.
Related: Grateful Celebrities: From Robin Roberts to Jeff Bridges, These 5 Stars Embody Thankfulness
However, if you're able to train your mind to stay grateful and positive – and therapy can help you do that – you'll find that it benefits your health journey. For starters, it can help you to feel better mentally. Also, some experts have found that having a positive attitude may improve prognosis in some instances.
Learn more about SurvivorNet's rigorous medical review process.