Lifting People Up
The Good Place actress Kristen Bell chooses to consistently lift people up with her social media. None of us are perfect, and a little reminder goes a long way.
The health advocate shared a post on Instagram about treating other humans with kindness, that they are more than their health or appearance; Bodies carry human beings, and we have to take care of each other.
Cancer patients especially need to be treated with care. A breast cancer survivor we spoke with says that she couldn't help but feel guilty that she had wasted part of her life before her diagnosis dealing with depression.
Reading supportive posts and reminders about striving for human decency never gets old. Respect is
always
in style.
The Good Place
actress Kristen Bell chooses to consistently lift people up with her social media. None of us are perfect, and a little reminder goes a long way.
Related: Actress Kristen Bell Stresses the Importance of Daily Self-Care, a Valuable Lesson for People Living with Cancer
Read More
Bell, 40, openly shares about body positivity, cancer advocacy, women's rights, homelessness, and has been frank about her own struggles with anxiety and depression.
Related: Actress Kristen Bell Reminds Us What Makes a Healthy Relationship, and We Should Settle For Nothing Less
"Apparently some people still aren't getting the memo so here it is," the Instagram stories post reads. "Body positivity is about RESPECT. Not who you think is attractive. Not who you assume is healthy. ALL bodies deserve to be treated with respect, because they hold human beings. That's it. No exception."
Related: This Amazing Photographer Shows All Her Scars from Cancer and Says to 'Love and Respect' Your Body
It's a simple, but powerful sentiment. Bodies are more than their appearance, more than their cancer or other health issues. There is a living, breathing human in there with complex feelings inside that far surpasses a certain stereotype.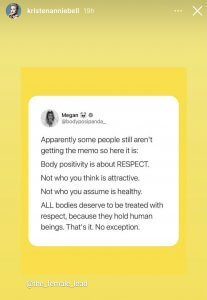 Disrespect and hurting other people can cause lifelong damage. There is no room for bullying on social media.
Related: Darienne Lake of 'RuPaul's Drag Race' Talks Bullying, Body Image, & Cancer
View this post on Instagram
Bell has also been a strong supporter of her husband, actor Dax Shephard, who has had to work through addiction issues, including a recent relapse. She has often expressed that they lean on each other and work through their struggles.
Related: Dax Shepard Speaks Out About Prostate Cancer: Actor and 'Armchair Expert' Lost Stepfather to The Disease
"He's just good at trying, and that's all you can ask of anyone," Bell said in an interview with Self magazine last month. "No one's perfect. He's proven to me that he is committed to evolving and he loves personal growth."
View this post on Instagram
Bell and Shephard, who hosts the popular podcast Armchair Expert, make it known that they are flawed like everyone else, and don't promote a perfect celebrity life on Instagram like many others do. And that's the most powerful way to use your celebrity, to encourage the support of other humans and their flaws, whether it's a spouse, family member, friend or stranger.
Cancer and Self-Kindness
In addition to supporting other humans, we also need a reminder to be kind to ourselves.
When you're facing cancer, and dealing with the inevitable truth that there's a chance you may not make it through, it's natural to feel like you should have been more appreciative of the life you led before the diagnosis, or maybe should have taken care of your body or mind more.
Cancer survivor Stefanie Wardrep says that after her breast cancer diagnosis, she couldn't help but feel guilty that she has wasted part of her life before her diagnosis dealing with depression.
Related: 'The Human Body Is Amazing': Survivor Amy Armstrong Discusses Post-Op Depression And Learning To Cope
"When I was diagnosed I had an almost overwhelming sense of regret for time lost dealing with depression," Wardrep told SurvivorNet. "When you're faced with your mortality, you think 'I wasted time.' Even though I can now see that, it couldn't be helped. You have to deal with your mental health at whatever pace that you can."
Wardrep says that during treatment, the rigidity of her schedule kept those feelings of depression at bay for awhile, but they returned when she was in recovery. Survivors often tell us that recovering emotionally is a big part of the cancer journey as well.
Related: You Just Have to Let it Out: Survivor Evelyn Reyes-Beato on Healing Emotionally After Cancer
"I think what I wasn't prepared for was when treatment was over … I felt like, oh, I'm lucky and I'm alive, so I should just be happy all the time. And that wasn't totally the case for me. I know that I should have just been nicer to myself, and I want other people to be nice to themselves … it takes time. Your treatment wasn't overnight, and neither will your recovery be."
It's normal to feel scared and anxious after a cancer diagnosis but some people—about 15 percent—develop a major depressive disorder. That's when anti-depressants are considered, says Dr. Scott Irwin, a psychiatrist and Director of Supportive Care Services at Cedars-Sinai Medical Center.
Related: How to Help Your Loved Ones Dealing With Loneliness, Anxiety, & Cancer 
"Depression and stress make it harder to treat cancer, and make it harder to tolerate the treatments," Dr. Irwin tells SurvivorNet. But taking care of some one's mental health can also impact their cancer care outcomes.
Treating Depression After a Cancer Diagnosis
Learn more about SurvivorNet's rigorous medical review process.