Marilu Henner Talks to SurvivorNet
Two months into her relationship, Marilu Henner (most famous for the TV show Taxi) says her husband, Michael Brown, was diagnosed with bladder cancer and early stage lung cancer.
Brown was treated with immunotherapy, but also chose to incorporate other alternative approaches, not supported by data.
Henner says caregivers should care for themselves and dress warmly because hospitals get cold.
Marilu Henner will forever be known as Elaine from TV's Taxi, though it was only one of the many roles she played in theater, TV, and film. However, it was her role as a caregiver when her (now) husband faced a cancer diagnosis that has been the most challenging — and rewarding — of her life.
When Cancer Struck
Cancer has almost always been part of Henner's romantic relationship with Michael Brown. While they met in college in 1970, it wasn't until they reconnected decades later that they dated.
Read More
"Within a week, we're saying, 'I love you. You're the love of my life. We're going to spend the rest of our lives together.'" Henner tells 
SurvivorNet
.
"You want to be your best for the person you're taking care of, but you also want to be the best for yourself so that you can do that role and you can feel strong and that you can, you know, … it's a hard job"
Then, two months into their whirlwind relationship, came the devastating blow—Brown was diagnosed with
bladder cancer
. Early stage
lung cancer
was found shortly thereafter.
 Dr. Arjun Balar, director of the genitourinary medical oncology program at NYU's Perlmutter Cancer Center, discusses the immune system's role in cancer. 
Having met the love of her life, Henner wasn't about to let cancer get in the way of their relationship. So, together they sought medical care, and the doctor—a top physician in Los Angeles— said it was their lucky day. He just so happened to have a cancellation on Wednesday.
Related: Lung Cancer & Bone Health – What You Need to Know
"And we said, 'What?' And he said, 'Yeah, I'm going to go in and take out the bladder, take out the prostate, make the neobladder up by pulling down a piece of your intestines,'" Henner recalls. 'Don't worry if you two want to have sex, we're going to run a small hose up his penis. You just pump it up six times. And I said, 'Oh well, can we have, uh, the seven pump model? Because we're a sexy couple.'"
Finding Another Way
Unsatisfied with that approach, Henner and her husband set out to find another way.
For them, that meant not just accepting the first doctor's recommendation to "cut everything." Instead, Brown did a total detox in combination with immunotherapy. Immunotherapy is a broad category of new treatments that attempt to activate the immune system to fight cancer. Almost any form of detox would fall under the category of an alternative therapy. While respectful of the choices made by patients, doctors are quick to point that these sorts of therapies are not supported by data, and can be dangerous.
"He didn't have to do chemo," Henner tells SurvivorNet. "He didn't have to do radiation. He didn't have to do that crazy surgery that the doctor was recommending, and no pump was necessary."
Related: Cancer Treatments Have Advanced at the Fastest Pace in History; From FDA Approvals to an Incredible Decrease In Death Rates
She said it was watching her mother die after complications from rheumatoid arthritis that made her realize how much lifestyle changes could make a difference in one's healing.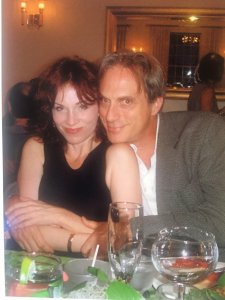 "The human body wants to heal," she tells SurvivorNet. "And if you do everything that you can to heal your body in a positive way, learn to love the food that loves you as much as possible… because we're this beautiful human animal. You know, motion is the lotion … it keeps everything lubricated and moving and you feel better and everything."
Related: Stand-Up Comedian & Cancer Caregiver, Jesus Trejo Reminds Us That 'Laughter is a Game-Changer'
Loving Cancer to Death
Brown has been in remission for more than 17 years now, and he still remains vigilant about what he does every single day, whether it's supplementation, hydration or spending time in infrared saunas. The couple, who married in 2006, chronicled the process in a book titled Changing Normal. How I Helped My Husband Beat Cancer.
Related: 6 Tips to Help You Avoid Alcohol When Faced With Stress of a Cancer Diagnosis
Henner said the approach they took helped Brown feel much more in control of what was happening to his body with the cancer.
"Michael always says that, you know, people are always like… 'Stand up to cancer, fight the cancer fight,' but he says, 'No, you have to love it to death. You have to love your body more than the cancer does.' And so instead of constantly fighting it, you have to understand it and you have to visualize it."
Henner's Advice for Caregivers
As happy of an ending as their story has had, the journey to get there wasn't easy. Henner says supporting someone through cancer is one of the most challenging yet rewarding things a person can do for someone they love.
Being an advocate for that person is key.
Related: FDA Approves the First Major New Alternative to Surgery for Bladder Cancer in 20 years
"You know, when a person hears that they have cancer, it's like when my acting teacher used to say in acting class… 'Oh, you went to the land where elephants die.' You know, cause you get that glaze over your eyes," Henner tells SurvivorNet. "So that's what the patient is like. They're hearing 'Cancer, cancer, cancer, cancer.' That's why you, as the caregiver, have to take copious notes, write everything down, report it, do whatever, inform yourself."
"I had to learn how to give him his space when he was dealing with his feelings of either despair or loneliness or depression or whatever…"
On a practical note, she said she suggests that caregivers dress comfortably and warmly as hospitals and doctors' offices are typically freezing.
"It was during the summer that we were going through a lot of this. So I was always in like these cute little dresses, cause it's, we're a new relationship and stuff. And then finally, I was like, no layer layer wear comfortable shoes, stop trying to be cute with your new boyfriend. You know, you've got to be practical."
Julie Bulger, manager of patient and family-centered care at Vanderbilt-Ingram Cancer Center in Nashville, Tenn., discusses the importance of caregivers caring for themselves. 
It's Vital Caregivers Don't Neglect Themselves
"I needed to make sure that I didn't succumb to some of the problems that some caregivers have with not taking care of themselves because you have to be able to do both," she tells SurvivorNet. "You want to be your best for the person you're taking care of, but you also want to be the best for yourself so that you can do that role and you can feel strong and that you can, you know, … it's a hard job. And my heart goes out to anybody who's constantly caregiving."
The Emotional Toll of Caregiving
Henner says the hardest part of caregiving is watching someone you love suffer.
"I'm such a cheerleader personality, but there were times when I would be like a cheerleader in front of Michael and then go behind a closed door and I would just sob and I'd feel like, 'Oh my gosh, is this going to work?'"
She said she also had to learn to step back sometimes.
Related: You Are Not Alone — 6 Inspiring Cancer Memoirs to Help Survivors and Caregivers Cope with Their Journeys
"I had to learn how to give him his space when he was dealing with his feelings of either despair or loneliness or depression or whatever," Henner said. "And I, instead of like constantly, well, what, tell me … I would sometimes just let him have his time. So… you have to be able to read the room. I think that's probably the most important thing that I learned about being a caregiver is that sometimes you have to learn to read the room in a way that maybe you didn't know that you had to before."
In the end, she says  it was their faith that carried them through the toughest of times.
"I always had this faith that he was going to be okay. I always had this belief, this faith, this mission, this sticktoitiveness, whatever you want to call this perseverance, that we would figure it out. We would figure it out and he would heal."
And that's just what they did.
Learn more about SurvivorNet's rigorous medical review process.