Zoe & Chadwick
Actress Zoe Saldana co-starred with the late Chadwick Boseman in the film The Avengers. 
Boseman was diagnosed with stage 3 colon cancer in 2016, and passed from the disease in 2020; Saldana is urging people to get screened for this disease.
Colonoscopies are used to detect colon cancer; during the procedure, the doctor is looking for small, precancerous growths called polyps.
Hollywood lost a bright star last year when Chadwick Boseman died of colon cancer at the too-young age of 43. Now, one of his former colleagues, like actress Zoe Saldana, 42, who starred with Boseman in
The Avengers
, is speaking up to help others.
Related: Chadwick Boseman's Wife Tearfully Accepts Posthumous Golden Globe Award With Powerful Tribute That Speaks to Cancer Fighters
Read More
Partnering with the Colorectal Cancer Alliance, the actress is raising awareness for alternative screening methods, such as at-home colon cancer screening tests. "There is no question that putting off appointments can
lead to devastating effects
for those that are left undiagnosed," Saldana says in an interview with
InStyle
magazine.
Related: Actor Chadwick Boseman, 43, Passes From Colon Cancer After Private 4-Year Battle, Devastating Fans: 'Immeasurable Grief'
Saldana says, "Chadwick was a gentle spirit through and through and his passing was a shock to us all. He has had an immense impact on the world and will continue to both as an actor and person. He inspires me to be a better person, in everything that I do, including my involvement in this cause."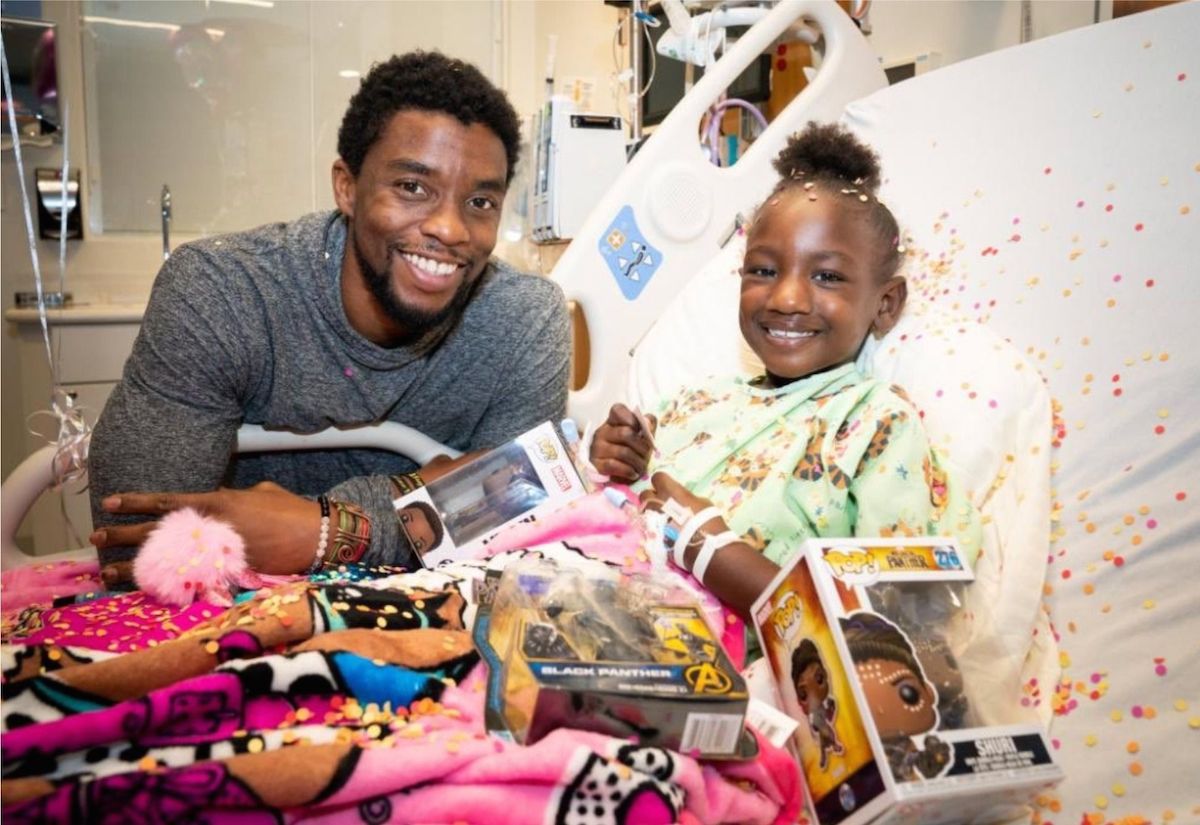 Boseman's Cancer Battle
Chadwick Boseman privately battled colon cancer for four years and passed away of the disease in August 2020 at age 43. Boseman was diagnosed with stage 3 colon cancer in 2016, and his cancer eventually progressed to stage four.
Dr. Heather Yeo, a colorectal surgeon and surgical oncologist at Weill Cornell Medicine and NewYork-Presbyterian, says in an earlier interview, "Colon cancer is considered a silent and deadly killer. What happens is people often don't know that they have colon cancer. They don't have any symptoms. That's why we screen for colon cancer in the United States."
Related: The First African American Rockette, Jennifer Jones, Says She Has Colon Cancer — A Wake Up Call
Dr. Yeo says, "You should be screened for colon cancer, even if you have no family history. Once you have your initial screening colonoscopy, if there are no polyps and you have no high risk factors, usually once every 10 years is fine. Colon cancer is a slowly progressing cancer. If you have any family history of colon cancer, you should be screened about 10 years before your family member had colon cancer. So if you have a family member that was 53, you should be screened at 43."
Colon Cancer Screening is Extremely Important; Guidelines Now Say to Start at Age 45 if There Is No Family History
Getting Screened for Colon Cancer
Colonoscopies are used as the primary screening method for colon cancer. During the screening procedure, the doctor is looking for polyps, which are small growths inside the colon which have a high likelihood (95%) of being pre-cancer.
Related: How Does a Colon Polyp Turn into Cancer?
Cedars-Sinai colorectal surgeon, Dr. Zuri Murrell, explains in an earlier interview what happens when a doctor detects a polyp during a colonoscopy. He says, "People often ask me, what do you do when you have a colonoscopy? What's done? Do you do biopsies? So a colonoscopy can be done for many things. But when we're looking at a colonoscopy for colorectal cancer screening, what we do is we're looking for polyps, which are these small growths."
Related: Getting Cleaned Out for a Colonoscopy
"When we see a polyp, we actually physically take the polyp out through the colonoscope. What does that mean? That means we basically put a wire through with a little bit of a little flange at the end and we pull the polyp out. Now, note there is no pain with that…What happens is then when we take the polyp out, we send that to a lab."
Related: Not So Fast– At-Home Screening Test "Cologuard" Is Not A Good Alternative To A Colonoscopy
"In about five to 10 business days, we get the results back," he says. "So when it's in the lab, a pathologist basically cuts up the little polyp and looks under a microscope. And underneath the microscope, they can decide whether or not it is early cancer or whether it is just a precancerous polyp. 95% of polyps are precancerous polyps. And what does that mean? That means that it's not a cancer yet. But it would have been a cancer ultimately if you just let it grow and grow and grow."
Looking for Polyps During Colonoscopy 
Learn more about SurvivorNet's rigorous medical review process.