Selma Blair Living With MS
Actress Selma Blair was diagnosed with multiple sclerosis (MS) in 2018, and battles with chronic pain daily
On her Instagram story, Blair shared a video of her dancing and singing to Belinda Carlisle's 1986 hit "Mad About You"
Cancer survivors have told SurvivorNet that music has helped them cope during and after treatment
Moving our bodies and allowing ourselves to get lost in music doesn't just help us feel good physically, but also mentally. Coping with chronic pain can't be an easy feat, and that's why Selma Blair's sweet solo dance party is so special. After undergoing chemotherapy for her multiple sclerosis (MS) diagnosis, clearly she's holding the things she loves, like music, close to her heart.
Related: "I'm a Mess With MS" Says Brave Actress Selma Blair As She Gets Back To Horseback Riding
Read More
In an Instagram story, Blair, 49, shared
two clips of her jamming out to former Go-Go's lead singer Belinda Carlisle's
1986 hit "Mad About You" in honor of the performer's 62nd birthday. In the video, Blair holds the vinyl record close to her chest, and dances to the song by swinging her hands in the air, twirling, swinging her hips, and mouthing the lyrics. Truth be told, she looks like a dancer right out of the 80's, and judging by the smile on her face, she's enjoying every minute of it.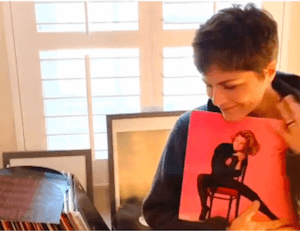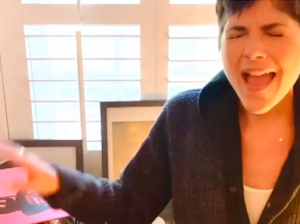 Finding moments to let loose and lose yourself in the music can help people cope with challenges they may be facing. In 2018, Blair shared that she had been diagnosed with MS — a chronic illness which impacts the brain and the body often leading to nerve damage. She underwent chemotherapy for treatment, and shared her hair loss journey with fans through social media. However, due to her illness, she still suffers from regular chronic pain, which has caused her to struggle with activities she used to love. However, she's clearly pushing through the pain in order to find pockets of joy.
Coping & Healing Through Music: Cancer Survivor's Experiences
During and after cancer treatment, many survivors have shared that they turned to music and dancing as a way to cope with their experience, as it allowed them to forget about the disease for a moment. Breast cancer survivor Vera Trifunovich always loved to dance, and she refused to sit still after completing her treatment. However, she knew she needed to start small in order not to stress her muscles, so she turned to her local Zumba class as a way to stay active while also taking it easy.
Related: Cancer Survivor Joel Naftelberg Learned to Dance on His Problems
"As I was recovering from my surgeries, it was very, very important for me to stay connected to my body," Vera says. "Through movement, the dance. The dancing actually really helped my rehab."
Breast cancer survivor Vera Trifunovich on how Zumba classes helped her cope after surgery
Of course, it's important to note that not everyone can be active after cancer surgery, and Vera admits she struggled with certain body movements during her recovery. However, for Vera, her Zumba classes weren't so much to help her physically, but mentally. Through her classes, she was able to forget about her cancer journey for one moment and focus on seeing her closest friends and getting lost in the music. She says it helped her mental health immensely.
Related: Criscilla Anderson Hip Hop Dances Through Stage 4 Colon Cancer: How Movement Can Help Heal Body And Soul
"Dancing was good for my body, and it was also so good for my soul," Vera says. "It was in those moments when I was dancing, and listening to fun music, and being with my friends, it would all melt away."
Learn more about SurvivorNet's rigorous medical review process.