Chang's Parents' Cancer Battles
Restauranteur and Momofuku founder, David Chang, 43, became the first celebrity to win the top prize on Who Wants to Be a Millionaire; he's donating his winnings to restaurant workers.
Chang's father died of bile duct cancer in June, and his mom has battled cancer four times over the course of 27 years.
Coping with the loss of a parent to cancer can be eased with tools like therapy.
Restauranteur David Chang, 43, made history this week when he became the first-ever celebrity to win the top prize on Who Wants to Be a Millionaire—and is donating all of his winnings to restaurant workers impacted by the pandemic. During a difficult year, where so many have faced hardships, Chang knows firsthand what loss and struggle feel like; both of his parents have had cancer, with his dad losing his battle earlier this year.
Related: Actress Mindy Kaling Lost Mom to Pancreatic Cancer & Wants to Help Others Impacted By the Disease: 'One of the Toughest Moments of My Life'
Read More
Chang shared the news of his victory on Instagram, by posting a picture of his win on the show and saying: "Thank god for smart friends who excelled in school. I'm still cheating off them after all these years. Team Asian American wins @millionairetv and breaks a 20-year drought."
View this post on Instagram
Chang's Parents' Cancer Battles
Chang's parents, Sherri Chang and Joe Chang (pictured below with their son) each faced cancer battles. Chang's father, Joe, passed away from bile duct cancer last June. His mother, Sherri, has battled cancer four different times. Her third cancer battle was a brain tumor.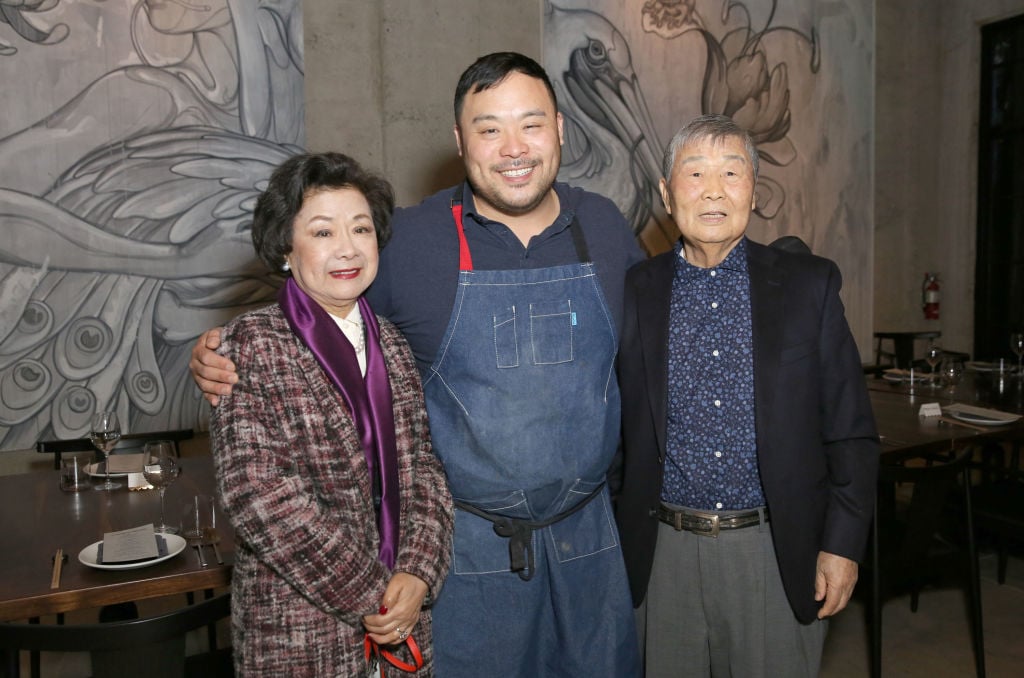 Chang has been very open in discussing his parents' struggles with cancer. On an episode of his podcast, The Dave Chang Show, earlier this year, Chang opened up about his dad passing from cancer, as well as the challenges faced by his immigrant parents raising a family in the U.S. His dad was from North Korea, and Chang's mom was from South Korea.
Related: Robert Redford's Son, James Redford, 58, Loses Bile Duct Cancer Battle But Leaves Lasting Legacy
"Father's Day has special meaning to me now. I'm going to miss him," Chang wrote on Instagram. Chang's dad, Joe, was 78 when he passed in June of this year. He had been battling cancer for "several years" Chang said in the episode. His dad came from North Korea to New York City in 1963, and he worked in restaurants as a handyman and a dishwasher. After years of working in restaurants, Joe ended up owning his own restaurant in D.C. So, it may come as no surprise that his son ended up creating the widely celebrated Momofuku in New York City.
Related: Bradley Cooper, Who Lost His Father to Lung Cancer, Is Making Sure His Mom Is Safe During COVID-19
"My heart goes out to all the families that have lost someone to cancer," Chang said in the episode. "It's a horrible thing. My dad lived a very full life. He did a lot. That's for sure. And he was beloved. He died of bile duct cancer. And he lived a lot longer than the oncologists and doctors thought that he would."
Chang's mom has battled cancer for an astonishing 27 years. Two years ago, Chang shared a picture of his mom, Sherri, and wrote: "Mamma Chang. 25 years battling cancer off and on. Still the best cook in the family."
View this post on Instagram
In Chang's 2018 Netflix show, Ugly Delicious, he spoke about his mom's cancer as the two cooked together in the kitchen. "This is how tough this woman is," Chang said. "She's had cancer four different times over 25 years. The third time she had cancer it was in her brain, a tumor. Two days after she was released from the hospital, she has a bandage. It's a chunk of brain here, right here. She is cooking me kimchi-jjigae."
Related: Treating Depression After a Cancer Diagnosis
Sherri Chang is clearly a strong, stoic woman. Many people have difficulty coping with their cancer diagnosis, which can lead to anxiety, depression, and grief. Sherri's strong family bonds with her son have likely helped her in her cancer journey.
Dealing With Grief After a Cancer Diagnosis
Coping with Grief
The loss of a parent to cancer can be very difficult to process. It's an amazing gift that Chang has given his fans— sharing the emotions that go along with losing his dad. While it's good for him to be vulnerable, it's also good for others who are also coping with loss to hear his experience, too.
Related: Rob Lowe, Who Has Lost 3 Loved Ones to Breast Cancer, Changes Turkey Day Tradition to Keep Family Safe
While therapy is an effective tool for coping with a cancer diagnosis, it's also helpful for those who are experiencing grief from losing a parent.
"Therapy Saved My Life": After Losing A Loved One, Don't Be Afraid To Ask For Help
Learn more about SurvivorNet's rigorous medical review process.