Cooper's New Bundle of Joy
In 2019, CNN's Anderson Cooper lost his mom, Gloria Vanderbilt, to stomach cancer at age 95, and this week, he welcomed his second son, Sebastian, into his life. He and his ex will co-parent their two children, Wyatt and Sebastian, together.
Treatment options for stomach cancer, like Vanderbilt's, include surgery, medications, radiation, and chemotherapy.
After losing a parent to cancer, consider seeking professional support to help you through your grief journey.
Fifty four year old CNN anchor Anderson Cooper is already a father to son Wyatt, and now he's adding another boy to their growing family three years after losing his iconic mother Gloria Vanderbilt to cancer. The new baby's name is Sebastian. Cooper lost his mom to stomach cancer in 2019, and on Thursday he announced on CNN the birth of Sebastian Luke Maisani-Cooper. Cooper will co-parent Sebastian and Wyatt with his ex, Benjamin Maisani.
Related: Gloria Vanderbilt, Socialite, Fashion Icon, and Mother to Anderson Cooper, Dies of Advanced Stomach Cancer at Age 95
Read More
In sharing the joyful news of his new son, Cooper
remembered his mother Gloria Vanderbilt
and the other family members he has lost. "When I announced Wyatt's birth, I said I liked to imagine my mom and dad and brother, all who are no longer alive, their arms around each other, smiling and joyful at his birth," Cooper said on CNN. "These past 22 months, I felt them watching over us very strongly and I already feel their love for Sebastian. The family I was born into may be gone, but I feel them alive in the family we've created, new love, and new life."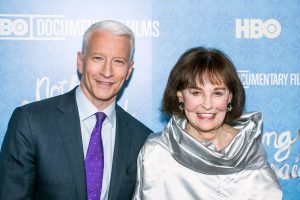 The broadcast journalist and host of Anderson Cooper 360° shared a photo of him cuddling with Sebastian soon after his arrival. The son of Gloria Vanderbilt writes, "Cuddling with Sebastian the day after he was born."
 

View this post on Instagram

 
Cooper also recently shared a picture of him cuddling with his older son, Wyatt, who is 1.5 years old.
 

View this post on Instagram

 
Understanding Stomach Cancer & Its Symptoms
Gloria Vanderbilt who was Anderson Cooper's mother, passed at age 95 after a battle with stomach cancer. Stomach cancer occurs when an abnormal growth of cells begins in the stomach and becomes cancerous. Treatment options for this disease include surgery, medications, radiation, and chemotherapy.
Related: 5 Life Lessons We Learned From Mister Rogers, Who Died 18 Years Ago From Stomach Cancer
According to the American Cancer Society (ACS) there will be approximately 26,560 new cases of stomach cancer diagnosed in the U.S. this year (16,160 in men and 10,400 in women). Stomach cancer typically affects older people, with the average age of diagnosis being 68.
 

View this post on Instagram

 
Nearly 6 of every 10 people diagnosed with stomach cancer each year are 65 or older. Symptoms of this disease may include:
Difficulty swallowing
Feeling bloated after eating
Feeling full after eating small amounts of food
Heartburn
Indigestion
Nausea
Stomach pain
Unintentional weight loss
Vomiting
When Cancer Runs In The Family: Mother and Son Share Their Cancer Prevention Story
Coping with the Loss of a Parent to Cancer
After losing a parent to cancer, as Cooper did, many people find that professional help can support the grief journey. Consider speaking with a therapist, social worker, or psychologist to help you cope with your loss.
Related: "Therapy Saved My Life": After Losing A Loved One, Don't Be Afraid To Ask For Help
Additionally, leaning on family members or looking to love other people in your family – even if they are newborns, like Sebastian! – may be a helpful way to focus on the joys in life, even during periods of grief and loss. Know that, if you're coping with a cancer-related loss, support is out there for you. Don't be afraid to reach out to family members or professionals for help. Your emotional well-being is worth it.
Dealing With Grief After a Cancer Diagnosis
Learn more about SurvivorNet's rigorous medical review process.