As a federal ban of flavored e-cigarette products is being considered, many people who vape have expressed their disdain for any further restrictions on a product they depend on. Even though vaping products are new, and researchers can't say with certainty how dangerous they are yet, many thousands of Americans rely on the products to help them stave off cravings for cigarettes, or simply enjoy using them. Many of SurvivorNet's followers have recently taken to social media to express how products, such as JUUL, have helped them quit smoking when "nothing else worked."
The potential ban comes at the heals of ongoing reports that Americans are dying due to vaping-related diseases. Last week, it was confirmed that there was another death linked to vaping-related lung disease in the United States — the eighth of its kind. The number of supposed vaping-related lung disease cases in the country has now risen to more than 500.
Read More
RELATED: HUNDREDS OF ILLNESSES LINKED TO VAPING — WHAT DO WE KNOW SO FAR?
Congress will hold a meeting on Sept. 24 to discuss the recent outbreak of lung disease and the Centers for Disease Control and Prevention's (CDC) urgent warning for Americans to stop using e-cigarettes. We here at SurvivorNet have consulted multiple experts about the possible dangers of vaping in the past, and the general consensus is that vaping is dangerous because it hasn't been around long enough for researchers to actually study the dangers. E-cigarettes were originally marketed as a healthier alternative to smoking cigarettes, but there are no medical professionals who can say with certainty that they actually are healthier — long-term studies on health effects are needed.
Outrage: Vaping supporters condone the possible ban
However, a huge number of Americans have taken up vaping — and many say that in addition to helping them kick a smoking habit, they also feel better using vaping products than they did when using cigarettes.
On a recent video SurvivorNet shared to social media, where Weill Cornell thoracic surgeon Dr. Brandon Stiles explained the potential dangers of vaping, many of our followers were quick to comment about how much vaping has helped them.
"I was a smoker for 5 years, from 13-18. I switched over to vaping. No more shortage of breath. It's a way to ween your way off of cigarettes. That's how it was designed in the first place," wrote an Instagram user named Jake.
"It's how I quit smoking after two packs a day for 28 years nothing else worked," another user wrote on one of SurvivorNet's previous Instagram posts about e-cigs.
Even though vaping does have its supporters, and many ex-smokers have fully embraced the products, there is a big call from worried American citizens to regulate big-time vape manufacturers like JUUL.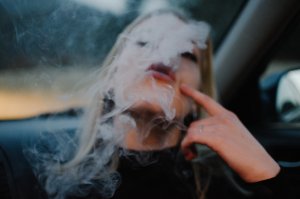 In response to some praise for the vaping industry, another Instagram user took to SurvivorNet's recent post to add her two cents. "Vaping is very new, I was a teen when it started and I'm [only] 23. There are no ways for us to know the true life time effects because no one has lived a life time while vapes were around. Similar to when cigarettes started, there was no studies on current status and long term until almost 30 years later," the user, who goes by the handle @khalica18, wrote.
What do we know about vaping and lung disease?
In a previous interview with SurvivorNet, Dr. Stiles mimicked the message Khalica shared in her comment. The reason doctors can't say with certainty that vaping is dangerous is because there simply hasn't been enough time to study the long-term effects yet.
RELATED: WE IGNORED THE EVIDENCE LINKING CIGARETTES TO CANCER–LET'S NOT DO THAT WITH VAPING
"There's an urgent need and it's very pressing to start researching this now," Dr. Stiles said. "If we wait 10 to 15 years until we see the clinical effects in all these kids who are taking up vaping, it's going to be too late. What effect do these compounds have on the lung health? On lung inflammation? On young people, on old people? … There was just a landmark study published in the American Cancer Society about rates of cancer falling and the death rate of cancer falling the lowest in 25 years. Now with vaping and JUUL, people are worried … could that turn around? Are we going to see a spike?"
Both sides of the debate certainly have strong reasons behind their way of thinking. Quitting smoking is certainly a good thing for anyone's health — but is picking up another addiction the right way to do it? Another issue with the vaping industry is that young people, who may have never been smokers, are picking up the habit. A national survey released this month estimates that the number of minors using e-cigarette products has doubled since 2017 — despite repeated warnings from health professionals that the products may be dangerous.
The companies that produce and sell e-cigarette devices, most notably JUUL labs — which makes the most popular product, the JUUL — claim that the products are made specifically as an alternative to cigarettes for adult smokers. But the teen-friendly marketing and fruity flavors of the products don't exactly support this claim … and companies like JUUL labs have been under fire from the Food and Drug Administration (FDA) for intentionally marketing to the underage crowd.
The companies market the products as "safer" because they do not contain tobacco and several other carcinogens in cigarettes that are known to cause lung cancer. The products do, however, contain nicotine liquid, which is made up of a number of other chemicals and metal particles — many of which could have dangerous long-term health effects. What we're seeing now with the vaping-related lung diseases seems to support that notion.
Learn more about SurvivorNet's rigorous medical review process.