Taylor Swift, whose mother in now fighting brain cancer, had strong words for her fans who've been ignoring public health warnings to stay home and avoid crowds to prevent the spread of the coronavirus. "Don't assume that because you don't feel sick you aren't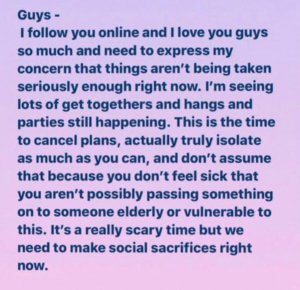 possibly passing something on to someone elderly or vulnerable to this," she said.
RELATED: Coronavirus Guide for Cancer Patients
"It's a really scary time but we need to make social sacrifices right now."
A Scary Time For Taylor Swift
That "someone vulnerable" Swift is thinking of includes her mother, Andrea, who has battled breast cancer which has spread to her brain. "While she was going through treatment, they found a brain tumor," Swift said in an interview with 
Variety
.
RELATED: Early Data: Cancer Patients Who Get Coronavirus Do Worse– Read The Guidance From The Biggest Association of Oncologists
Read More
"And the symptoms of what a person goes through when they have a brain tumor is nothing like what we've ever been through with her cancer before. So it's just been a really hard time for us as a family."
Can I Get An Amen?
Singer, Ariana Grande took up the social-distancing cause, too. In a tweet intended to set her 72 million followers straight, she wrote: "i keep hearing from a surprising amount of people statements like 'this isn't a big deal' / 'we'll be fine' … 'we still have to go about our daily lives' and it's really blowing my mind. i understand if that is how u felt weeks ago. but please read about what's going on. please don't turn a blind eye," Grande continued.
RELATED: Ariana Grande Tweets, 'Love You Always' in Tribute to Young Fan Who Lost Her Battle With Cancer Today
"it is incredibly dangerous and selfish to take this situation that lightly. the 'we will be fine because we're young' mindset is putting people who aren't young and/or healthy in a lot of danger. you sound stupid and privileged and you need to care more about others. like now."
like your hip hop yoga class can fucking wait i promise

— Ariana Grande (@ArianaGrande) March 15, 2020
'Be Like Meredith'
Taylor, who is known for her love of cats, followed with a post of one of her own in "self-quarantine". In contrast to Tayor's cat obsession, her mother, Andrea, revealed in the documentary, "Taylor Swift: Miss Americana" that she got her Great Dane, named Kitty, around the time of her cancer diagnosis.
RELATED: 'She's My Cancer Dog' — After Her Diagnosis, Taylor Swift's Mom, Andrea, Goes for Her Dream, Her Great Dane, Kitty
"She's actually my cancer dog" Andrea Swift said, "After I found that out, I decided to do something I'd always wanted to do — which is get a really big dog. I'm sorry — that's really what it is."
Andrea Swift's Cancer Journey
Swift announced her mom's initial breast diagnosis in a 2015 Tumblr post. "I'd like to keep the details of her condition and treatment plans private, but she wanted you to know," Swift wrote.
RELATED: Coronavirus Guide For Cancer Patients
"She wanted you to know because your parents may be too busy juggling everything they've got going on to go to the doctor, and maybe you reminding them to go get checked for cancer could possibly lead to an early diagnosis and an easier battle. Or peace of mind in knowing that they're healthy and there's nothing to worry about."
RELATED: "I Will Probably Always Sob" — An Outpouring Of Love For Taylor Swift's Mom With Her Song "Soon You'll Get Better" 
Then in 2019, Swift announced that her mother was facing breast cancer yet again. Then experience, she said, has taught her not to sweat the small stuff.
"I've had to learn how to handle serious illness in my family," Swift wrote in a piece for Elle. "Both of my parents have had cancer, and my mom is now fighting her battle with it again. It's taught me that there are real problems and then there's everything else. My mom's cancer is a real problem. I used to be so anxious about daily ups and downs. I give all my worry, stress, and prayers to real problems now."
Cancer and Brain Tumors
While we don't know the details of Andrea Swift's case, we do know that some cancers that begin elsewhere can spread to the brain. This is called a metastatic brain tumor, according to the National Cancer Institute. Metastatic brain tumors are more common than primary brain tumors.
Doctors grade brain tumors on a scale from one to four to indicate how quickly the tumor is growing.
Treatment for metastatic brain cancer may include radiation therapy to the whole brain with or without surgery, radiation therapy to the whole brain with or without stereotactic radiosurgery, stereotactic radiosurgery, chemotherapy, and radiation therapy, according to the National Cancer Institute.
Learn more about SurvivorNet's rigorous medical review process.
---