Even as Beth Chapman fought lung cancer, she continued to do what she loved most — capture fugitives from the law. In a new preview of "Dog's Most Wanted" on WGN America, the Chapman kids attempting to catch a fugitive, and Beth Chapman takes care of them and instructs them about how to do it right.
"That was a typical rookie move, OK? As I said to Cecily and Dakota, 'Don't let that guy get out. Block him in,'" Beth says in the clip as her children swarm a fugitive car, getting on top of it, and unfortunately letting him get away. "Fugitive three, bounty hunters none."
Read More
RELATED: Grieving "Dog The Bounty Hunter" Tells SurvivorNet He Wants to "Lock Up" Beth Chapman's Cancer Doctors Just Like The Fugitives He Hunts for a Living
Then, she goes on to explain exactly what they did wrong during ambush, "These guys should know never to jump on a moving car. Ever. What are you going to do when you jump on a moving car? Are you He-Man? Are you gonna, like, rip the roof open?"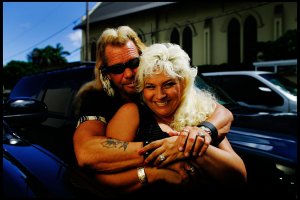 Continuing to explain the situation, she says she's grateful the scene didn't get any worse than it did, "And I would've been able to ram him again and move him over, but there were people hanging off the side of the car. All things considered, I was grateful… that Dakota [only] got a headache."
RELATED: "My Number One Tip Is To Get A Cannabis Prescription" — Grieving "Dog The Bounty Hunter" Has Some Advice For Coping With Cancer
The scene then moves to Dog and Beth arguing with a person named Rob, who was supposed to help the family catch the criminal, "He ran over my daughter!" Dog screams, as Beth yells, "I have lung cancer and I'm over here trancing around in this f**king weather for this piece of s**t."
Rob yells back at the couple, and Dog stops him in his tracks, "Don't yell at her! Right now! Stop yelling at her!" Dog screams at Rob as Beth sticks up for herself.
"You can't be trusted! You can't be f**king trusted," Beth yells at Rob. "You didn't do f**k. Your word is no good."
During her battle, Beth was committed to getting "Dog's Most Wanted" on the air.
Beth's cancer journey
Beth was originally diagnosed with stage II throat cancer in 2017, and after treatment, was declared cancer free. Then, she was diagnosed again the following year with stage IV lung cancer. After the second diagnosis, she decided to forego chemotherapy, relying instead on her Christian faith. (A decision that Beth announced on Mother's Day of this year).
The journey became more difficult yet toward the end, when Beth Chapman was put into a medically induced coma to alleviate some of her pain and stress after a choking incident related to her cancer.
Beth Chapman ultimately died at age 51 in Honolulu, Hawaii, surrounded by family members and those who loved her.
The Chapman family went on to hold two emotional memorial services for their mother—one in Hawaii, and one in Aurora, Colorado. The two locations were where Beth and Dog Chapman split most of their free time when they weren't bounty hunting for criminals.
Information about dealing with fear and negative emotions during cancer
Anxiety and fear are totally normal reactions to the news of cancer, and acknowledging these emotions can be therapeutic and important to the healing process.
"I think the most important advice I would give to someone who has just received a cancer diagnosis is to find people whom they find as a source of support. To allow themselves to go through all of the different emotional reactions to that news," said Dr. Susan Parons, Director of the Center for Health Solutions/Center on Child and Family Outcomes at Tufts Medical Center, in a prior interview with SurvivorNet. Dr. Parsons did not comment on this case specifically.
"The anger, the frustration, the fear. The disappointment. Whatever those emotions are, figure out what's important to you and find those people that can help you realize that."
Dr. Susan Parons, Director of the Center for Health Solutions/Center on Child and Family Outcomes at Tufts Medical Center on dealing with fear and anxiety after a cancer diagnosis.
In times of frustration, it can be useful to a little bit of direction on specific ways to deal with it. A few of the most common ways to deal with fear and anxiety after a cancer diagnosis, that have helped people in the SurvivorNet community in the past, include:
1. Let your family and close friends know – and let them help. So many cancer survivors tell us they want and need support but are often too preoccupied to make specific requests. Urge those close to you to jump in with whatever practical help they can offer.
2. Keep a journal. It can be extremely cathartic to let those feelings loose on paper. Grab a pen and a nice journal and chronical your different thoughts throughout the day.
3. Join a cancer support group. There are groups in nearly every community offering opportunities to connect with others going through a similar journey. You'll learn incredibly helpful insight from others who can tell you about what to expect and how to stay strong on tough days.
4. Consider seeing a therapist. Ask your doctor to refer you to a therapist so you can discuss your fears and concerns in a safe space. Often, vocalizing your thoughts and feelings rather than internalizing them can provide relief.
Learn more about SurvivorNet's rigorous medical review process.