Male Breast Cancer: Know Your Risk
Four years after Chief executive officer of Music World Entertainment and male breast cancer survivor Mathew Knowles is still raising awareness for the disease he battled.
Knowles, known as a powerful voice in the music world and the father of Beyonce and Solange Knowles, was diagnosed with stage 1A breast cancer diagnosis in 2019 and later beat it.
Breast cancer is also the disease which actor Richard Roundtree, who passed away from pancreatic cancer at age 81 this week, successfully battled.
Men should know their risk factors and not be ashamed if they are diagnosed with male breast cancer.
Common symptoms of the disease in men include, swelling or a lump in the breast, redness or flaky skin in the breast, dimpling or irritation of breast skin, nipple discharge, and pulling in of the nipple or discomfort in the nipple area.
It's important to note that these symptoms don't always signify breast cancer, but anyone experiences changes like these should contact their doctor immediately.
Music World Entertainment's chief executive officer Matthew Knowles, the 71-year-old father of Beyonce and Solange Knowles, is continuing to spread awareness for male breast cancer, a disease he was diagnosed with back in 2019 and beat. It's also the disease which actor
Richard Roundtree
, who passed away from pancreatic cancer at age 81 this week, also successfully battled.
Now, four years after his stage 1A breast cancer diagnosis, cancer survivor Knowles – also a famed author, professor, and public speaker is urging others to know the signs and risks of male breast cancer in an effort to lead others to early detection.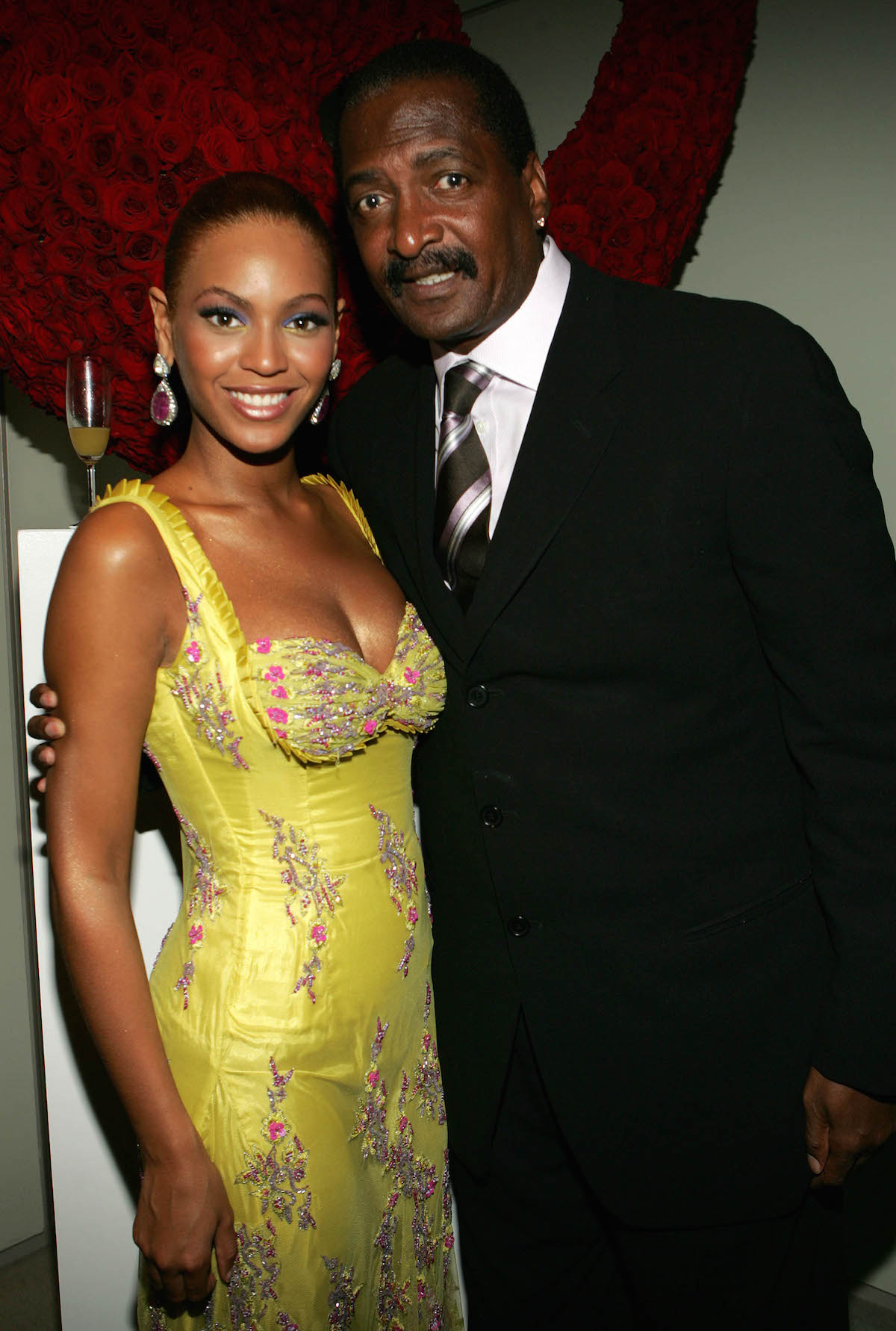 Read More
Knowles, who spoke at the 2023 Breast Cancer Gala as the keynote speaker in Grand Cayman on October 7, told
Cayman Compass
, "I want to share my ideas on how I think we should approach male breast cancer in a different way." He explained, "A lot of men in the last three, four years have come and said, 'Oh I have that too, but I was too embarrassed to talk about it,' or 'I wanted to go but I was just embarrassed,' so if we can get across that line, I think we will even have more men that go for early detection and know the warning signs of breast cancer. "And the same for women; it's all about early detection."
Knowles insists he's been an advocate for early detection of breast cancer for about four decades, telling the news outlet, "I hear so many men embarrassed, feel as though there is a stigma attached to breast cancer versus male breast cancer or male chest cancer."
Referring to how he often spreads positive messages on his social media accounts, he said, "I send positive messages almost every day. I'm just that person that I always reach for the sky and the stars and have faith. And you say thriver, I like that. But I say survivor [referring to himself] only because I co-wrote a song called "I'm a Survivor."
"The words of that song are, "I'm a survivor, I'm not gonna give up. I'm gonna make it."
Knowles, a well-informed role model in the health and cancer communities, previously shared his cancer battle with SurvivorNet a few years back to encourage people to be proactive about their health, and to let men know they can get breast cancer, too.
The "male chest cancer survivor," as he prefers to be called, carries the BRCA2 (BReast CAncer 2) gene mutation. This means that his children have a 50% chance of also carrying the gene that predisposes you to certain types of cancers. (In a prior interview, Knowles says that Beyonce and Solange have tested negative for the gene mutation.)
In Knowles' interview with SurvivorNet, he said he takes charge of his health just like he would a business. Since his diagnosis, he says he stopped drinking and made some major lifestyle changes, including eating a clean diet.
Breast Cancer Survivor Mathew Knowles, Father of Beyonce and Solange, Urges to "Take Control of Your Health"
The Houston native also insisted that we can make screening for breast cancer more effective for men if we change the messaging from breast cancer to male chest cancer.
"The more information we have, the better we can educate men and women about early detection," he explained.
"A man could really feel better about himself saying 'I have male chest cancer.' Think about it, would you like to stand up at a podium as a female and say 'I have prostate cancer.' How would you like to do that?"
View this post on Instagram
Knowles said he first suspected something to be off with his body when he noticed little drops of blood on his white shirts and on his bedding in July of 2019.
Thanks to his prior experience selling breast cancer imaging equipment, he said, "I knew from years ago what that meant, and I immediately went to my physician who immediately referred me to get a mammogram that led to an ultrasound that led to a biopsy that led to surgery.
RELATED: Music Mogul Mathew Knowles Tells SurvivorNet He Has a Clean Bill of Health after Beating Male Breast Cancer, Thinks it Should Be Called 'Male Chest Cancer'
"Somewhere in all of this, there was a delay in getting back my pathology report. Had I got my pathology report back sooner, I would have had a double mastectomy, but I didn't. In all my years working (in medical sales) I had never heard the words BRCA2 or that I was mutated genetically. I knew nothing about BRCA2 or genetic mutation."
He added, "Had I not checked, what would that have looked like? It would have been progressive. It could have spread into my lymph nodes. I am now the face of this for men. I've been given this opportunity to save lives and I take it very seriously."
Understanding Male Breast Cancer
According to the Centers for Disease Control and Prevention, breast cancer in men is rare, but it's certainly possible. Men should be aware of what may increase their risk for the disease and the symptoms of male breast cancer so that they can detect it early on.
WATCH: Men Get Breast Cancer Too
Approximately 1 out of every 100 breast cancers diagnosed in the United States is discovered in a man, and the most common types of this disease among men are invasive ductal carcinoma and ductal carcinoma in situ (DCIS).
RELATED: Man Visits Doctor Complaining Of "A Distorted Nipple" And Mysterious Chest Pain: It Turned Out To Be Male Breast Cancer
Invasive ductal carcinoma is when "the cancer cells begin in the ducts and then grow outside the ducts into other parts of the breast tissue. Invasive cancer cells can also spread, or metastasize, to other parts of the body," according to the CDC.
Additionally, ductal carcinoma in situ (DCIS) is "a breast disease that may lead to invasive breast cancer. The cancer cells are only in the lining of the ducts, and have not spread to other tissues in the breast."
If You Feel Something, Say Something: Men Ignore Symptoms Too Often
Common symptoms of the disease in men include:
Swelling or  a lump in the breast
Redness or flaky skin in the breast
Dimpling or irritation of breast skin
Nipple discharge
Pulling in of the nipple or discomfort in the nipple area
It's important to note that these symptoms don't always signify breast cancer, but anyone experiences changes like these should contact their doctor immediately.
Risk Factors for Male Breast Cancer
A man's chance of getting diagnosed with breast cancer may increase due to the following factors:
Aging. Most male breast cancers are found age age 50
Genetic mutations. Inherited gene mutations, like BRCA1 and BRCA2, can also raise the risk
Family history. If a man has a close family member with history of the disease, their risk may be heightened
Radiation therapy treatment. If a man has had radiation therapy to their chest their risk may be higher
Hormone therapy treatment. Drugs containing the hormone estrogen, which has been used to treat prostate cancer, may also increase a man's risk
Klinefelter syndrome. A genetic condition when a male has an extra X chromosome, which heightens estrogen levels and lowers androgen levels
Liver disease. Scarring of the live, also known as cirrhosis, can also increase risk
Being overweight or obese. Men who are overweight or struggle with obesity are also at an increased risk
Additional, health conditions that affect a man's testicles may also lead to a heightened risk of breast cancer and factors like a patient's race can impact the prognosis.
Five types of standard treatment are used to treat breast cancer in men are:
Surgery for breast cancer in men mirrors the procedure in women. A modified radical mastectomy removes the whole breast with cancer. The result may involve removing the nipple according to the National Cancer Institute.
Chemotherapy involves cancer-killing drugs to prevent the cancer cells from growing. Chemo drugs are usually taken orally or intravenously.
Hormone therapy involves removing hormones or blocking their ability to help cancer cells grow.
In radiation therapy high-energy beams such as X-rays are aimed at cancer cells to kill them.
Targeted therapy treatment uses drugs designed to target specific cancer cells.
Treating Breast Cancer
Doctors treating breast cancer seek out markers on your particular cancer to help decide what course of treatment is best for you. That's because cancer cells may have what are called receptors that help identify the unique features of the cancer.
The three main receptors are the estrogen receptor, the progesterone receptor, and the HER2 receptor. The estrogen and progesterone receptors go together because they are fueled by hormones. Think of the cancer cell as having little hands on the outside of the cell which grab hold of proteins that help it grow. These proteins are sometimes called "ligands."
An example of a type of ligand that can stimulate a cancer cell is the hormone estrogen. An estrogen receptor-positive breast cancer will be stimulated by estrogen to grow. In this instance, your doctor may offer you treatment to specifically target the estrogen receptor.
Another important receptor to test for is the HER2 receptor. For HER2 positive breast cancers, therapies that uniquely target the HER2 receptor are essential to treating the disease.
What Has Changed For Breast Cancer?
There has been a new classification of some advanced breast cancers called  "HER2-low," which means that women previously classified as HER2-negative could qualify for certain treatments.
Breast cancer cells with higher than normal levels of HER2 are called HER2-positive, found in 15-20% or all breast tumors. While they tend to grow faster, they are much more likely to respond to treatment with drugs that target the HER2 protein.
HER2-low cancers do not meet the threshold for HER2 positive tumors, but they still have a minimal amount of HER2 expression. So with the new grouping, HER2-low patients that may have previously been classified as HER2-negative may have the ability to take advantage of life-changing treatments like Enhertu, which can extend overall survival rates.
There Is Nothing To Be Ashamed Of With Male Breast Cancer
Marc Futterweit is a two-time breast cancer survivor and he knows first-hand that the shame that comes with a diagnosis of male breast cancer can be quite debilitating. The urge to just ignore the symptoms may sway you from getting screened. But Futterweit has become an advocate for the disease, and is now dedicated to halting that way of thinking.
Related: Shocked Survivor, 79, Beats Male Breast Cancer After Seeking Medical Opinion About His Frequently Flaking Nipples
"Men are basically standing in the shadows," Futterweit says. "They're ashamed or embarrassed this is a woman's disease. [But] why can't men get breast cancer?"
WATCH: Marc Futterweit Shares His Breast Cancer Journey
Related: Iowa Priest Battles Male Breast Cancer and Lives by Tom Petty's Lyrics: "I Won't Back Down"
That's why Futterweit's philosophy is "if you feel something, say something."He detected his own cancer when he felt an odd lump on his chest during a shower. He admits, he was baffled when his doctor suggested he get a mammogram, but in reality, it probably saved his life. "The problem with men is that they wait, and they think things are going to go away," Futterweit says. "Once they're diagnosed, sometimes it's too late."
Questions for Your Doctor
If you are facing a breast cancer diagnosis whether you're a man or a woman, here are some questions you can ask your doctor to learn more about it.
What kind of breast cancer do I have?
Has the cancer spread to other parts of the body?
What stage is my cancer in?
What other tests should I seek out to better understand the cancer before deciding on treatment?
What are your treatment recommendations and their likely side effects?
What other doctors can give me additional opinions?
Contributing: SurvivorNet Staff
Learn more about SurvivorNet's rigorous medical review process.
---