In a Wednesday morning interview with Good Morning America, Mathew Knowles — father to superstar performers Beyoncé and Solange Knowles — revealed that he is currently battling breast cancer. He's also using his own experience to advocate for awareness, pointing out that many people don't even think men can get breast cancer. Although the disease is much less common in men than it is in women (the American Cancer Society estimates that around 2,600 men are diagnosed in the U.S. every year), it does occur — and it can be deadly if not caught early. About 500 men die of breast cancer every year.
In the GMA interview, 67-year-old Knowles revealed that given October is #BreastCancerAwarenessMonth, he figured the time was right to share that he is also a survivor. He said that his initial reaction after being diagnosed just a few months ago was shock — how can I have breast cancer?
Read More
RELATED: YES, MEN CAN GET BREAST CANCER TOO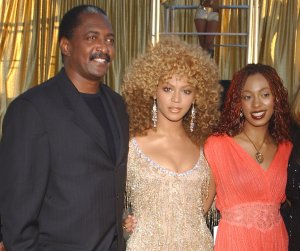 "Of all the things I could get, why would I get this? From a male perspective I'm thinking … why me?" Knowles told GMA host Michael Strahan.
He went on to say that he carries a BRCA2 mutation — this mutation can significantly increase a person's risk of developing several types of cancer. Both BRCA1 and BRCA2 mutations are extremely rare — though they are more common in certain ethnic groups. On average, about 1 in 400 people will carry the mutation. In African-Americans, the BRCA2 mutation is more common (about 3% carry it, compared to 1% for BRCA1).
"It means I have four things to be concerned about: prostate cancer, pancreatic cancer, melanoma, and breast cancer," Knowles said. "The rest of my life, I have to be very much aware and conscious and do all of the early detection … constant mammograms, constant prostate exams, constant MRI for the rest of my life."
RELATED: WHEN SHOULD I GET A MAMMOGRAM?
Even though the discovery of cancer and his BRCA2 mutation means he has to make some serious health changes in his life, and be vigilant about screening — Knowles said he is lucky that he caught his breast cancer early. He was treated with surgery in July, and now he is in recovery. Like so many survivors, he said that the cancer changed his outlook on life. He's not sweating the small stuff, and he made some health changes such as implementing more exercise into his life and cutting out alcohol.
Fans came out in droves after the announcement to wish Knowles well.
"I am praying for you dad. God will take care of you. You won't be defeated," one user, who goes by the Instagram handle toyamariaf, commented on a post Knowles shared announcing his GMA appearance.
"Please stay strong and don't give up," wrote another user with the handle rosesheri6.
Male Breast Cancer — What Men Need to Know
He also had an important message for men — particularly black men, for whom breast cancer is more common.
"The numbers we have for men on breast cancer are not adequate," Knowles said. "Because we don't have enough men that come forward, that take the exam. I'm hoping by me coming here today, speaking out, letting folks know that you can survive this … but it has to be early detection. And I can't over-emphasize the word early."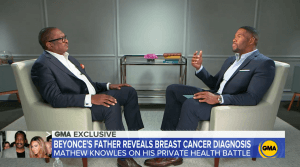 RELATED: IT'S ALL ABOUT AWARENESS — A BIKER FROM THE BRONX EXPLAINS HOW HE BECAME A MALE BREAST CANCER ADVOCATE 
Knowles is right to urge black men to be aware of breast cancer risk — even though breast cancer is about 70 times less common among black men than it is in black women, according to American Cancer Society statistics, both black men and women tend to have a worse prognosis when it comes to the disease.
Another issue with men and breast cancer is that men are more likely than women to ignore symptoms — especially symptoms that indicate breast cancer. Marc Futterweit, a two-time male breast cancer survivor who has taken his advocacy for the disease on the road, told SurvivorNet that a lot of men either don't report or wait too long to report symptoms — and by that point, the cancer has spread. Like Mr. Knowles, he urged men to speak up about symptoms.
There's Not Much Out There About Male Breast Cancer–Let's Change That
"If you feel something, say something, go get it checked," Futterweit said. "This is not a death sentences anymore. You can beat this."
While early detection is key with male breast cancer, there's also the issue of breast cancer drugs not being tested on men. Recently, the Food and Drug Administration (FDA) took a step to remedy that problem, by releasing a new guidance document urging the medical industry to do a better job of including men in clinical trials. The document pointed out that most breast cancer drugs are tested in trials that enroll either very few male patients, or no male patients at all.
Learn more about SurvivorNet's rigorous medical review process.