The Importance of Mammograms
Frances Ruiz, a mother of two and grandmother of five from Northern Texas, put off getting checked for breast cancer after losing her job and her health insurance until a newspaper ad "saved her life."
She was diagnosed with breast cancer after seeing an advertisement for "Moncrief Institute free mammograms for uninsured women."
Breast cancer is a common cancer that has been the subject of much research, so there are many treatment options out there. Mammograms, a standard screening procedure for breast cancer, and self breast exams can save lives.
The American Cancer Society (ACS) says women should begin yearly mammogram screening for breast cancer at age 45 if they are at average risk for breast cancer. The ACS also says those aged 40-44 have the option to start screening with a mammogram every year, and women age 55 and older can switch to a mammogram every other year, or they can choose to continue yearly mammograms.
A woman, from Northern Texas, who put off getting checked for breast cancer after losing her job and her health insurance, is hoping to spread awareness for the importance of screenings after an advertisement "saved her life."
Months after Frances Ruiz was laid off in September 2013, she was due for her routine mammogram in December. However, because she no longer had health insurance, she wasn't able to get checked for breast cancer.
Read More
"There was a commercial. I pulled out the newspaper and was looking through the newspaper. And in one corner, it said Moncrief Institute free mammograms for uninsured women," Ruiz, who admitted she enjoys looking at the articles and sales in the newspaper, told
Fox4News
. After getting her free screening, Ruiz learned she had stage 1, grade 3 (a fast-growing) breast cancer.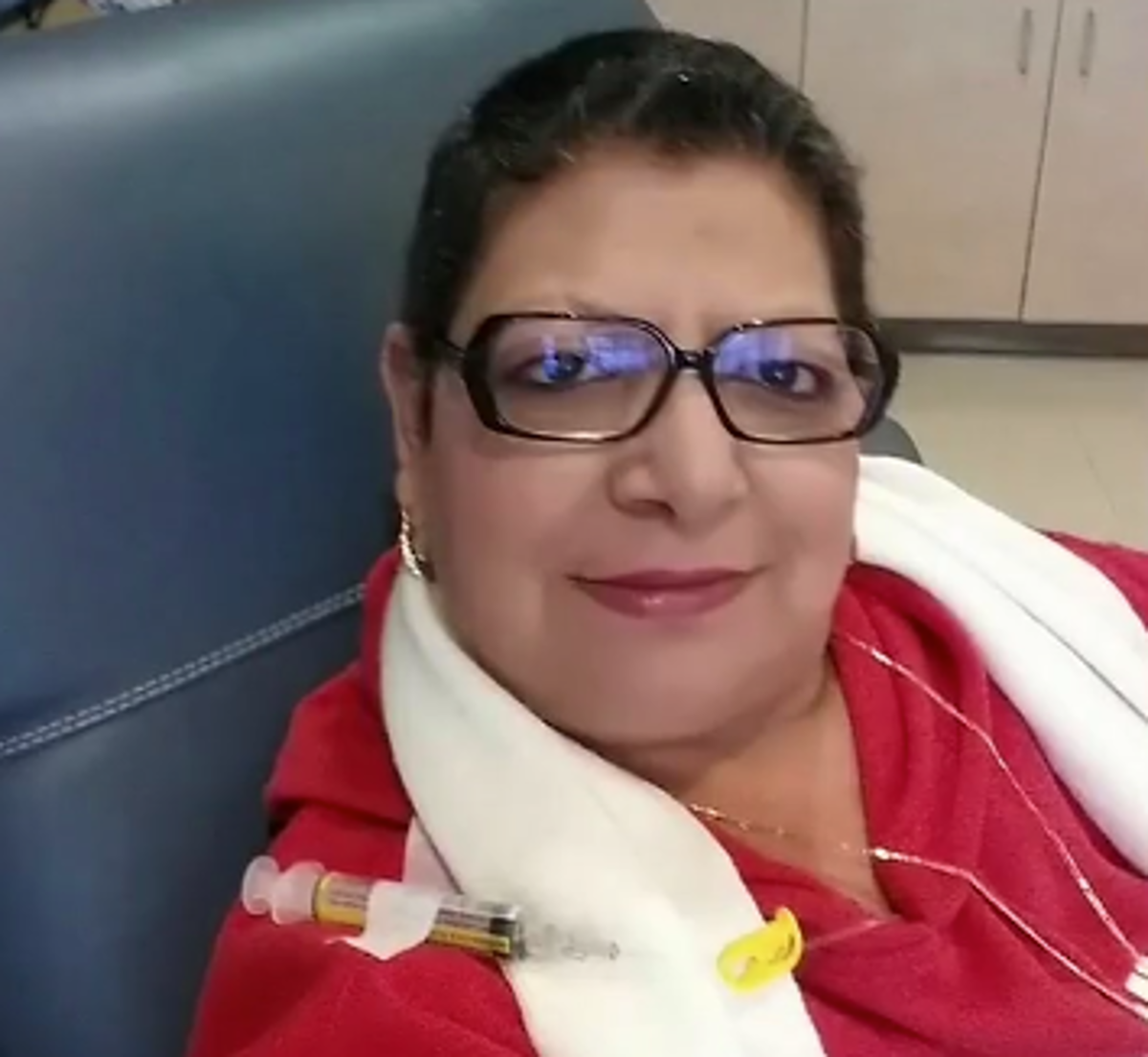 The mom of two and a grandmother of five now credits being alive to Moncrief's newspaper ad.
"Whoever decided to put that ad in the paper, whoever decided to do that, they saved my life. I'm sitting here because of Moncrief, and I will forever be grateful to them," Ruiz said.
According to Ruiz's Moncrief Cancer Institute's survivor profile, "Moncrief provides free mammograms for women without insurance, and those who qualify, thanks to funding from Cancer Prevention and Research Institute of Texas, Susan G. Komen® Greater Fort Worth, Susan G. Komen® North & West Texas, Susan G. Komen® Greater Central and East Texas, and Texas Health and Human Services Commission."
"Frances' mammogram detected an abnormality; and after a biopsy, which was also funded through Moncrief, it was determined that she had stage 1 breast cancer," the institute explained. "Moncrief's nurse navigators helped guide her from diagnosis through treatment and beyond. Today, Frances is cancer-free and an advocate for early detection."
Moncrief Cancer Institute's Dr. Ina Patel told Fox4News that Ruiz received her free mammogram due to a federal grant being used by the institute to encourage their mobile breast cancer screening clinic, focusing on uninsured and underinsured patients.
Dr. Patel said, "The goal of Moncrief with this grant is to go out all throughout DFW, not just in Fort Worth, and provide free screenings for patients. Because all it takes is one mammogram to tell you have a mass or calcifications."
Understanding Breast Cancer
Breast cancer is a common cancer that has been the subject of much research. Many women develop breast cancer every year, but men can develop this cancer too – though it is more rare, in part, due to the simple fact that they have less breast tissue.
When Should I Get a Mammogram?
Screening for breast cancer is typically done via mammogram, which looks for lumps in the breast tissue and signs of cancer. And while mammograms aren't perfect, they are still a great way to begin annual screening. The American Cancer Society (ACS) recommends women begin mammogram screening for breast cancer at age 45.
Even still, we know that a breast cancer diagnosis can come at any age. Some experts insist that screening should begin at 40, or even 35, especially if you have a family history of breast cancer.
Related: Researchers Say Diet & Lifestyle Factors Are to Blame for Dramatic Increase in Cancers in Adults Under 50; How Can You Lower Your Cancer Risk?
"If you haven't gone through menopause yet, I think it's very important that you have a mammogram every year," said Dr. Connie Lehman, a professor at Harvard Medical School and director of the breast imaging clinic at Mass General Hospital in Boston.
"We know that cancers grow more rapidly in our younger patients, and having that annual mammogram can be lifesaving," she continued to SurvivorNet in a previous interview. "After menopause, it may be perfectly acceptable to reduce that frequency to every two years."
Dr. Lehman stated that her main concern is the women who have skipped two, three, or four years in between mammograms, or those who have never had one.
"We all agree regular screening mammography saves lives. I want to be completely clear. If you are between 50 and 74 and you have not had a mammogram in the last two years, you are overdue. Please get a mammogram," she urged.
Thinking about Your Breast Cancer Risk
The risk of developing breast cancer varies greatly from person to person, so it's important to discuss your specific risk level with your doctor. That being said, there are some important risk factors to keep in mind.
Major Reduction in Cancer Risk by Following Old Standbys Diet and Exercise
In a previous interview with SurvivorNet, Dr. Comen laid out several risk factors for breast cancer including:
Being a woman: Women are at a higher risk for breast cancer, though men can get the disease too.
Age: "Breast cancer becomes increasingly more common as women age," Dr. Comen said.
Family history: "Some people think that breast cancer is only inherited through genes on the mom's side,' Dr. Comen said. "But it can also be related to genetic mutations that could be found on the father's side."
Having had a prior biopsy on an abnormal area: "There are different markers, that if a woman has had a biopsy, it's important that she talk to her doctor about whether those markers are lending themselves to an increased risk of breast cancer," Dr. Comen said. If you've had a biopsy that indicated atypical hyperplasia, for example, you are at an increased risk of breast cancer. Atypical hyperplasia isn't cancer, but it is a precancerous condition that describes an accumulation of abnormal cells in the milk ducts and lobules of the breast.
Radiation exposure: Cancer survivors who've had radiation to their chest are at an increased risk of breast cancer.
Lifetime estrogen exposure: "About 2/3 of breast cancer are driven by the hormone estrogen," Dr. Comen said. "So, that means if a woman has had her period at an early age and started to go through puberty at an early age, at seven, eight, nine, and potentially a later age of menopause, means that her lifetime of having had menstrual periods and being exposed to higher levels of estrogen is higher, and therefore her risk of breast cancer is slightly higher."
Not having a child before age 30 or never having children
Obesity
Drinking alcohol
Lack of exercise: "While there's more research to be done in this area, it looks like if a woman is not exercising, she may also increase her risk for breast cancer," Dr. Comen said.
Self-Checks for Breast Cancer
Although the news is extremely tough, the good news is that Katie found her cancer and is in the care of doctors. Performing her own self-check on her breasts saved her life and bought her more time with her son.
According to the National Breast Cancer Foundation, here is the proper way to perform a self-exam on your breasts.
Getting to Know Your Breasts with Self-Exams
According to the National Breast Cancer Foundation, here is the proper way to perform a self-exam on your breasts.
While standing straight in front of a mirror, place your hands on your hips and look at your breasts for any swelling, bulging, changes in shape of breast or nipple (inverted), redness, rashes, or any fluid leaking. Then do the same with your arms in the air.
Next, while lying down, use your right hand to examine your left breast and vice versa, while using your first three fingers to apply pressure. Ensure you cover the entire breast area, from your collarbone to below your ribcage and from your armpit to your cleavage area. Do the same self-exam standing or sitting up. Be sure to use light to medium pressure for the middle breast area and firmer pressure when feeling deep breast tissue.
If you do self-checks, it is recommended that you do them once a month, after your period. However, it should be emphasized that breast self-examination is NOT a replacement for mammography, but it certainly can't hurt if you're well before the age of these breast scans.
Although it is less common, more and more women are getting diagnosed with breast cancer at an earlier age. Knowing your family history and speaking with your doctor about genetic testing are important to stay ahead of a potential diagnosis.
Contributing: SurvivorNet Staff
Learn more about SurvivorNet's rigorous medical review process.
---