Shannen Focuses on the Good
On her latest Instagram story, actress Shannen Doherty, 50, says "Thank you God" as she lives with breast cancer.
Doherty is currently battling metastatic breast cancer; this is her second bout with the disease.
Focusing on the good through cancer may improve cancer care outcomes, experts say.
Breast cancer fighter Shannen Doherty, 50, is a tried and true example of bravery as she continues living with breast cancer in such a public way and shows others how to embrace life with cancer.
Related: Breast Cancer Survivor Julia Louis-Dreyfus, 60, Gets Second Dose of COVID-19 Vaccine; 'Fully Jabbed! Fully Grateful!'
Read More
"I'm blessed," Doherty writes in her latest Instagram story amid a backdrop of ocean waves. "I know this. Even with cancer in my life, I am a lucky person. Thank you God,' says the actress.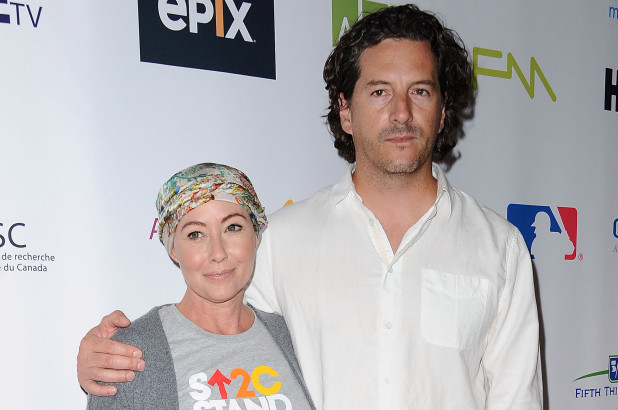 Shannen's Breast Cancer Battle
Doherty was first diagnosed with breast cancer in 2015 after finding a lump in her breast which turned out to be cancerous. Doherty had hormone therapy to fight the cancer, but it was ineffective and the cancer had spread to her lymph nodes.
Related: 'Charlie's Angels' Star and Breast Cancer Survivor Jaclyn Smith is 'Grateful' That She Can Balance Work and Family
For treatment, she had a single mastectomy and also underwent chemotherapy and radiation. After going into remission, Doherty announced in February 2020 that her cancer returned, and this time it had spread to other parts of her body.
Related: New Hope for Patients with Metastatic Triple-Negative Breast Cancer: Antibody Drug Conjugate Doubles Survival Time for Some Patients
Surgery, like the kind Doherty had, is a common treatment path for many people facing breast cancer. In an earlier interview, Dr. Ann Partridge, an oncologist at the Dana-Farber Cancer Institute explains the path to surgery. She says, "So when I talk to a woman who comes to me and she has breast cancer, I evaluate what the standard options for treatment for her are, which typically include cutting out the cancer– which is either a lumpectomy if you can get it all with just a little scooping around of the area that's abnormal or a mastectomy for some women meaning taking the full breast because sometimes these lesions can be very extensive in the breast."
When Should You Consider a Mastectomy?
Focusing on the Good During Cancer
Doherty is a prime example of someone who looks at life with a "glass half full" approach, and her latest Instagram story is evidence of that. Experts say that keeping a positive attitude and being grateful, can help positively impact cancer outcomes.
Related: As Actor Jeff Bridges, 71, Battles Lymphoma He Focuses on Gratitude: 'Let the Gratefulness Overflow into Blessing All Around You'
Cedars-Sinai colorectal surgeon, Dr. Zuri Murrell, says in an earlier interview that outlook truly does matter. "My patients who thrive, even with stage 4 cancer, from the time that they, about a month after they're diagnosed, I kind of am pretty good at seeing who is going to be OK."
"Now doesn't that mean I'm good at saying that the cancer won't grow," he says. "But I'm pretty good at telling what kind of patient are going to still have this attitude and probably going to live the longest, even with bad, bad disease. And those are patients who, they have gratitude in life.
Learn more about SurvivorNet's rigorous medical review process.