Bras & Lingerie After Breast Cancer Surgery
Lauren Mahon—who launched GIRLvsCANCER, an online community for all cancer experiences, after she was diagnosed with stage 3 breast cancer back in 2016—has opened up about becoming an advocate for others fighting the disease and the lingerie collection she helped launch with PrettyLittleThing.
The lingerie collection called Awaken is just one of three collections being released by GIRLvsCANCER and PrettyLittleThing within the next year.
Mahon hopes to inspire others to' 'keep looking at all of your breast tissue, whether you've got big boobs, little ones, or barely any, it doesn't matter.'
A 37-year-old breast cancer survivor has created a lingerie collection with PrettyLittleThing, a UK-based fashion retailer, for all women, but specifically those recovering from mastectomies.
Lauren Mahon—who launched GIRLvsCANCER, an online community for all cancer experiences, after she was diagnosed with stage 3 breast cancer back in 2016—has opened up about becoming an advocate for others fighting the disease.
Read More
Related:
Proud 'Flatties' Who've Survived Breast Cancer Encourage Other Survivors to Embrace their Post-Treatment Bodies
The podcast host, who admits she was "probably very unappreciative of life" prior to her cancer diagnosis, is proud of the new mastectomy bras and lingerie line by PrettyLittleThing, "an inclusive post-surgery lingerie collection" that she helped create.
"A collection that is all things sexy, flattering, comfortable and, most importantly, empowering. This collection has everything from mastectomy bras with pockets, matching thongs, and briefs and not to forget the fiercely feminine robes to really finish off the whole aesthetic," PrettyLittleThing explains on its website, noting that "each of our mastectomy lingerie products are created to hold breast prostheses and partials in place post-surgery and beyond."
"Our pocketed bras are designed with discreet double layered bi-lateral pockets in a power mesh material to give the ultimate comfort. Make sure you have access to post-surgical lingerie that makes you feel empowered and confident in your own skin with our sexy lace post mastectomy bras and thongs here at PrettyLittlething," it adds.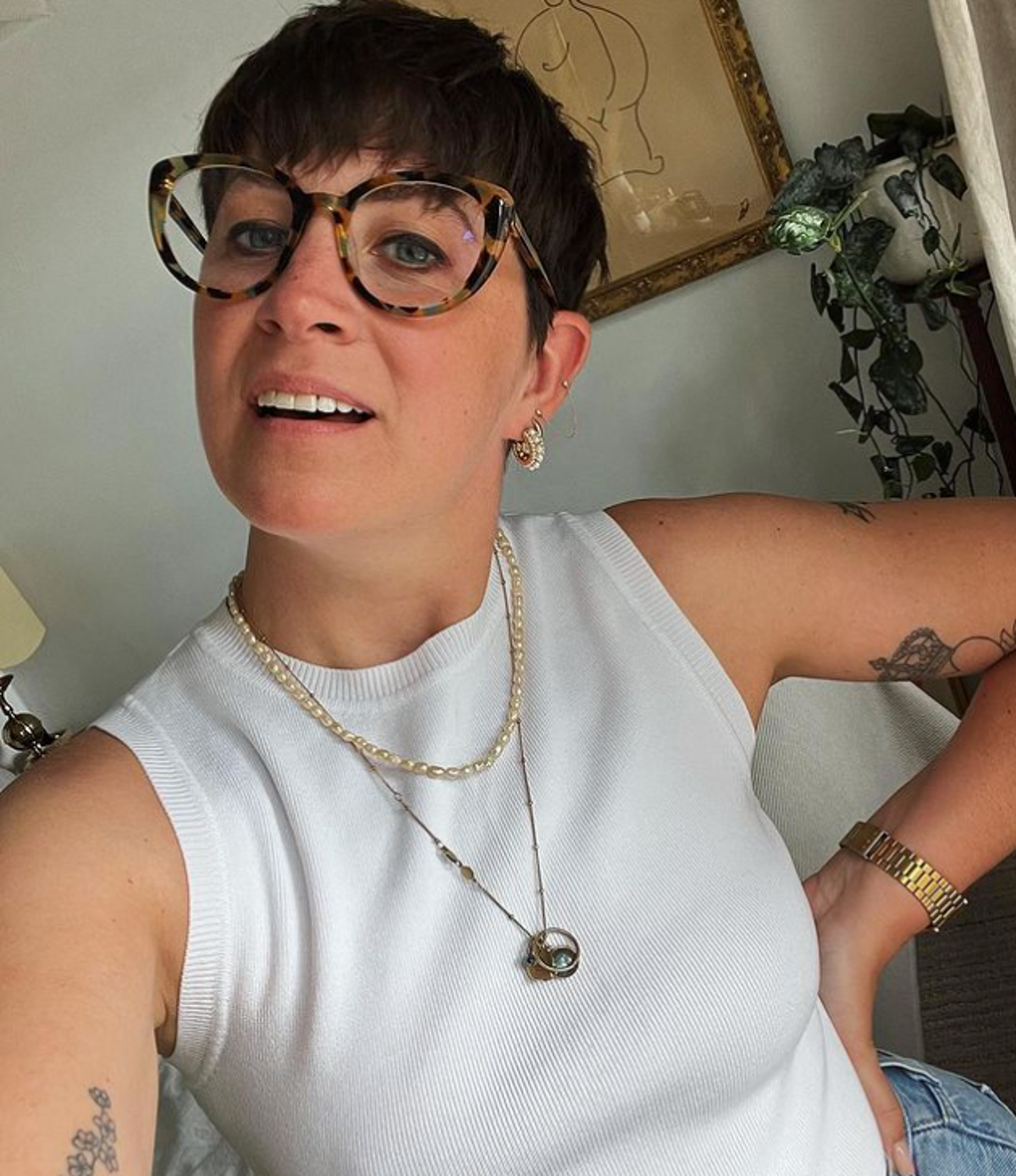 In a recent interview, Mahon opened up about women she's worked with and their bra struggles after surgery.
"A lot of the girls I worked with are now in recovery, are stage fours, or they're past that surgical phase. But they all said, 'Just because I've had breast cancer doesn't mean I want to wear these really ugly, really expensive bras,'" Mahon told The Sun. "If you want to get a really gorgeous bra that has room for prosthesis or thicker straps, or is built with a cancer patient in mind, they're expensive. And I was just like, 'this isn't fair.'
Mahon, who has undergone surgery and early menopause, continued, "Why are we paying a premium because we've had a few mutated cells? It's not right. I'm not trying to sexualize breast cancer — that's not what we're doing at all. This collection is called Awaken, because we're trying to awaken that sense of sexual prowess in the cancer community."
Related: Finally! A Comfortable Bra for Women After Breast Cancer Surgery
"These women just feel so dehumanized and so desexualized after a cancer diagnosis and I think it's really important that we allow these people to spark that back up, because they're so young. You can't put yourself out to pasture this young — no way," Mahon added.
Related:  Garters And BDSM — Sex After Cancer — A Whole New Approach
The lingerie collection called Awaken is just one of three collections being released by GIRLvsCANCER and PrettyLittleThing within the next year.
Mahon hopes to inspire others to "keep looking at all of your breast tissue, whether you've got big boobs, little ones, or barely any, it doesn't matter."
"We need to know our bodies so that if something changes we are empowered to go to a doctor and seek out some kind of support," said Mahon, who first thought a lump in her breast was just a cyst. Luckily, her mom pushed her to get checked by a doctor, leading to her diagnosis in 2016.
She has since been given the "all-clear" and was dubbed cancer free since 2017.
In an Instagram post promoting the new lingerie collection, Mahon wrote: "Feet Haven't Touched The Ground Kids. All For Very Awesome Reason. So Now That I've Exhaled. For The First Time All Week. I'm Sitting Back. Taking Stock. And Am Incredibly F***ing Proud. My Heart Is Full Of Pride & Elation. For The Breast Cancer Baddies."
"Involved In The Creation Of The Collection. Who Worked Closely With @PrettyLittleThing. As Well As Post-Surgical Queen @MHarringtonUK. To Help Us To Make An Inclusive Lingerie Range. Built For Every Body. But Made With Breast Cancer In Mind. When We First Got Together For Our Focus Group," she added. "I Thought The Idea Of An Inclusive Range. Was Probs Too Punchy. But Here We Are Team."
Body Positivity After Cancer
There has been a major movement in the last couple of years praising all shapes, colors, and sizes of women's bodies. This is particularly important for cancer survivors as well, especially breast cancer survivors who have had one or both of their breasts removed.
SurvivorNetTV Presents 'SN & You – Body Image Embracing Your Body'
Cancer can be brutal to the human body. Along with dealing with the physical side effects of chemotherapy and other treatments, there are also the emotional blows that women—and men—suffer from losing their hair, organs and other body parts, along with the scarring that comes with it.
Beauty can be found in all forms. No one is perfect, and we need to learn to be proud of our battle wounds. Especially after beating a disease that is trying to take us down.
Understanding Breast Cancer
Many women develop breast cancer every year, but men can develop this cancer too – though it is more rare, in part, due to the simple fact that they have less breast tissue. But, thankfully, breast cancer has been the subject of much research.
There are many treatment options for people with this disease, but treatment depends greatly on the specifics of each case. Identifying these specifics means looking into whether the cancerous cells have certain receptors. These receptors – the estrogen receptor, the progesterone receptor and the HER2 receptor – can help identify the unique features of the cancer and help personalize treatment.
"These receptors, I like to imagine them like little hands on the outside of the cell, they can grab hold of what we call ligands, and these ligands are essentially the hormones that may be circulating in the bloodstream that can then be pulled into this cancer cell and used as a fertilizer, as growth support for the cells," Dr. Elizabeth Comen, a medical oncologist at Memorial Sloan Kettering Cancer Center, previously told SurvivorNet.
Screening for Breast Cancer
It's important to undergo regular screenings for breast cancer. The current guidelines from the American Cancer Society (ACS) say that women aged 45 to 54 with a regular risk of breast cancer should get mammograms annually.
For women with an elevated risk of breast cancer (who have a family history of the disease or carry the BRCA1 or BRCA2 gene mutation), you should begin screening before age 45. Speak with family members about your family cancer history – it could save your life. Performing self-exams in the shower or at home is another good way to stay on top of breast cancer screenings; these should be done in addition to – not in place of – mammograms.
When Should You Consider a Mastectomy?
Breast cancer is screened for via mammogram, which looks for lumps in the breast tissue and other signs of existing cancer, or cancer in its earliest stages. If a worrisome lump is detected, your radiologist or doctor will advise you on the next steps, which typically include a breast biopsy.
Contributing: SurvivorNet Staff
Learn more about SurvivorNet's rigorous medical review process.
---