For women who have had surgery due to breast cancer, feeling sexy can be really hard. Thankfully, people are starting to realize how important it is for breast cancer survivors to be included in the world of fashion. As breast cancer awareness month heats up, Rihanna's Savage X Fenty line is using models who have actually survived breast cancer to represent their new pink lingerie line.
There has been a really positive response in the breast cancer community. "I think its important that Savage X Fenty represents their voice with the patients who have faced this disease every day of their life, and not just models calling it a benefit for breast cancer. It opens up the door to have a conversation for all of us," Dana Donofree, breast cancer survivor and founder of AnaOno, a lingerie company that makes bra specifically for women who have had breast cancer surgery, told SurvivorNet.
Read More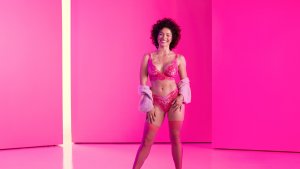 Unfortunately, cancer treatment often alters the way someone looks … even though a lot of those changes are temporary, it can be really hard to live with during treatment.
One survivor named Ericka Heart told us that feeling sexy and having sexy after cancer are totally possible and acheivable. "If you are diagnosed, and you're thinking you're never going to have sex again, think again," she said.
Breast cancer survivor Ericka Hart says you can have a lot of great sex after cancer
Sure there will be days where you won't feel up for it, but that doesn't mean your sex life is over. Ericka lived through breast cancer, and says that throughout her treatment, none of her doctors discussed how her sexuality would be impacted. Which is a real shame.
"Kink and BDSM was a huge part of my healing," Ericka says. "When you go through breast cancer, it's almost like a non-consensual pain you have to go through … to have someone spank you, or flog you, or even choke you in a consensual way that you're asking for, can be a really beautiful way to reclaim your body."
Rihanna's Savage X Fenty line
After Rihanna's Savage X Fenty collection, a set of underwear and lingerie for all body types and sizes, was a great success, Rihanna is using the SavageXFenty label to release a collection of pink lingerie and undergarments to raise awareness and money for women with breast cancer.
RELATED: The Amazing 24-Year-Old Singer Who Beat Cancer Twice And Is Now Starring In Rihanna's New Pink Lingerie Campaign
The campaign for the collection focuses on four women with breast cancer — one of whom is Stephanie Seban. Along with Johanna De La Cruz, Bianca Muniz, and Nalie Agustin, she talks about her experience with cancer in a documentary video.
RELATED: You Can Have Lots of Fantastic Sex After Cancer
Stephanie Sabin, who survived stage four breast cancer, talked to the campaign about accomplishments and the success of her career post-cancer. "Does she let [cancer] stop her from being an entrepreneur and published author? HELL NO, HUNNY! And she's just getting started. #SAVAGEXTHRIVERS," reads an Instagram post of her in the lingerie post-mastectomy.
And supporters commented about how supportive these messages are for women struggling with the disease, "Love the positivity for all women who go through struggles and are killing it! Women's health issues are never talked about but effect so many of us in all aspects of life!"
RELATED: Pink Everywhere! Comicon Costumes, Football Gear And Milkshakes — People All Over The Country Pinkify To Raise Awareness For Breast Cancer
Bianca Muniz's cancer journey
One of the four women in the shoot, Bianca Muniz, spoke to SurvivorNet about a year ago about her journey with breast cancer.
"I've learned to not take life so seriously and to just do what I love," Muniz told SurvivorNet in an exclusive interview. "If something isn't making you happy, and it's not necessary, then it doesn't need to be there."
24-year-old breast cancer Survivor Bianca Muniz on how she learned to let go, and not take life so seriously
Muniz turned to music as an outlet during her experience with cancer. She was first diagnosed with ovarian cancer when she was just 11-years-old. She was then diagnosed with breast cancer at age 22. It's been a tough road, but Bianca says the disease taught her to appreciate what she can – and forget the rest.
"By my senior year, I had started my own band. Then, it was the fall after my tour and after my graduation that I had been diagnosed," she said. "I fell into a dark hole of Google. It was not good. But for me, it helped. It helped me prepare."
Cancer had a big impact on Muniz's life and art. "This experience has had two different effects on my creativity and my music, so I've gotten a lot of inspiration from it,' Muniz told SurvivorNet. "But also the side effects of treatment, of chemo, and surgery have definitely had a little bit of a negative effect on my voice. But then again, I love performing. I always feel happy after I've performed."
Learn more about SurvivorNet's rigorous medical review process.