"You have a calcium deposit in your breast." Half of all women who get a mammogram after they reach menopause will likely hear this. Naturally, the words can cause some anxiety, and the SurvivorNet community asked us to clarify what they mean. The quick answer is that calcifications in the breast can be the result of many different things. In most cases, they're benign, but in some instances, the presence of large clusters of calcium can indicate what's known as "stage zero breast cancer," or even full-fledged breast cancer—but further testing is usually required to know for sure.
So what, exactly, are the bright "calcium deposit" spots that show up on a mammogram? 
Read More
First thing's first: finding 
calcifications
on a mammogram is really normal, especially among women who have gone through menopause. In fact, in women over age 50, calcifications show up on about
half
of all mammograms.
"They're exceedingly common," Dr. Sarah Cate, Assistant Professor of Surgery at Icahn School of Medicine at Mount Sinai, told SurvivorNet. "Calcifications can be many different etiologies [causes] that are all benign. You may even see them just with aging."
For younger women (under age 50), calcifications show up in about one in ten mammograms. Because they don't usually cause symptoms, many women don't know they're there until they appear on a mammogram as little bright white dots, specks, or clusters. They appear that way because calcium is a mineral that absorbs the x-rays that the mammogram sends through the breast tissue.
While these spots usually end up being harmless, they can be a sign of breast cancer, which is why doctors will often recommend additional imaging tests or biopsies after spotting them in certain patterns on a mammogram.
Dr. Connie Lehman, Chief of the Breast Imaging Division at Massachusetts General Hospital and Professor of Radiology at Harvard Medical School previously explained to us that while getting called back for further tests after a mammogram can be nerve-wracking, it's helpful to remember that most of the time, these further tests turn out just fine.
"We understand the anxiety that screening for breast cancer can cause and we understand the impact when a woman either gets that phone call or receives that letter saying we found something on your mammogram," Dr. Lehman said. "[But] overall, if we think about it, when women go in for a screening mammogram, about 10 percent are going to be called back for more testing [and] the vast majority of that 10 percent of women called back do not have breast cancer."
Dr. Lehman's words echoed what Dr. Cate told us—that even when a woman is called back to have her breast biopsied, 80-to-85 percent of the time, the biopsy results come back benign.
Dr. Lehman spoke with SurvivorNet about getting called back for further testing after a mammogram.
What Causes Calcifications?
There isn't one overarching cause of breast calcifications. They could show up for a number of reasons, including breast injuries or past radiation. They could also show up if someone has a non-cancerous cyst or a non-cancerous breast lump called a fibroadenoma. They may also show up as a sign of heart disease. The list of potential causes is long—and does include breast cancer.
Contrary to what the name "calcium deposit," would suggest, though, there's one thing that does not cause them: calcium intake. That is to say, you're not going to develop calcifications from drinking too much milk.
Harmless, Or a Sign of Breast Cancer?
Again, if doctors are concerned about breast calcifications on a mammogram, they'll probably conduct further testing for more information. You might have another mammogram—or a mammogram that uses more precise technology, such as a 3D mammogram. After that, you may have an MRI or a breast biopsy to look for further signs of breast cancer.
RELATED: What to Expect From a Breast Biopsy
But after detecting calcifications on a mammogram (or getting a closer look at them on a second mammogram) it's very possible that your doctor could decide there's no cause for concern.
How do they know? Factors that doctors may consider include whether these calcifications are new (did you always have them, or did they just appear?) and the formation they show up in on the mammogram.
Dr. Cate explained that generally, there are two types of calcifications that can appear on a mammogram: microcalcifications, and macrocalcifications.
Microcalcifications, or clusters of tiny specs, are more likely to be a sign of breast cancer than larger, round dots called "macrocalcifications." It may seem counterintuitive, but when it comes to calcifications, larger is less suspicious.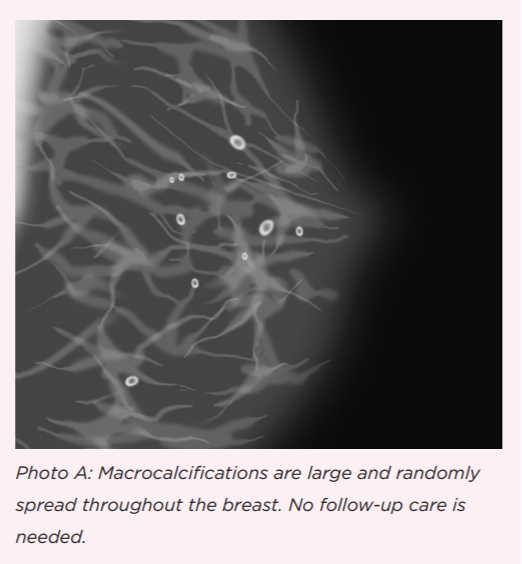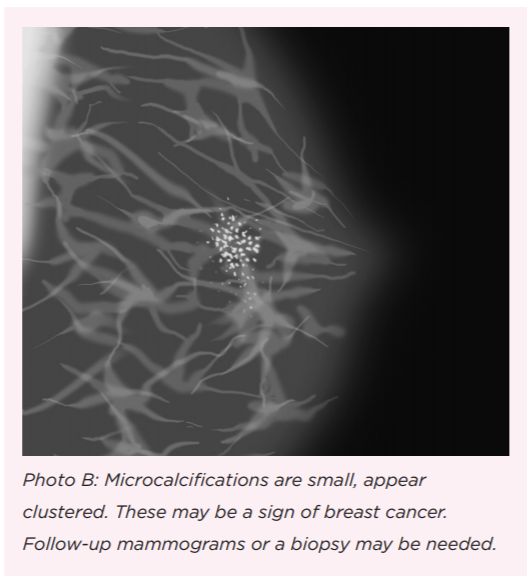 Microcalcifications and Breast Cancer
With microcalcifications, Dr. Cate said, "it depends on their appearance whether a radiologist would say, 'we can follow it with another mammogram in six months,' or if it would need a biopsy."
When microcalcifications appear in a concentrated area or line, they can be signs of breast cancer. The reason breast cancer may cause calcifications (and its important to note that it isn't the other way around – calcifications don't cause breast cancer) is because when abnormal cells become over-concentrated in one area, some of the cells may die and harden ("calcify") before the body can clear them away.
When the formation and number of these specs look suspicious, doctors will perform the next tests required to accurately diagnose breast cancer and move forward with treatment.
Microcalcifications and Pre-Cancer
And while the smaller dots are more concerning than the larger ones, they are not necessarily a cause for worry, either.
They may, for instance, be a sign of something called "ductal carcinoma in situ," or "DCIS," which is a cluster of abnormal cells lining the breast ducts that haven't spread elsewhere and may never do so.
DCIS, which is sometimes referred to as "stage zero" breast cancer, or "pre-cancer," can in some cases turn into full-fledged breast cancer if left untreated—which is why it's often removed surgically and treated with radiation.
RELATED: I Have Stage Zero Breast Cancer. What Should I Do?
But according to Dr. Ann Partridge, an oncologist at Dana-Farber Cancer Institute, a professor at Harvard Medical School, and the founder and Director of the Program for Young Women with Breast Cancer, "DCIS is a really interesting clinical dilemma these days," because it isn't necessary to treat something that may never become cancer.
"Many have questioned, 'Well, do we actually really need to do surgery on something that may or may not turn into a problem?'" Dr. Partridge said in a previous conversation with SurvivorNet about stage zero breast cancer. "Given that, we've actually started planning and are running trials."
In several of these clinical trials, doctors are testing whether they can use "active surveillance," which is a watch-and-wait approach to DCIS, in which they don't take immediate action, but monitor the cells carefully through follow-up mammograms to see if anything changes.
"If the mammogram doesn't change, or if it changes for the better, then watching makes sense," Dr. Partridge explained, adding that women may also take hormones to reduce the risk of the DCIS turning into breast cancer.
When considering how to proceed after finding calcifications that are pre-cancerous cells, Dr. Partridge said she always recommends having open conversations with your doctor, and getting a second opinion, too.
Dr. Partridge spoke with SurvivorNet about what to do if you have stage zero breast cancer.
In some cases, if there are other risk factors involved, such as family history or the presence of genetic mutations, doctors may decide it's better to take preventative action than watch and wait.
This was the case, for instance, for Nina Garcia, the editor-in-chief of Elle Magazine, who decided with her doctors to have a preventative double mastectomy this past winter.
"I've had numerous biopsies, two lumpectomies, and countless follow-ups," Garcia wrote in a reflection on her decision. "None of the results were terrible, but there were signs—radial scars, a cluster of microcalcifications, the presence of precancerous cells—which could serve as premonitions for what might happen."
Garcia also tested positive for a mutation of the BARD1 gene, which interacts with the BRCA1 gene.
RELATED: What is a BRCA Mutation?
"Doctors think [the mutation] increases cancer risk, but there isn't enough data to know by how much." Garcia wrote. "Even though I had amazing genetic counseling and many supportive doctors, there has been no clear direction as to what I should do."
Ultimately, she decided with her doctors to have her breasts surgically removed to eliminate her risk of breast cancer.
RELATED: Should I Have a Lumpectomy or Mastectomy?
"I think that any doctor worth their salt should be able to address those kinds of questions," Dr. Partridge said. "And help patients to feel really confident about the decisions they're making and their care in general."
Learn more about SurvivorNet's rigorous medical review process.
---