New Research Finds Concerning Cancer Trend
New research published in the American Cancer Society journal, CA: A Cancer Journal for Clinicians, says that more women will be diagnosed with lung cancer than men this year, reversing a long-standing trend.
The data also suggests the women impacted are less likely to have ever smoked. Research is ongoing to learn why non-smokers are affected by lung cancer, but experts point to genetics and environmental factors as possible reasons.
New guidelines published in CA: A Cancer Journal for Clinicians call for annual lung cancer screening for people aged 50 to 80 years old if they are heavy smokers with roughly 20 years of smoking history.
Lung cancer doesn't cause symptoms until it has already spread outside the lungs, making it harder to catch in its early stages. It predominantly impacts people with a history of smoking, although this cancer can also impact non-smokers.
Lung cancer screening is painless and lasts only a few minutes. It involves using a low-dose computed tomography (LDCT). While lying on a table, an X-ray will scan your lungs for anything unusual, such as a shadow over the lungs.
A California woman who suffered from debilitating back pain during pregnancy thought her aches would subside after she gave birth to her daughter. However, while trying to care for a newborn, her pains worsened.
"Once I had my daughter and the medication wore off, I still had pain," Sherrie told "Today."
Read More
Her doctors were able to help her pinpoint the root of her problems after reviewing several tests and scan results. However, the source was not pregnancy-related after all; instead, Jessica Sherrie was diagnosed with stage 4 lung cancer at just 35 years old. Adding to her worries, the cancer had spread beyond her lungs. She had tumors in her hips, spine, and brain. Her surprising diagnosis is part of a larger trend in new
research published
in the American Cancer Society journal, CA: A Cancer Journal for Clinicians. The latest data suggests more women in their 30s, 40s, and 50s will be diagnosed with lung cancer this year, even non-smokers. The new trend runs contradictory to the longstanding trend of men being diagnosed more due to higher smoking rates among men. However, it should be noted that since the US Surgeon General's
Report
on Smoking and Health in 1964,  people have been less motivated to smoke over the decades.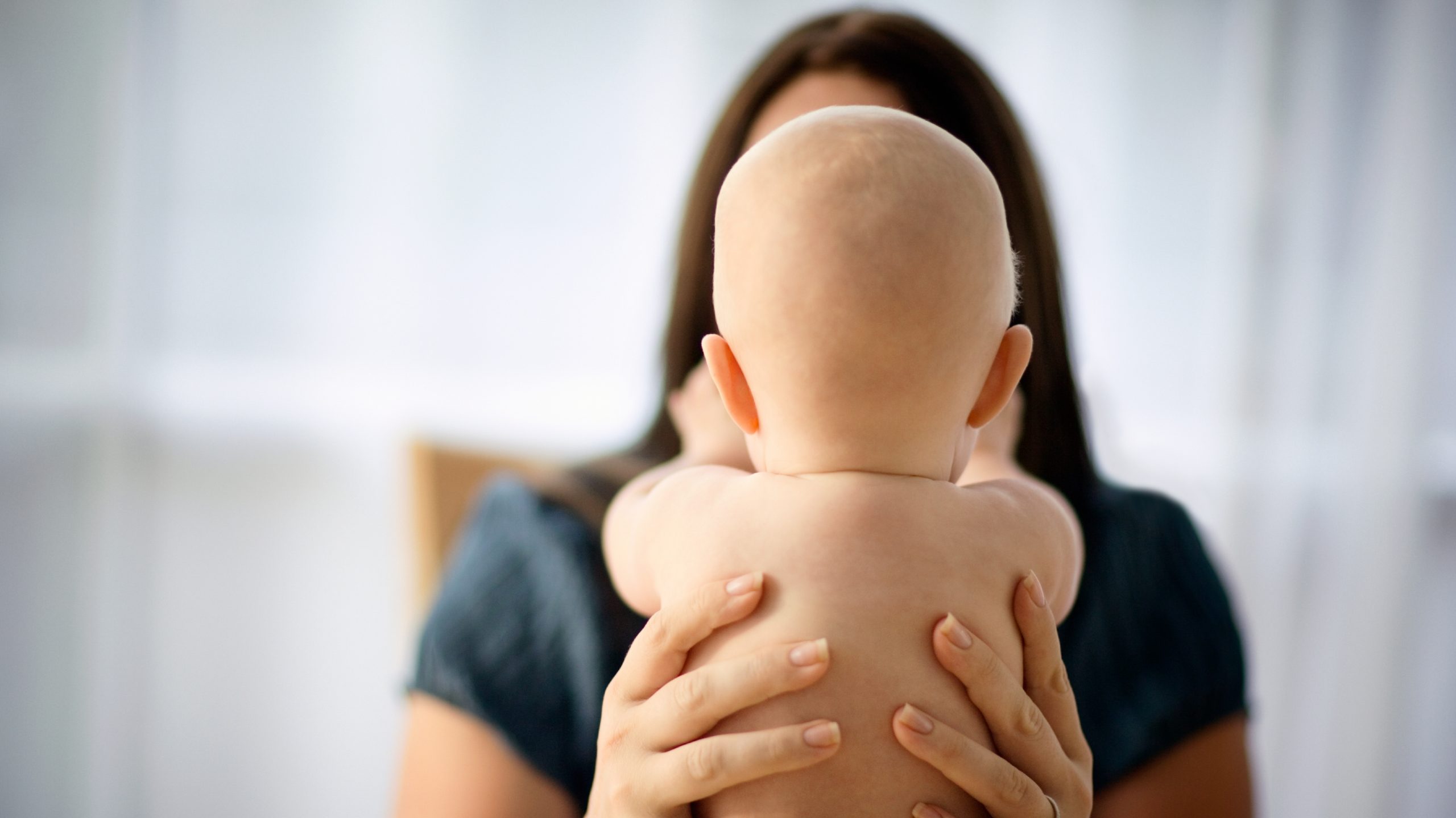 "I just immediately was like, 'Oh, this is a death sentence," Sherrie told "Today."
Luckily, even stage 4 lung cancer does not mean the end is near, as advances in cancer treatment continue to give people diagnosed with this disease a fighting chance.
"I was like, 'I'm going to beat this," Sherrie said, thinking about her young daughter as a source of inspiration.
"I have to get through this because I want to be there for my daughter," she added.
What made Sherrie's diagnosis more bizarre is she never smoked for a day in her life. Smoking is among the top risk factors for lung cancer. Researchers have made progress in understanding the differences between lung cancer in smokers versus non-smokers, says Dr. Ronald Natale, a medical oncologist at Cedars-Sinai Medical Center, and they're developing targeted treatments that will be able to address the genetic drivers of lung cancer in non-smokers.
RELATED: Smoking Doesn't Just Cause Lung Cancer. It's the Top Risk Factor For Bladder Cancer. Here's How to Quit.
WATCH: Understanding smoking's impact on lung cancer.
More Non-Smoking Women are Expected to Be Impacted by Lung Cancer
As previously noted, new research on the prevalence of lung cancer between men and women spotlights a noticeable trend. The latest data highlights lung cancer risks and found that while men have traditionally had a higher incidence of lung cancer, women are expected to surpass men in cases this year.
The researchers estimate 120,790 lung cancer cases in women are expected this year compared to 117,550 cases in men.
"We're uncovering more and more cases in people who have never smoked who have lung cancer, and they're increasingly younger, increasingly female, and so now I think it's starting to enter the public consciousness as the health crisis that it really is," UCSF thoracic surgeon Dr. Johannes Kratz told KGO News.
Dr. Kratz reviewed the findings in the research paper and noted women expected to be diagnosed between the ages of 30 and 55. While researchers are still trying to learn why non-smoking women are more likely to be impacted by lung cancer, Dr. Kratz points to some possible clues.
"There are some clues. In addition to environmental factors, Dr. Kratz points to lung cancer rates in Asia, particularly in never-smoking Asian female patients. He says there appears to be something in the genetic background that causes them to get a specific type of lung cancer."
Understanding Lung Cancer
Lung cancer forms when cancer cells develop in the tissues of the lung. It is the second most common form of cancer and the leading cause of cancer deaths in both men and women in the U.S., SurvivorNet experts say. It's "completely asymptomatic," says thoracic surgeon-in-chief at Temple University Health System Dr. Joseph Friedberg.
"It causes no issues until it has spread somewhere. So, if it spreads to the bones, it may cause pain. If it spreads to the brain, it may cause something not subtle, like a seizure," Dr. Friedberg adds.
Scans such as X-rays can help doctors determine if a shadow appears, which can prompt further testing for lung cancer.
Lung cancer often doesn't cause symptoms until it has already spread outside the lungs, according to SurvivorNet's experts.
There are two main types of lung cancer, which doctors group together based on how they act and how they're treated:
Non-small cell lung cancer (NSCLC) is the most common type and makes up about 85% of cases.
Small cell lung cancer (SCLC) is less common, but it tends to grow faster than NSCLC and is treated very differently.
If you quit smoking, you can significantly reduce your risk of developing the disease and dying from it. Researchers with the American Cancer Society say "approximately 80% of lung cancers are caused by cigarette smoking."
Treatment options for lung cancer depend on its type, its location, and its staging. In general, treatment methods include surgery, chemotherapy, radiation therapy, targeted therapy, or a combination of any of these treatments.
Lung Cancer Screening for Smokers
The new guidelines set by the American Cancer Society (ACS) recommend yearly lung cancer screening for people who "smoke or formerly smoked and have a 20-year or greater pack-year history," an ACS press release says.
"This updated guideline continues a trend of expanding eligibility for lung cancer screening in a way that will result in many more deaths prevented by expanding the eligibility criteria for screening to detect lung cancer early," said Dr. Robert Smith, senior vice president, early cancer detection science at the American Cancer Society and lead author of the lung cancer screening guideline report.
Lung cancer screening is painless and lasts only a few minutes. It involves using a low-dose computed tomography (LDCT). While lying on a table, an X-ray will scan your lungs for anything unusual, the Centers for Disease Control and Prevention (CDC) explains.
"Not only do we need to include more people (in screening), we need to find ways to increase participation to maximize the benefit to people," Dr. Andrew Kaufman, who treats lung cancer patients at The Mount Sinai health system in New York, tells SurvivorNet.
"Screening is probably the most important factor in increasing the numbers of people cured; while this is a great step forward, we remain committed to finding ways to include more and provide better access to these lifesaving tests," Dr. Kaufman adds.
Learn more about SurvivorNet's rigorous medical review process.
---