Maria Menounos' Cancer Battles
TV host Maria Menounos, a 44-year-old mom-to-be, is feeling grateful after battling stage 2 pancreatic cancer, having a brain tumor removed, losing her mom to brain cancer, and enduring a 10-year fertility journey.
Menounos and her husband Keven Undergaro, 55, are getting ready for the arrival of their first child via surrogate.
After enduring "tough days," the Greek-American journalist and podcast host has been enjoying some time on vacation in Europe with her family.
Being hopeful and maintaining a positive attitude health battles, just as Menounos did, can always help.
Anecdotal evidence from SurvivorNet experts suggests a positive mindset can impact a cancer prognosis.
After bravely battling the "silent" disease pancreatic cancer, TV personality and actress Maria Menounos, 44, admitted she's experienced some "tough days" recently. But she's focusing on the positive, saying "grateful" that it's getting "better and better" – an inspiration to cancer survivors that your difficult journey does not have to define you.
As Menounos and her husband Keven Undergaro, 55, are getting ready for the arrival of their first child via surrogate, the Greek-American journalist and podcast host has been enjoying some time on vacation in Europe.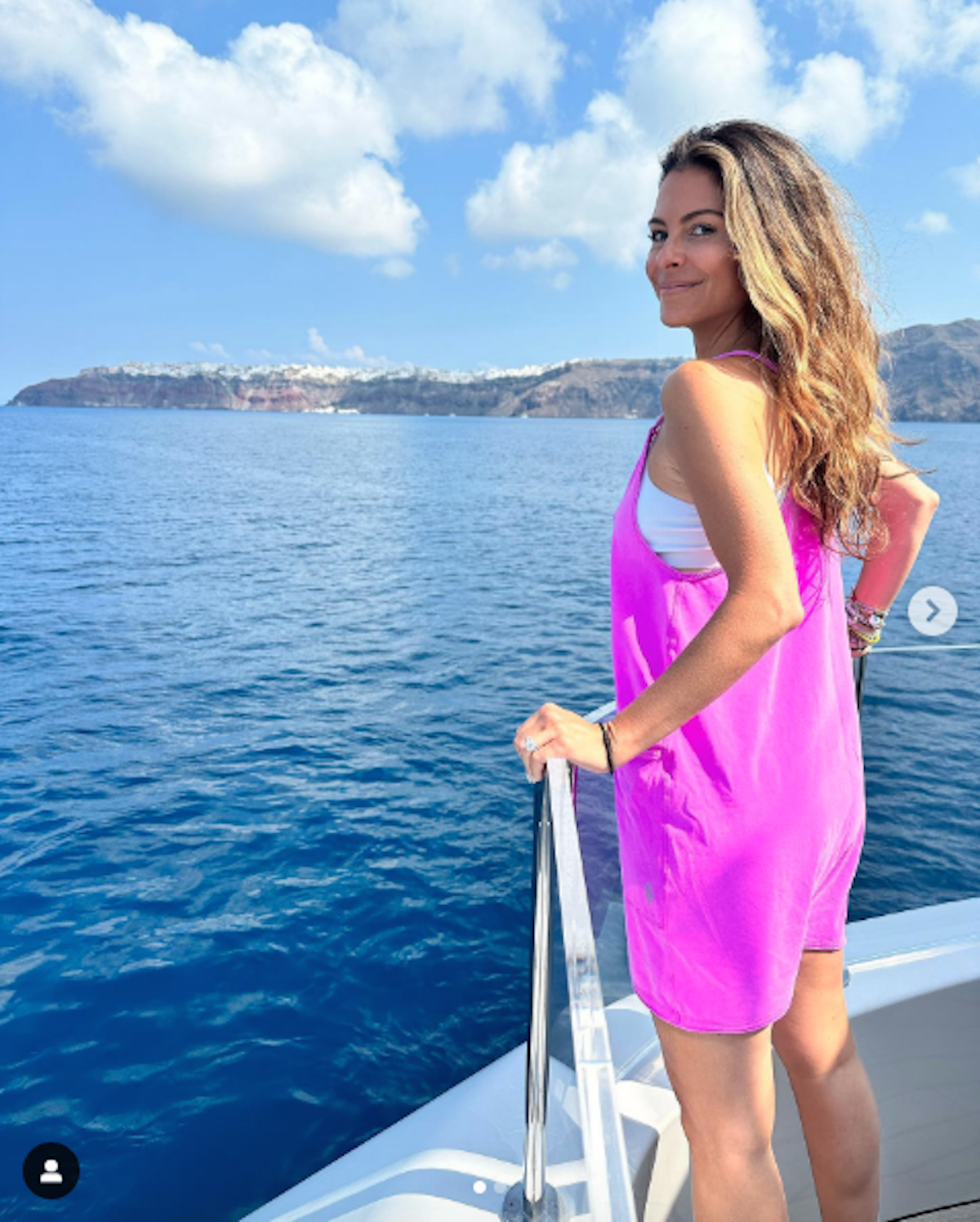 Read More
"Every day gets better and better! After so many tough days I'm so grateful for these good days," Menounos captioned a recent
Instagram post
, featuring photos of herself smiling on a boat during her summer Greece excursion with loved ones. Pancreatic cancer isn't all Menounos has dealt with in recent years. She and her husband are welcoming their baby after a 10-year fertility struggle, she had a brain tumor removed in 207, and she lost her mom to brain cancer in 2021. In a response, a fan wrote, "So happy for you! Now that you've explored [Greece] a little you can look forward to creating many more memories with your little one. It's a paradise for children between the culture, history, food, and landscape."
Menounos replied, "That's the goal!"
Menounos embarked on her first trip to Santorini earlier this month and has been documenting her good times along the way a vacation that included celebrating her dad's name day (a Greek celebration similar to a birthday), enjoying a spa day at the "sulfur and argile thermal springs," a "babymoon" in Santorini with her husband, and an early 45th birthday celebration in Mykonos for the former "E! News" TV host alongside family and friends.
Prior to the start of her fun-filled trip, Menounos announced she was now a Greek citizen.
Alongside another post, showing a delighted Menounos with her new Greek passport, the star wrote, "I'm so proud to officially be a Greek citizen! Where better to share this than in our motherland!"
"Thank you to everyone at the Greek consulates in Boston and Los Angeles, especially Elena Meletiou and Maria Koukoutsi, for helping me and my family achieve this special honor," she added.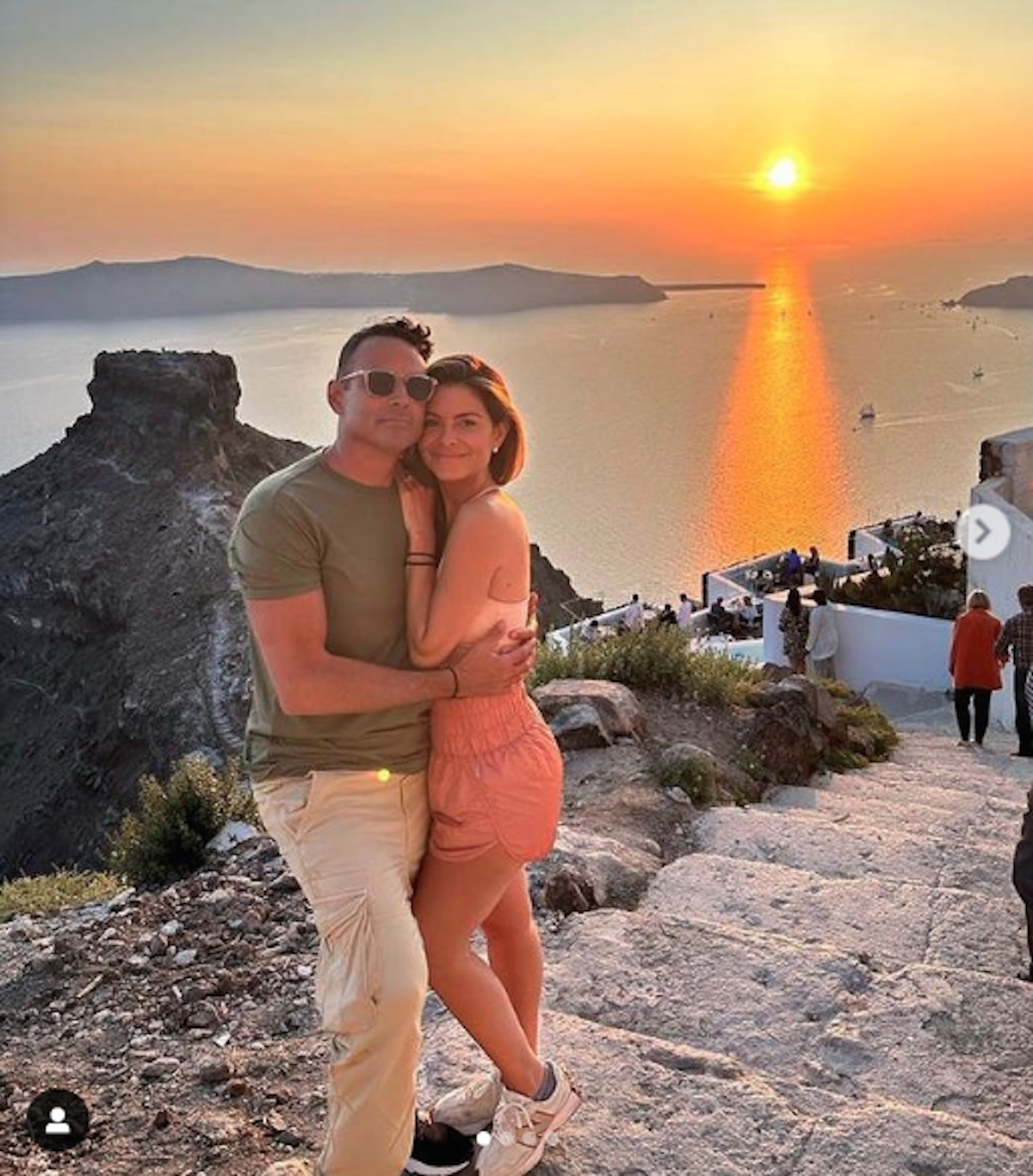 In another Greece post, Menounos wrote, in addition to praising the delicious food she's eaten on her trip, "My hair flies in Mykonos!  We had the best time celebrating an early birthday with my family and friends."
Menounos' Cancer Battles
Maria Menounos was "slapped in the face" with stage 2 pancreatic cancer in January 2023.
Leading up to her diagnosis, Menounos began suffering from major leg cramps last June, a symptom which resulted in her going to the hospital, where she learned she had type 1 diabetes (something both her dad and younger brother also have).
Her diabetes diagnosis then led her to be prescribed insulin and change her diet, which left her feeling "so good" by October.
RELATED: Maria Menounos Has Coped With Cancer, Death, Covid and a Brain Tumor. Now She's Using Her Experience to Help Others 
However, in November 2022, she ended up back in the hospital with "excruciating abdominal pain" and "diarrhea." Doctors told her everything was "fine" with her body, but weeks later, she began feeling as if "someone was tearing my insides out."
A whole-body MRI and a biopsy revealed she had a stage 2 pancreatic neuroendocrine tumor, which, according to the American Cancer Society, is a type of cancer that forms in the pancreas. The tumors are called pancreatic neuroendocrine tumors (NETs) or islet cell tumors.
Pancreatic Cancer: The Importance of Early Detection
Luckily, because Menounos' cancer was discovered somewhat early, she was able to get the tumor, her spleen, part of her pancreas, 17 lymph nodes, and a large fibroid removed via surgery on Feb. 16 of this year.
Additionally, her doctor and surgeon said she will not need to undergo chemotherapy or other forms of treatment.
RELATED: Big News! TV Host Maria Menounos, Who Had a Brain Tumor While Her Mom Fought Cancer, Reveals She's Having a Baby Girl
Menounos, who will need yearly scans for the next five years, was "grateful" for being able to overcome cancer, saying at the time, "God granted me a miracle. I'm going to appreciate having her in my life so much more than I would have before this journey."
Meanwhile, Menounos' mom, Litsa Menounos, was diagnosed with a glioblastoma, one of the most common and most aggressive brain tumors, back in 2016 when she was 61 years old.
While Menounos was caring for her mother, she began noticing strange symptoms like ear pain, dizziness, and blurred vision. She told her mother's doctor, thinking she was crazy that she was having similar issues.
RELATED: TV Host Maria Menounos Says 'Rocky' Actor Sylvester Stallone's Words Got Her through Her Battle with a Brain Tumor: 'They Have Been My Beacons In The Night'
But following an MRI, they discovered a golf ball-sized benign (non-cancerous) tumor.
Menounos ultimately underwent a 7-hour brain surgery on her 39th birthday in June 2017. And in May 2021, her mom passed from brain cancer.
Focusing on the Good Through Health Battles
Being hopeful and maintaining a positive attitude amid a health battle, just as Menounos did, can always help. Anecdotal evidence from SurvivorNet experts suggests a positive mindset can impact a cancer prognosis.
An oncologist at Cedars-Sinai told SurvivorNet in a previous interview, "My patients who thrive, even with stage 4 cancer, from the time that they, about a month after they're diagnosed, I kind of am pretty good at seeing who is going to be OK. Now doesn't that mean I'm good at saying that the cancer won't grow."
"But I'm pretty good at telling what kind of patients are going to still have this attitude and probably going to live the longest, even with bad, bad disease. And those are patients who, they have gratitude in life," Dr. Zuri Murrell, a colorectal cancer surgeon and Director of the Cedars-Sinai Colorectal Cancer Center, added.
According to the National Alliance on Mental Illness, multiple studies have indicated that learning to live with gratitude can lead to more happiness and less stress.
One way to exercise gratitude is to take time to think about things you appreciate every day, and some people find it helpful to write down those things in a journal.
Questions to Ask Your Doctor
If you are battling cancer and struggling with your outlook on life, here are some questions you may consider asking your doctor to get the help you need:
What can I do if I'm struggling to be thankful for what I have in my life?
Are there local resources for people who wish to start practicing gratitude?
Do you know of any research on the benefits of living with gratitude?
What else can I do to help reduce my stress level?
How to Cope With Your Emotions and Mental Health
Everyone handles their feelings differently, and in Menounos' case, she took the hard times in her life as they arrived and maintained a positive attitude throughout it all.
Dealing With Feelings Of Anger And Frustration
During times of high stress, some people may suffer from anxiety and depression while others may become angry. Practicing positive psychology is an option for people juggling several stressors in life including a health diagnosis.
RELATED: Actor Matthew McConaughey, 53, Forgave Estranged Mom After 8 Years Apart: New Harvard Study Says Forgiveness Dramatically Improves Mental Health
Positive psychology focuses on encouraging feelings of positivity among patients and finding what brings a sense of vitality to their lives.
Psychiatrist Dr. Samantha Boardman promotes the "three wellsprings of vitality" to find positive psychology. She previously spoke with SurvivorNet and explains them as "pathways to embrace your everyday resilience."
Basically, these are tools people who may be struggling with mental health issues can embrace to help maintain a certain sense of positivity. And those positive feelings can go a long way when people are facing a health challenge like a cancer diagnosis.
According to Dr. Boardman, these three wellsprings of vitality are:
Connecting. This involves how you're connecting with others and having meaningful interactions. It involves being a good listener and being engaged with the people around you who you care about.
Contribution. How are you adding value to the people around you? Are you helping them in ways that feel meaningful to them? This entails contributing/engaging with others in a meaningful way.
Feeling challenged. Being "positively challenged" could involve learning something new (perhaps by taking a new class or reading an interesting book) and expanding your mind in some way.
"Those are the cores of vitality, and the core pathways to enhance your everyday resilience," Dr. Boardman said.
Understanding the Three Wellsprings of Vitality
Contributing: SurvivorNet Staff
Learn more about SurvivorNet's rigorous medical review process.
---