Maria Menounos' Brain Tumor & Mom's Cancer Battle
From losing her mother to brain cancer to battling a non-cancerous brain tumor herself, TV host Maria Menounos, 44, has been through a lot.
But now, she's celebrating some big and happy news: she and her husband are expecting a baby girl after nearly 10 years on a fertility journey.
Menounos' mother, Litsa Menounos, was diagnosed with a glioblastoma, one of the most common and most aggressive brain tumors, back in 2016 when she was 61 years old. She later passed away from brain cancer in May 2021.
While Menounos was caring for her mother, she started having strange symptoms and was later diagnosed with a golf ball-sized benign (non-cancerous) tumor.
Menounos underwent 7-hour brain surgery on her 39th birthday in June 2017.
TV host
Maria Menounos
, 44, who was diagnosed with a brain tumor while her mom battled stage 4 brain cancer, has revealed some exciting news: she and her 55-year-old husband Keven Undergaro are expecting a baby girl!
Speaking alongside her husband on her "Heal Squad" podcast, Menounos said, "So, we're very excited to announce we have a baby girl coming."
Read More
As she announced the news, her husband jokingly chimed in saying their daughter's name will be "Gertrude," but Menouso laughed and insisted that won't be her name. Menouso noted that fans assumed she would be giving birth to a boy after she wore a blue, or as she described it a "periwinkle," color dress during a recent interview on "Live With Kelly and Ryan."
RELATED: Maria Menounos Has Coped With Cancer, Death, Covid and a Brain Tumor. Now She's Using Her Experience to Help Others
The Medford, Massachusetts, native continued, "We do have a name picked out. We've been thinking about names for years because as you may or may not know, this has been almost a 10-year journey for us.
"So, we've thought about names forever, and I think we've come up with the perfect name for this baby. But we do reserve the right to see her and make any last-minute decisions."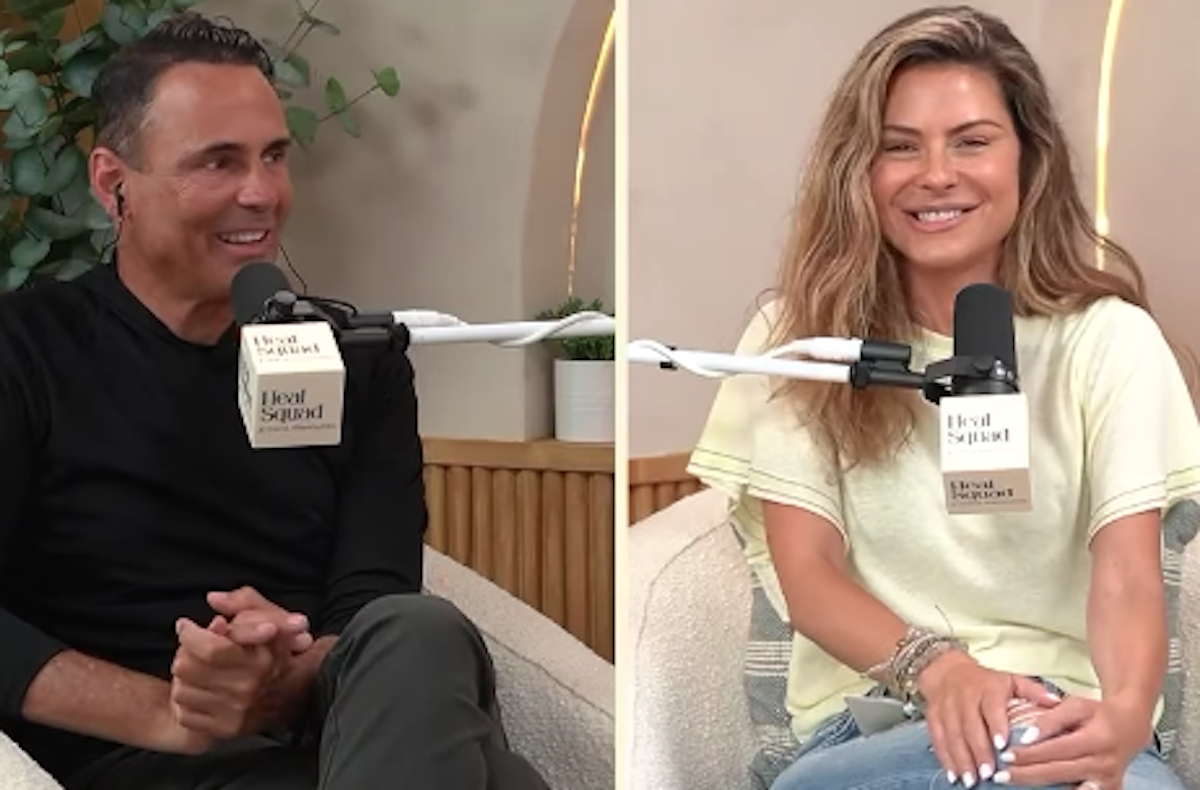 Menounos shared the podcast footage in an Instagram post, which she captioned, "Kev and I are so excited to share with all of you in our @healsquad and beyond that we are having….. girl!!!! We are over the moon excited!"
"We are reading baby books, working on the nursery and just overall preparing for this beautiful new addition to our lives," the soon-to-be mom added. "She is already so loved and we cannot wait to meet her. And her name isn't Gertrude. Lol any guesses on her name? Any great suggestions?"
View this post on Instagram
The loving couple is expecting their daughter via a surrogate after approximately 10 years "of trying everything," Menounos told PEOPLE in an interview earlier this year.
"We are so grateful to the beautiful family helping us conceive our baby," she told the news outlet. "Keven, my dad and I are all beyond excited for this soul to come into our lives. What a blessing."
Menounos, who received help from Family Match Consulting and started IVF treatments back in 2012, told People in 2022, "I definitely didn't think it was going to take this long. It's been years. We've used different services, different people. It's just been a very frustrating process."
Back in 2021, Menounos spoke with Today about the loss of her mom and her dog, in addition to struggling to obtain a surrogate.
"I lost my mom, we lost our dog and then losing the surrogate was a loss," she told Today. "Trying to have kids in the midst of that would have been a lot. And so we believe that it's God protecting us. And it's going to happen at that right time."
Menounos had been on the hunt for a surrogate but lost one she felt really connected to after her doctor advised against it.
"We had an amazing surrogate and we loved her, she added. "But our fertility doctor told us that it was never going to work. We tried and tried and tried and tried."
In a previous interview with SurvivorNet, the former "E! News" TV host said that she and her husband were attempting to remain hopeful despite the tedious route of finding the perfect surrogate.
"I'm going to have to continue to go with the flow and trust that God has a plan for me. I just got to surrender to it. I've gotten pretty good at it," she said.
"That was a big thing I've learned along the way. If you believe there's a plan for you whether it's the universe or god, you have to go through the motions; you have to do things that make sense: you got to go work, you got to do all these things. It's like no matter what we do, sometimes the things that we want is just not the right time. Everything has its season and its moments. Sometimes I can be impatient."
RELATED: TV Host Maria Menounos Says 'Rocky' Actor Sylvester Stallone's Words Got Her through Her Battle with a Brain Tumor: 'They Have Been My Beacons In The Night'
Menounos added, "Sometimes I can be like, 'Wait hello when is this going to work out? When is this going to happen?' But then I try to get right back into the mindset that I'm being protected. I'm always guided and everything has to be for my higher good."
However, Menounos remained positive and didn't give up, leading her to where she is today.
Maria Menounos' Mom's Brain Cancer Battle
Maria Menounos' mother, Litsa Menounos, was diagnosed with a glioblastoma, one of the most common and most aggressive brain tumors, back in 2016 when she was 61 years old.
For those with brain cancer, treatment options include surgery, radiation, and chemotherapy. The treatment path will typically depend upon the stage of the cancer at the time of diagnosis.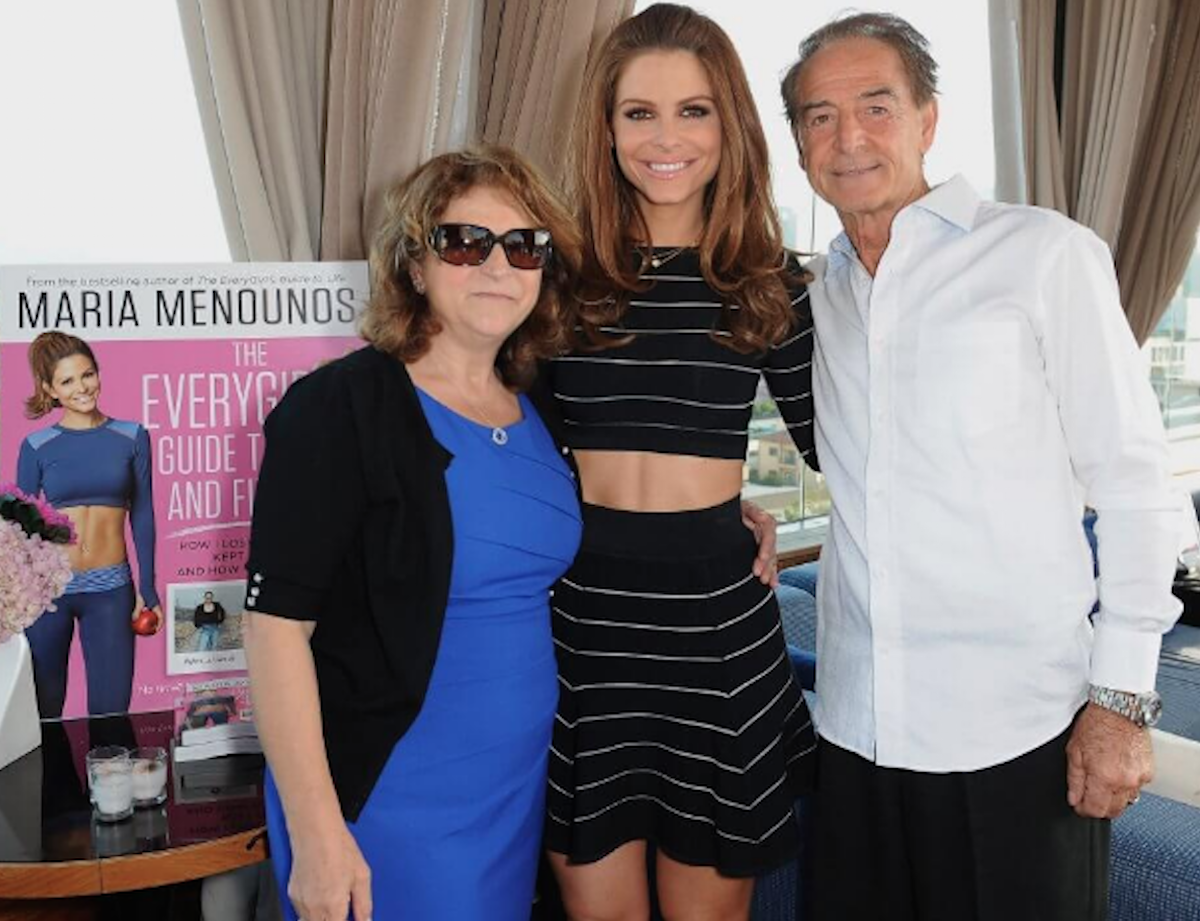 While Menounos was caring for her mother, she started having strange symptoms like ear pain, dizziness and blurred vision. She told her mother's doctor, thinking she was crazy that she was having similar issues.
After an MRI, they discovered a golf ball-sized benign (non-cancerous) tumor. Menounos underwent a 7-hour brain surgery on her 39th birthday in June 2017. And in May 2021, her mom passed from brain cancer.
Fertility and Cancer Treatment
Infertility can be a side effect of some cancer treatments, but there are options to consider. Fertility preservation, for example, is available to women of childbearing age. Options for women include:
Egg and embryo freezing (the most common practice)
Ovarian tissue freezing
Ovarian suppression to prevent the eggs from maturing so that they cannot be damaged during treatment.
Ovarian transposition, for women getting radiation to the pelvis, to move the ovaries out of the line of treatment.
How Does Chemotherapy Affect Fertility?
No matter what course of action you choose to take, it is important that all women feel comfortable talking about their options prior to cancer treatment.
In an earlier interview with SurvivorNet, Dr. Jaime Knopman said time was precious when dealing with fertility preservation for women with cancer. Basically, the sooner the better when it comes to having these important fertility conversations with your doctor.
Dr. Terri Woodard Discusses Options For Preserving Fertility After Cancer
"The sooner we start, the sooner that patient can then go on and do their treatment," Dr. Knopman said. "A lot of the success comes down to how old you are at the time you froze and the quality of the lab in which your eggs or embryos are frozen in."
RELATED: Freezing Eggs or Embryos: What Should I Do?
Surrogacy and Gestational Carriers
In some cases, women may have difficulty giving birth to a child or they may be unable to at all. If being pregnant poses health risks to a woman, having someone else carry their baby may be an option, either through surrogacy or a gestational carrier.
The American Cancer Society explains, "Surrogacy involves a woman who will carry the baby through pregnancy. The woman carrying the baby is called a surrogate. The sperm of the man who will be the child's biological father is inserted into the cervix or uterus of the surrogate. This process is called artificial insemination. The child will carry the genes of the woman."
As for a gestational carrier, the cancer society describes this person as "a woman who will carry an embryo from another woman's egg and her partner's sperm," noting, "the child will not carry the genes of the gestational carrier."
If you or someone you know is deciding on whether or not to go the route of surrogacy or gestational carrier, it's important to know that each state has different laws and it may be necessary to speak with an attorney before moving forward.
Contributing: SurvivorNet Staff
Learn more about SurvivorNet's rigorous medical review process.
---