Coping with Cancer During COVID-19
COVID-19 can add logistical and emotional challenges to a cancer diagnosis
Families can offer additional support and help — like keeping test results organized and driving to medical appointments
Video greetings or care packages can be a ray of sunshine to someone undergoing chemo
Hearing how other people coping with cancer treatments, and the isolation caused by this pandemic, is often helpful; just knowing you aren't alone in this struggle can be a lift. On both logistical and emotional levels, people dealing with a cancer diagnosis during this time of COVID-19—especially those who've recently been diagnosed or are getting chemotherapy—have a lot to navigate.
Read More
Related: Some Cancer Patients Can Get Chemotherapy Without A Higher Risk Of COVID-19 Infection, Study Shows
However, every cancer survivor should know that these challenges are surmountable, with the right advice and support. Here are some words of wisdom from survivors who started treatment this past spring, plus some practical tips for the newly diagnosed.
Alone in the hospital during COVID-19, ovarian cancer survivor, Joanne Messeri, created a neighborhood prayer tree
Katherine's Story: Not the "Classic" Cancer Experience
"I was diagnosed a week before everything shut down," Katherine, 29, of San Antonio, tells SurvivorNet about her stage II breast cancer diagnosis in March of this year. "I'm a teacher, so in some ways the timing was a blessing: I got to work from home, I was able to have rough chemo days and not miss work, and I didn't have to worry about catching anything from the kids—not just COVID-19 but any run-of-the-mill bugs."
"But in other ways, this has been really hard. I didn't get to go wig shopping with my friends. I didn't get to have people in the chemo room with me, or even in the doctor's office. I didn't even get a 'classic' experience like going out in public bald for the first time and my friend throwing a drink on someone for being a jerk about it! It was just me and cancer, 24-7."
Related: Dealing with Stress and Anxiety for Cancer Patients During COVID-19
Her conflicting emotions make perfect sense in these often overwhelming times. "I feel like I have swung wildly," she says, "from being grateful for some circumstances to being furious that I didn't get any of the bonding experiences that can come from a 'typical' cancer journey."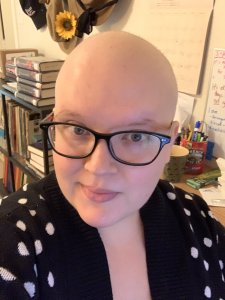 Meanwhile, she's finding—as so many of us are—that the "small" joys of normal life no longer look so small: "I miss going to lunch with my friends. I miss just sitting in a coffee shop and reading and people-watching. I miss grocery shopping for myself! I miss getting dressed up. I've tried video chatting with friends, of course, but even that's waning now."
"I miss going to lunch with my friends. I miss just sitting in a coffee shop and reading and people-watching. I miss grocery shopping for myself!"
Katherine admits to feeling resentment toward people who don't take COVID restrictions seriously—and who therefore contribute to the ongoing pandemic crisis in the U.S. Given the virus numbers in her state, she's still avoiding going out in public, other than to her treatments (though she did vote in person in the primaries, taking advantage of early voting and choosing a time that would not be crowded).
"Nothing with cancer is guaranteed," Katherine says. "But I'm OK now—and I'm not getting to spend time with most of my loved ones. My three best friends since middle school were all ready to hop on planes the day I was diagnosed, coming from as far as Japan. And then they couldn't. They can't hug me. They can't rub my bald head. They can't help me finally figure out how to put lashes on. And damn do I miss physical touch. I feel like because some people won't live in a cooperative way, I'm forced to go through this journey somewhat invisible."
Like so many of us, those who've gone through chemo during this time have needed to look for new ways to make the most of a day. "I've been reading more," says Katherine, "which I have always loved but haven't always given time to. I moved back in with my parents once everything shut down, because I didn't want to go through cancer and COVID without them; and I've been really enjoying the time with them." She has also added "old-fashioned" letter-writing with friends to her methods of keeping in touch—and now is happy to have "something to look forward to in the mail besides bills!"
Karen's Story: Stuck at Home With Her Little One
"Most days I handled it OK," Karen, 41, of Indianapolis, tells SurvivorNet about her own stage II breast cancer treatment this past spring. "I am an introvert and worked from home with a four-year-old, so I was busy enough to distract myself from the isolation most of the time. But sometimes it did get to me. I missed my family and friends. Because of the COVID-19 risks associated with lowered immunity from chemo, I barely left the house. It affected my mental health. I was on edge and found myself stressing over little things that normally would not bother me."
Because of the COVID-19 risks associated with lowered immunity from chemo, I barely left the house.
"Summer concerts are such a big joy for me," says Karen, "and they didn't happen this year. My annual girl's trip was canceled. Easter was canceled. I kept my daughter home from preschool while I was in chemo, and I hated that for her. She asked daily for her friends to come over. She missed school and her teachers."
Gynecologic oncologist Dr. Marta Crispens on how COVID-19 is changing chemotherapy treatment decisions
She's had to find joy in new ways. "I have been writing about my experience," she says. "And even with the limits of video chats, communicating that way with my friends is a must for my sanity. Laughter is the best medicine!"
Related: When Treatment Can't Be Delayed: Lung Cancer & COVID-19, What You Need to Know
Karen has also found that baking provides some stress relief. She usually lets her daughter dictate the plan: "She loves to bake, and eat, cinnamon rolls!"
In general, Karen tries to remember that these hard times call for extra gentleness and self-care. "This entire situation has been difficult," she says. "We have to give ourselves some grace and reach out to friends and family when we feel overwhelmed."
David's Story: Coping With His Dad's Cancer Diagnosis 
David, 63, who lives in San Francisco, is helping his father through a very recent diagnosis of liver cancer. "I accompanied my father to an appointment with his oncologist," David tells SurvivorNet. "My mother came with me. At the door of the facility, they screened us with COVID questions and took our temperatures. We were informed that only one person could go up with my father, so I ended up having to wait in the lobby. I had many questions, but I did not get a chance to ask them. Fortunately, my mother asked for a printout of my father's test results. My family was able to discuss them and prepare questions for the next visit."
Online patient portals can be a big help in receiving and organizing test results—but some patients, like David's father, need help managing the nuts and bolts of these systems. "The nurse recommended that we use [patient-portal system] MyChart," says David, "and get an access code for it to view my father's information. My father himself is not tech-savvy. He is getting emails to set up his MyChart account, and he is confused about how to get started. He also has macular degeneration and has a tough time reading small print. We will mobilize as a family to manage his account."
Related: New Mom & Former Soap Star, Marnie Schulenburg, 36, Faces Breast Cancer Diagnosis Amid COVID-19 Crisis
Asked how the family is coping emotionally, David admits that this isn't yet part of the equation. "Our family immediately came together to jump in and help my mom and dad get organized and on track with blood draws, MRIs, PET scans, and doctor's appointments," he says. "My father is having trouble with acid reflux and digestion, and we're trying to determine those causes. It's all hands on deck, and there has not been much time to be emotional."
6 Cancer-Coping Tips During COVID-19
If you or someone you love is newly diagnosed with cancer and trying to grapple with the twin challenges of the disease and a pandemic, here are a few tips to help you manage:
A new diagnosis, especially at this time, brings with it a substantial and time-critical to-do list. But once the initial urgency has passed, don't forget to take advantage of resources that the person who's been diagnosed or the family might need: Check into discussion groups, one-on-one counseling, and other support services your loved one's cancer center offers.
The relative or friend who might have held your hand through chemo in the past will now have to wait outside. You can find ways to bring your squad with you via your laptop or phone—but lining up some interesting podcasts or movies you've been meaning to watch can also help the time pass quickly. (For any of these options, don't forget your headphones.)
If an elderly parent is the one who's been diagnosed, make sure he or she knows how to use FaceTime (and/or the recording device on their phone)—so that you can either participate in doctor visits virtually or listen to the details afterward. Make sure that both you and your parent have access to the online patient portal, so that you can see any relevant test results. And ask the oncologist how to ask questions (via email? phone?) that may come up in the course of treatment.
 If your loved one is undergoing chemo, rally a group to take turns sending greetings. Exchange videos—or go old-school with cards, letters, and packages through the mail. (Feel free to get kids involved—their artwork can brighten anyone's day.)
Stir-crazy? Talk to your doctor about how to be out in public more safely. Walks early in the morning or later in the day, when not as many others are out and about, may get the green light.
Don't be offended if it's hard to get a loved one who's in treatment on the phone. With everything they're managing, answering unexpected calls and checking voicemails will probably not take top priority. Emails they can answer as soon as they're able are more likely to get a satisfying response. Or, find out if they have assigned someone to be in charge of updates. (Sites like CaringBridge.org can help patients and loved ones share information.)
Learn more about SurvivorNet's rigorous medical review process.