Cancer Patients Forced to Make Life or Death Calls
Residents of Florida and Texas and other Southern states are quickly filling up hospitals, forcing medical facilities to postpone elective and inpatient surgeries.
These include many procedures associated with cancer patients including chemotherapy treatments and surgeries.
There are signs that things will only get worse before they get better in many of these states, especially as children return to school with no mask mandates in Texas and Florida.
SurvivorNet offers tips for cancer patients who may be affected by the postponements/cancellations at local hospitals.
Houston oncologist
Dr. Amani Jambhekar
says she is "still fighting."
But the battle she is up against is not what most might think.
Read More
As COVID-19 rages in parts of the U.S. and community hospitals are flooded with sick patients in the fourth wave of the pandemic, Dr. Jambhekar's challenge is simply getting her cancer patients to surgery.
"I've had patients who have been on a schedule for months because they've been waiting to finish their chemo, who I'm not entirely sure will be able to have their surgery, because I'm getting calls from the hospitals that are saying: 'Oh, we don't have the staff,'" Dr. Jambhekar says.
Across the country, oncologists such as Dr. Jambhekar are finding it more difficult, if not impossible, to operate on cancer patients as medical workers are forced to dedicate all their energies to mostly unvaccinated Americans who have become infected with the highly-contagious Delta variant.
Meanwhile, patients from Washington to Florida are having check-ups, surgeries, and in some cases even chemotherapy treatments that have been scheduled for months cancelled because of the surge in COVID cases that shows no sign of slowing down.
'The Situation Is Critical'
The situation is most dire in Florida and Texas, where available hospital beds are few and far between and cases are still rising, forcing medical facilities to postpone elective and inpatient surgeries.
"The situation is critical," Dr. Desmar Walkes, medical director for the city of Austin, said in a statement to SurvivorNet.  "Our hospitals are severely stressed and there is little we can do to alleviate their burden with the surging cases." As of Sunday, there were less than six ICU beds available in Austin, a city with one million residents.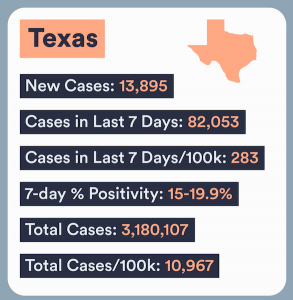 Related: COVID Patients Suffering Greater Mental, Physical Declines Than Some Cancer Patients At Rehab Facilities, According to New Research; How To Stay Safe Amid Uncertainty
Dr. Jambhekar says her cancer patients are worried about their future.
"It's a very difficult thing to have to explain to patients. My patients are freaking out and they're like, 'Oh, am I not going to get my surgery, like what am I going to do?' Because, you know, when they stop their chemotherapy there's really only a four week window that you have to operate on otherwise their cancer will start growing again," Dr. Jambhekar tells SurvivorNet. (Often cancer patients have chemotherapy prior to surgery in order to reduce the size of their tumor.)
"And so they're like: 'I went through chemo, I did all this time, and now I might not even have surgery, so now what do I do?'"
She later added: "It's really like they're being asked to make life and death decisions that aren't their fault at all. It's the fault of the people who are letting the surge happen."
Currently, 167 M Americans or 50.8% are fully-vaccinated against COVID. 73.3% of counties in the U.S. are currently rated "high" for level of community transmission, according to the Centers for Disease Control.
Dr. Jambhekar says the calls to move or postpone her cancer surgeries started coming in from the major hospitals at the end of July from the facilities in the area.
"I would say probably a week and a half ago we started getting emails that the hospitals are full. I'm credentialed at pretty much all the major hospital systems in my area, and all started sending emails saying the hospitals are full," explains Dr. Jambhekar. "If you have a patient that's going to stay overnight, then you can't do that surgery."
She has been able to adapt somewhat due to her experiences during the first wave in March 2020, when she and other oncologists had no choice but to send patients home that they would have liked to keep overnight after their surgeries.
"I thought it would be fine, and then about a week ago I started getting emails that were like, 'even if your patient is not staying overnight, please, we urge you to cancel surgeries,'" she reveals. "And then today, two more hospitals are just shutting down anything unless the patient will die tomorrow without the surgery."
"Every time they call me to say, you know, 'we want to cancel your case,' of course I make a huge stink out of it and bring it up as high as up as I can go to get my cases to go, and so far that's working," she says. "But I think there's going to be a point where that stops."
That is the biggest change from the previous waves explains Dr. Jambhekar, who before last week had never been told she needed to cancel surgery for a cancer patient on account of a surge in COVID cases.
"Last year the issue was that we didn't have enough PPE. And so they were saying don't do cases, because we know that we need that PPE for taking care of COVID patients," recalls Dr. Jambhekar, "But that did not really impact me or patients with cancer because those cases were considered life threatening and [were performed] to prolong people's lives."
She continues: "So I never got a call asking me to cancel any of my surgeries. I did have to get special permission from leadership to do them but they always approved them."
When asked for comment about the situation in Texas, Carrie Williams of the Texas Hospital Association pointed SurvivorNet to a letter released by the group last week.
"Unfortunately, hospitals are coming up woefully short in their ability to ensure staff is in place to respond to COVID-19 as well as handle other urgent and acute health care needs in their communities," the letter said in part, while advocating for a return to a statewide system to centralize and triage contract staffing.
"Additionally, clinical and bedside staff are not immune to community spread of the delta variant, and many hospitals have unvaccinated employees sidelined with COVID-19, further stressing the workforce."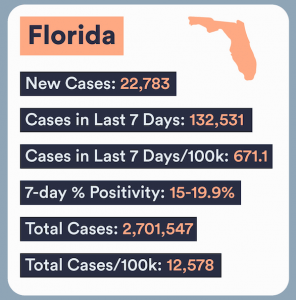 Related: Breakthrough Covid: People with Cancer, Immunocompromised Patients Account for 44% of Hospitalizations Among Fully-Vaccinated People
'My Life Is In Jeopardy'
In Florida, which in the past seven days has reported a record 134,751 new cases of COVID, hospital beds are scarce across the state
"There are hospitals that have suspended elective surgeries, but as far as emergency surgeries, there are no hospitals putting those off," Savannah Kelly, director of communications at Florida Hospital Association tells SurvivorNet. "Hospitals in Florida—and across the country—are concerned with timely access to care for patients."
Mitchell lives in Jacksonville, where he was scheduled to get a neck dissection as part of his ongoing fight with head and neck cancer.
The hope was that doctors would successfully remove the cancer when they cut out the lymph nodes, and if not they would be able to examine the sample and determine if radiation might be the next best option, Mitchell tells SurvivorNet.
Now he must wait and reschedule, unsure if the cancer might spread in the time before he can get his surgery.
He has been told the next available appointment is in October.
"I want people to know that I exist, that patients like me exist and that my life is in jeopardy," says Mitchell. "Maybe if people who are on the fence about the vaccine hear that, it will give them the push they need to get the shot."
In the interim, Mitchell says that he has begun calling hospitals in the Northeast to see if there is any way he might be able to schedule his procedure sooner than October.
He reveals that he is fairly certain that if he does manage to get an appointment his insurance will not cover the surgery, but says it is a small price to pay for his overall health and well-being.
A few hours outside Orlando, one woman has been forced to put her breast cancer battle on pause.
SurvivorNet spoke with Jamie, who said that her sister is among those who is stuck waiting for her elective surgery.
Her sister was still too upset to talk but gave Jamie permission to share her story.
"My sister was diagnosed with breast cancer before the pandemic so it has been a very difficult two years," explains Jamie. "And now, when she is finally seeing the light at the end of the tunnel everything has just stopped dead in its tracks."
Her sister has been waiting to have reconstructive surgery, says Jamie.
"She was supposed to have the procedure done last month and is still waiting because that is deemed an 'elective surgery.'"
And so she waits, unsure when her surgery will take place.
"Right now, I have four patients that are on their second day of hanging out in the ER waiting for a hospital bed to open up for them," Dr. Larry Gilbert* tells SurvivorNet.
"It's only COVID patients. We don't have room for anyone else right now."
Dr. Gilbert works in the Tampa Bay region, and as of Monday, there were 160 patients who had been admitted with COVID and 20 more in the emergency room.
"Right now my youngest hospitalized patient is 22 years old, and my oldest patient is 101. COVID doesn't care how old you are," explains Dr. Gilbert. He said a 4-year-old child died of COVID last week.
Dr. Gilbert said that 80% of patients currently admitted were unvaccinated and the other 20% either were immunocompromised or elderly persons experiencing breakthrough infections.
"At this point it appears as though if someone is unvaccinated, it is only a matter of time before they get COVID," says Dr. Gilbert.
Patients are now being forced to share rooms, and when they are transferred "get wrapped up in a clear plastic tarp that looks like a human-sized zip lock bag."
And soon, even hospitals may not be able to help, as Dr. Gilbert tells SurvivorNet: "We are running out of drugs to treat COVID with, like the count is not enough to sustain our current patients. We're even running out of the experimental treatments."
Some doctors have shared stories of the unvaccinated expressing remorse with their dying breaths or begging for the vaccine when it is too late.
That has not been Dr. Gilbert's experience.
"Patients are spitting on us because they think we are lying about them having COVID," he says.
Dr. Gilbert says he has been having episodes of PTSD (post traumatic stress disorder) because of his experience.
"I never thought we'd be here again. I cried tears of joy when I got vaccinated. I thought we were nearing the end. I was so very wrong," Dr. Gilbert says at one point. "It feels like a slap in the face. Like the community we swore to protect has betrayed us."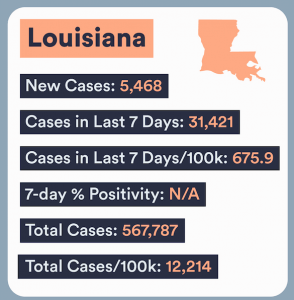 Related: COVID-19 Booster Shot Could Help Some Cancer Patients, Oncologists Say, But Masks Must Still Be Worn as Delta Variant Surges
Surgery Just In Time
In Louisiana, this latest surge continues to wreck havoc on an already fragile healthcare system.
"I finally got referred to an oncologist, but he can't see me until September because of COVID," says Caiti, a New Orleans resident diagnosed with breast cancer earlier this year. "So that's…a thing."
Caiti was lucky enough to get her surgery in, however, before makeshift ICUs started taking over area hospitals.
"Last week my surgeon told me that had we waited a few weeks to do my surgery, it wouldn't have happened," explains Caiti. "Staffing is impacted. Facilities are impacted. Non-COVID emergencies are impacted. Even lifesaving surgeries like mine are being impacted."
She then adds: "But 'Murica, right?"
The day-to-day ordeal of treating unvaccinated patients was detailed by Michelle Sutton, the president and CEO of North Oaks Health System in Louisiana, at a press conference put together by state officials.
"[Hospital staff] are having to make tough decisions. How do we care? When we do elective surgeries, we have a core group of doctors trying to decide who gets to have surgery and who does not because that operating room staff is now staffing our ICUs because we can't find nurses," Sutton explained. "An example of what happened last week, to summarize and put it in perspective. Our chief medical officer meets with our chief of surgery and with our team to look at all the surgeries for the next day to see which ones are life-threatening or which ones can we put off maybe for a day or a week. And he went into a gentleman's room and explained we can't fix your brain aneurysm tomorrow like we had hoped because we don't have a critical care bed when you come out of surgery. And he put his hand on our chief medical officer's shoulder and said, 'Sir, I know this is hurting you more than it's hurting me, but I pray for you and for your staff.'"
Louisiana is trying to fix the staffing problem by introducing vaccine requirements in some of the state's hospitals.
It is a move that the state's neighbors to the north and east are also starting to embrace.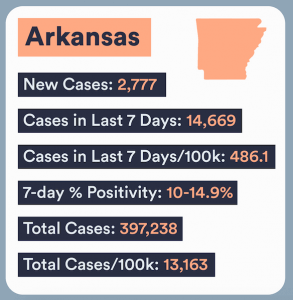 Should Hospitals Mandate Vaccines for Employees?
The Arkansas Hospital Association is encouraging healthcare facilities around the state to consider a vaccine mandate.
"Arkansas's hospitals are here to promote and protect the health of our communities; that's why they make the health and safety of all patients, visitors, and team members a top priority," said the group in a statement.
"For that reason, AHA strongly supports hospital policies that require all hospital employees and clinical team members to be vaccinated against COVID-19. "
The majority of hospitals that have been forced to cancel elective surgeries in Arkansas are in the state's northwest, which borders on two states that are dealing with their own outbreaks: Missouri and Oklahoma.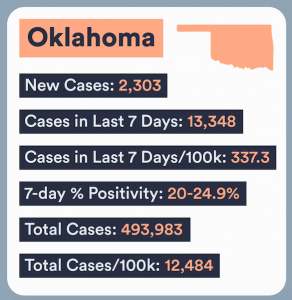 Related: Does Your Cancer Center Require Employees To Be Vaccinated? How Cancer Patients Can Stay Safe From The Delta Variant During COVID-19
Missouri has canceled elective surgeries at a number of facilities across the state and in Oklahoma, the Cherokee Nation is also having to limit the services being offered due to a surge in that community.
"The delta variant accounts for over 80 percent of the tribe's new COVID cases," said Principal Chief Chuck Hoskin Jr. "Not only is COVID-19 putting added pressures and risks on our hospital, health centers and our amazing health care team tasked with treating COVID patients, but the resurgence once again threatens the overall well-being of the Cherokee Nation and the most vulnerable among us, including our Cherokee elders."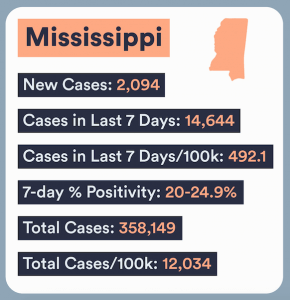 In nearby Mississippi, the state's hospital association released a statement similar to the one put out by the Arkansas chapter as they deal with overpacked medical facilities.
"The Mississippi Hospital Association strongly supports hospital and health system policies that require all hospital employees and clinical team members to be vaccinated against COVID-19. MHA recognizes that each hospital and health system is unique, but we encourage each to determine the appropriate time to implement a requirement," said Timothy H. Moore, the president of that group.
He then added that unvaccinated residents accounted for 97% of hospital admissions in the state.
The surge has even managed to bring the region's premier hospitals to its knees.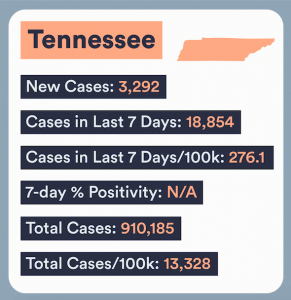 Dr. C. Wright Pinson, the chief health system officer at Vanderbilt University Medical Center, said that the hospital had begun the process of rescheduling inpatient procedures.
"Less than four weeks ago VUMC's 7-hospital system was caring for a total of 10 patients admitted for COVID-19. Today, largely due to the delta variant, there are 83 inpatients battling the virus in our hospitals," said Dr. Pinson in a note to staff on Thursday.
"Nearly all COVID inpatients we care for now are unvaccinated. Data on the effectiveness of COVID vaccines continue to show that each one prevents serious illness, hospitalizations and death."
He then pointed out why this surge was causing so much stress on employees.
"Unlike last year when a majority of our COVID patients were elderly, now they are all ages," said Dr. Pinson. "The overall severity of their illness has increased, causing longer lengths of stay."
He thanked those who had already been vaccinated and encouraged those who have not to consider getting the vaccine.
"We will see our way through this as a team, supporting one another to care for those who need our help," Dr. Pinson wrote.
What Cancer Patients Can Do To Protect Themselves
The unpredictable and highly contagious nature of the Delta variant means that all cancer patients should take precautions in case a surge in COVID cases impacts their treatment plan.
A proactive approach is always best, and that can be achieved by:
Cancer Care Centers
Almost every major hospital in Texas and Florida and Tennessee is nearing capacity due to this fourth surge in COVID cases. As a result, medical workers in those states now find themselves scrambling to assemble makeshift ICUs in order to treat patients.
That is not the case at MD Anderson in Houston or Moffitt Cancer Center in Tampa.
That is because large cancer centers have a greater capacity than most hospitals and are not taking in COVID patients, even in hotspots such as Texas, and Florida.
In addition, the medical staff at these facilities are not dealing with the high volume of patients that many of their colleagues are at other hospitals. This means that they can devote more of their energy to the specific needs of each individual patient without having to also worry about an overflow of men and women waiting to receive care or a lack of available beds.
Self-Advocacy
Cancer patients must always be their own biggest advocates.
That advocacy is even more important at times when some outside influence threatens to compromise treatment.
This is why cancer patients should not, and can not, be afraid to ask for what they want and need when there are sudden and unexpected shifts that could impact the treatment plan they have worked so hard to achieve.
Demand Answers
It is crucial that individuals who are being forced to delay or postpone scheduled cancer treatments demand information from their health care provider. This includes the rescheduled date, the risks associated with the wait, and what they can be doing to keep themselves healthy and safe while they wait.
It is perfectly natural to feel a desire to give up when sudden and unexpected changes derail a plan that has been in place for months if not years, but cancer patients must resist that and instead ask the tough questions.
Then, after all lingering concerns and fears and doubts have been addressed, patients can make the necessary adjustments to conquer their cancer.
Contributing: Marisa Sullivan
*Some names have been changed to protect the safety of the individual
Learn more about SurvivorNet's rigorous medical review process.
---