Finding Peace After Cancer
25-year-old Hannah Russell started sheep training as a form of therapy after beating cancer twice, then became a social media sensation.
The Yorkshire, England-based author has garnered millions of views on her social media channels with posts of her fluffy friends, Izzy and Ida.
Studies have shown that patients and their families report lower levels of stress when they get to spend time around dog and other animals.
25-year-old author Hannah Russell went through six operations and two years of grueling treatment to beat sarcoma, a cancer of the soft tissue. One year later, she was diagnosed with melanoma; she beat that disease too.
After the incredibly stressful double diagnoses, the animal lover found therapy in a peaceful new hobby: sheep herding.
Read More
"I was feeling really down in between operations and the idea of sheep really appealed to me," the Yorkshire, England native said in a recent interview "It's always been a dream of mine to own my own flock and it felt like the right time as I was taking a lot of time off work because of my illness."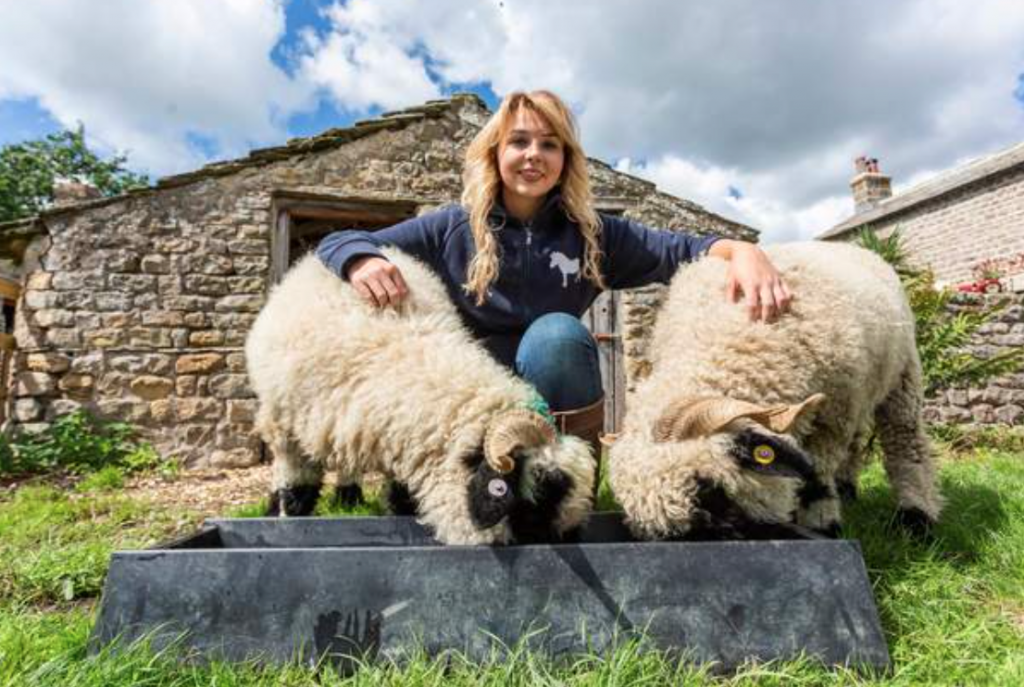 "I bought them for a couple grand each so got a decent deal. They are so cute and make a wonderful addition to the family," Hannah shared of her fluffy new pals, Izzy and Ida. Her "family," meaning her horses, dogs, and other animals.
"When I started to recover I began training them to do jumps and tricks. I train them like dogs using treats and they absolutely love it – they have such a cheeky, loving nature."
Related: Beloved '90210' Star Shannen Doherty is a Proud Dog Mom And Horse Fan As She Bravely Battles Breast Cancer
Since discovering her new hobby, Hannah has also organically attracted some social media fame, and titles her series, Hannah Russell, Little Alf and friends.
"I post daily videos of them online and one of them has gone viral and reached 72 million views which is just crazy," she shared of her unexpected new fan base, with various other Facebook videos in the millions as well.
"They really gave me a new focus when I needed one the most, and I can't imagine having coped with my illness without them."
Animal Therapy for the Cancer Community
Studies have shown that patients and their families report lower levels of stress when they get to spend time around dog and other animals. Though the results are mostly anecdotal rather than statistically significant, those who have witnessed the benefits of pet visits say the benefits are clear.
"We had many patients who were having a hard time getting out of bed after having abdominal surgery," a nurse practitioner at MSK, Mary Montefusco, told SurvivorNet. "But when they heard the dogs were on the way, they wanted to get up and sit in a chair so it would be easier to pet them."
What Are the Benefits of Pet Therapy?
Kopelman also explained that "the biggest benefit is [the patients] feel less anxious, they feel calmer, and they're able to go through what is a very stressful experience."
Learning About Sarcoma
Often called "the forgotten cancer," sarcoma isn't a single type of cancer but a family of more than 70 different types. Sarcomas begin in the bones and soft, connective tissues of the body like muscle, fat, blood vessels, nerves and tendons, according to the American Cancer Society.
Related: Mom of 2 Spots 'Strange Lump' On Her Head While Taking Selfie With Her Newborn: It Turned Out To Be Sarcoma Cancer
One major challenge of sarcoma is that since most of the tissues where it occurs are deep in the body, they can be hard to detect until they've grown past the point of being able to be cured. Signs of sarcoma include
A lump that can be felt through the skin
Bone pain
Bones that break even though the cause might seem minor
Abdominal pain
Weight loss
These cancers are relatively rare, with just over 13,000 cases expected to be diagnosed in the United States in 2022, according to the American Cancer Society, with over 5,000 people predicted to die of the disease. Those cases make up less than one per cent of adult cancers, says the Sarcoma Foundation of America.
Inspiring College Student, 20, Builds Community on TikTok Sharing Her Sarcoma Journey
Little is known about what causes a sarcoma to occur, though the Mayo Clinic says that like other cancers, they are due to mutations in a person's DNA that cause cells to grow and divide uncontrollably.
Contributing by SurvivorNet staff.
Learn more about SurvivorNet's rigorous medical review process.