Suzanne Somers' Enlightening Experience
Actress Suzanne Somers said that she discovered God after she fell down the stairs a few years ago and needed to learn how to walk again.
The 76-year-old skin and breast cancer survivor recounted in a recent interview how she "broke her whole right side" in a major fall in her home in 2020.
Her perseverance through this health struggle after her cancer battle can inspire other survivors to maintain optimism through tough times.
Somers, known for her role as Chrissy Snow 70's sitcom "Three's Company," battled skin cancer in her 30s and twenty years later faced breast cancer in her 50s.
Actress Suzanne Somers — best known for her role as Chrissy Snow in the 1970s sitcom "Three's Company" and starring in
ThighMaster commercials in the 1990s
— said that her terrifying fall down the stairs a few years back made her discover God for the first time in her life, a sentiment that can offer encouragement to other survivors going through tough times.
The 76-year-old mom of one, who previously spoke with SurvivorNet about her life after breast and skin cancer and learning to love the body you're in, has shared that the fall and breaking her "whole right side" was an enlightening experience.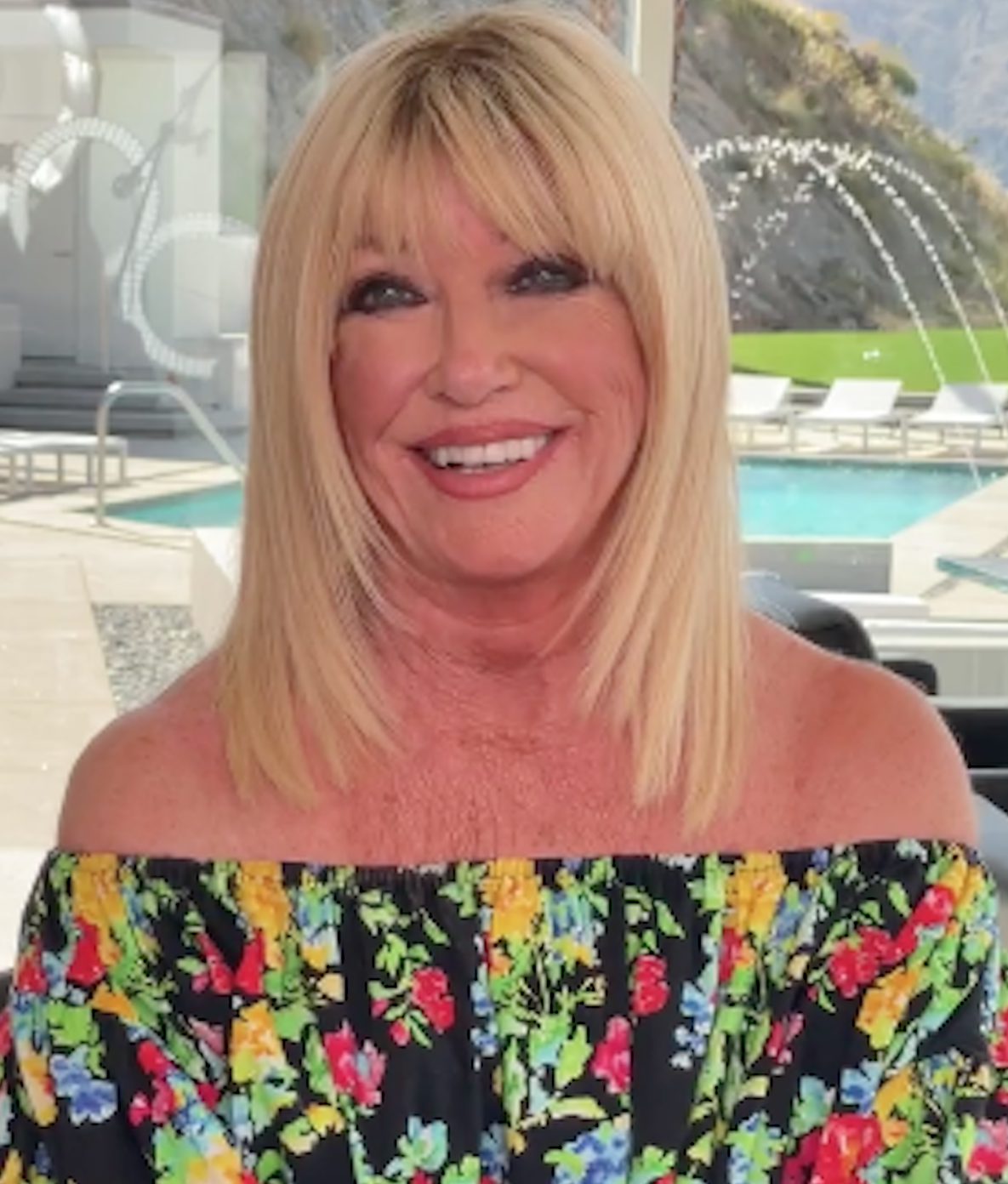 Read More
Explaining the 2020 fall that took place in her home,
Somers told CloserWeekly
, "I broke my whole right side — my neck, spine, hip, pelvis and knee. And it's been over a year of pain and recovery. I'm not all the way back yet, but I'm going to be OK." The actress, also known for her role in the American TV sitcom "Step by Step," recounted how the accident took place, explaining, "My husband grabbed my hand at the top of our bedroom stairs. He uncharacteristically slipped at the top and fell and I fell on top of him." "It's 50 steps down. We didn't get hurt," she continued. "But the torque of that fall threw me back on the cement. Full force. I heard my neck break."
However, Somers didn't let her "long recovery" deter her from keeping a positive outlook on life.
"It's just been a long recovery. I had to go into rehab to learn how to walk again. But I did," she told the magazine. "You know, every bad thing that happens to you is an opportunity to look for the good. I've learned so much about gratitude. I've discovered God through all this in a way that I've never discovered God before."
"I always think. What good is that negative thought going to do me" There's nothing, there's no payoff," Somers added. "So, I live in positives and try to speak in positives, because that's what I believe."
Somers now enjoys spending her time with her family, especially her husband Alan, who she calls "her everything," and their six grandchildren.
"We are crazy in love with them. We are fascinated by the lives they are living and careers they have chosen. They are smart and funny, and we see ourselves in them," she said.
Suzanne Somer's Cancer Battles
Somers fought skin cancer in her 30s, and twenty years later in her 50s, she was diagnosed with breast cancer.
RELATED: Risk Factors for Breast Cancer 
It's known that her breast cancer was stage 2, so it was caught relatively early. She has since bravely shared her battle with her fans, prompting some controversy in regard to her treatment decisions.
Somers decided she didn't want to undergo chemotherapy treatments, and instead, underwent a lumpectomy, which is when part of your breast that's affected by cancer gets surgically removed. The procedure was followed by radiation treatments.
Dr. Sarah Cate Explains the Difference Between Lumpectomy & Mastectomy
She then opted against her doctor's advice, which was to undergo a traditional mastectomy, a surgery to remove the breast, and instead found a doctor at the University of Tokyo in Japan who was leading a clinical trial on using stem cells to regenerate the breast.
The author, singer, and businesswoman, received approval for the procedure from the U.S. Food and Drug Administration, and ultimately became the first woman in the United States to legally undergo a process called "cell-assisted lipotransfer." And despite people's opinions, Somers still strongly stands by her decision.
RELATED: Alternative Therapies: Don't Believe Everything You Read on the Internet
What I wanted to do was less controversial than implants," Somers told SurvivorNet in a previous interview. "I was restoring my breast exactly as it was prior to the surgery."
Somers says that the treatment route a person takes is their own choice. But as SurvivorNet's experts often caution, alternative medicine is never a replacement for traditional medicine that's backed by science. And Somers has said that treatment is a personal decision that should be discussed with a doctor.
Turning to Faith During a Cancer Journey
For some people like Suzanne Somers, looking to faith can be a wonderful way to keep spirits high when cancer beings taking an emotional and/or physical toll.
New York City Presbyterian Pastor Tom Evans previously spoke with SurvivorNet about the importance of finding ways to cope with the complex web of feelings you may be experiencing after a cancer diagnosis.
Faith Perspective: Opening Yourself Up to Others After a Cancer Diagnosis
"It's important to reach out in a simple prayer to God, even if you've never prayed before, you don't know what to say, a heartfelt plea, 'God, help me, be with me,'" Pastor Evans told SurvivorNet.
"You can reach out to God and you can reach out to people, your friends and family and say, 'I can't do this on my own. I need you,'
"It's in that willingness to be open and to receive that we can actually find something deeper that we never would've encountered without this hardship."
RELATED: 7 Cancer Survivors Share How Gratitude, Faith, & Seeking the Good In Life Help Give Them Strength
In Sharonda Vincent's case, finding God played a huge role in helping her get through her stage 2B breast cancer battle.
"I knew that if I just put my faith and trust in God, that I would be okay," Vincent previously told SurvivorNet.
Vincent received her diagnosis after discovering a lump in her left breast the day before her thirtieth birthday with just over a month to go before her wedding. She first felt like her concerns were overlooked by doctors, but follow-up tests confirmed Vincent's worries.
"It was hard for me," she said. "I felt as if I was being punished." Thankfully, chemotherapy, radiation, and hormone replacement proved to be a successful treatment regimen for Vincent. Now, she wants others to be inspired by her story.
"If I had one piece of advice to give to someone who was newly diagnosed with breast cancer, that advice would be to not give up hope, to live every day as if it was their last day, to educate themselves," she explained. "I would let them know that it's OK to cry.
She continued, "It's OK to have days where they just want to be alone… But I would just push them to live a long, happy life because breast cancer – it's not the end of the world."
"I Need You to Get Me Through This": Jovannie Lorenzo Turned to God After Her Cancer Diagnosis
Meanwhile, Jovannie Lorenzo's faith was tested after she was diagnosed with colon cancer at just 32 years old.
"Everything that I knew of cancer … was death, was pain, was anger," she told SurviorNet in an earlier interview. But she soon understood that she didn't have the strength to fight her disease without the power faith had on her.
"It doesn't matter what God you serve, because when you're diagnosed with any disease, you need something to hold on to," she said.
Jovannie is certainly not the only person who let faith carry her through after a cancer diagnosis. Experienced doctors, like Cedars-Sinai's Dr. Zuri Murrell, will tell you that people who find a way to stay positive through treatment – like through prayer – really do end up doing better.
Dr. Zuri Murrell on Living in Gratitude
Contributing: SurvivorNet Staff
Learn more about SurvivorNet's rigorous medical review process.
---