The power of Olivia Newton-John seems to know no bounds: A company that just bought the  license to her family-made cannabis mixture — which she used during her cancer treatment — saw a big jump in its stock price after the announcement, according to a report in Business News Australia.
RELATED: Olivia Newton-John, First Diagnosed with Cancer in 1992, Shares that She Has Asked It to Leave
Read More
The company that bought the mixture, Cann Global, signed an agreement for the exclusive rights to the IP of the medical cannabis blends, called "Olivia's Choice." It was formulated by Newton-John's husband, John Easterling, whose work with medical cannabis has helped his wife through her journey. In a recent
exclusive interview
with SurvivorNet, Newton-John shared that her husband, founder and chairman of Amazon Herb Company, makes her tinctures (liquid extracts) from the cannabis that he grows, and that "I'm in a pretty good place. I'm mobile, I'm feeling strong, I've put on some weight. Everything's good."
RELATED: Olivia Newton-John Opens Up to SurvivorNet About Her Holistic Breast Cancer Treatment Regimen
Cann Global will  bring Olivia's Choice to the global marketplace under the Cann Global Label, according to the BNA report. In addition, it says, Cann Global will begin clinical trials with cancer patients.
Newton-John's Cancer Journey
The beloved sing and songwriter has embraced her role as a spokesperson for cancer, and talks often about using complimentary medicine during her treatment.
"John's unique cannabis formulas have been a huge help to me with sleep, stress, mood, and of course pain," Newton-John told BNA. "I was able to wean myself completely off all pain meds using cannabis which is something I think everyone should know is possible."
Newton-John was first diagnosed with breast cancer in 1992. At the time, she received nine months of chemotherapy and a breast removal surgery called a mastectomy.
While her cancer entered remission, in 2013 her doctors discovered that it had metastasized (spread) beyond her breasts. She overcame the cancer again, but in 2017,  her doctors discovered a tumor in her sacrum, the bone at the bottom of the spine — another cancer metastasis.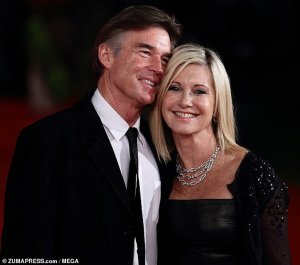 Easterling's Involvement with Cannabis
When Newton-John got sick, Easterling was already renowned in the cannabis community for having founded the Amazon Herb Company in 1990, where he researched and brought to market a variety of plant supplements. His products have sold over $100 million worldwide, according to the website.
In 2012, the company, headquartered in Jupiter, Fla., merged with an Arizona-baed international wellness company called TriVita. The company entered into a partnership with the United Cannabis Corporation, which develops plant-based therapeutic products, and advocates for medical applications of cannabinoids to improve quality of life for patients.
Newton-John and Herbal Medicine
Since her third diagnosis, when Newton-John learned that the breast cancer had metastasized to her bones, she told SurvivorNet, she's found a treatment regimen that seems to be working well for her. It involves a mixture of conventional cancer treatment and complementary herbal medicine.
In addition to her husband's cannabis mixture, she told SurvivorNet that she's been taking natural supplements, including turkey tail (an antioxidant-rich mushroom extract), Graviola supplements (derived from a plant believed to have medicinal properties), vitamin B17, and high doses of vitamin C, which she says she's been getting through an Amazonian fruit called camu camu.
Experts tell SurvivorNet that while alternative therapies can be helpful during cancer, they should never replace doctor-recommended treatment.
Newton-John shared that she's been doing exactly that — pairing these natural herbs and supplements with her conventional breast cancer treatment in a complementary approach called "integrative medicine." Right now, the star said, she's receiving hormone therapy for her breast cancer, and in the past, she's undergone radiation, surgery and chemotherapy.
Integrative Therapies
Cannabis should never be used as an alternative to chemotherapy or traditional treatment, but many people going through cancer treatment have told SurvivorNet that cannabis has been a useful integrative therapy to help reduce pain and nausea.
"Integrative therapy is when patients come to see me when they want to add alternative or complementary therapies to their conventional treatments," Dr. Junella Chin, an integrative cannabis specialist told SurvivorNet.
Dr. Junella Chin, Integrative Cannabis Physician at MedLeafRX on using cannabis to treat side effects of chemotherapy.
Dr. Chin described her practice as a way to help with the pain and discomfort that can result from certain parts of cancer treatment. For example, sometimes she treats patients who are experiencing pain due to chemotherapy.
"A chemotherapy patient usually comes to see me if they have nausea, if they have decreased appetite, if they have pain, if they have insomnia, and if they're depressed," she said.
If you're thinking about cannabis use during cancer, it's important that you talk to your oncologist beforehand.
"I have no problem with patients getting marijuana from a reputable, licensed source as long as patients are open with their physician about what they're taking, and making sure it doesn't interact with any clinical trial drug that they're taking or any standard therapy," Dr. Elizabeth Comen, a medical oncologist at Memorial Sloan Kettering Cancer Center, told SurvivorNet in a previous interview. While open to her patients using pot, edibles are probably the preferred method, since Dr. Comen does note her concerns about possible damage to the lungs from smoking weed.
Learn more about SurvivorNet's rigorous medical review process.
---