Once in a while, cancer is detected in the strangest of ways — a fan spots a celebrity's tumor on TV, or a mom notices something gleaming in her child's eye. But in the even more  miraculous case of Bal Gill, a thermal camera at the tourist site Camera Obscura and World of Illusions on Edinburgh's Royal Mile was that crazy x-factor that was able to capture a tumor in her breast before anyone else.
After the camera caught her cancer, Gill had two surgeries, including a mastectomy, and is planning to have a third surgery soon. Doctors told her she won't be needing chemotherapy or radiation treatment.
Read More
While Gill got lucky with her thermal images, most people don't catch their cancer in such a wild way, so we wanted to provide a little bit of information about the importance of traditional breast cancer screening.
Information about breast cancer screening
The American College of Radiology guidelines recommend women get annual mammograms to screen for breast cancer beginning at age 40. Still, a huge number of American women are not up-to-date with recommended screenings.
Dr. Senayet Agonafer, radiologist at Montefiore Medical Center on the importance of getting screened for breast cancer
"One of the most frustrating things that I see in my office, and my practice is when a patient … comes in with a huge, golf ball breast cancer that could have probably been diagnosed at an earlier age if they were receiving their annual screening mammogram," says Dr. Senayet Agonafer, a radiologist at Montefiore Medical Center.
If you're unsure about when you should begin screening for breast cancer, Dr. Agonafer recommends talking to your doctor and getting all the facts you need to assess your risk. "You should absolutely be tested for your risk of breast cancer starting at the age of 30," Dr. Agonafer says.
Bal Gill's cancer journey
Bal Gill caught her cancer because of a thermal camera at the Camera Obscura tourist center in Edinburgh. The camera creates an image of your whole body by detecting your body's  heat and caught a patch of red heat right on her breast. "While making our way through the floors we got to the thermal imaging camera room," she told BBC. "As all families do, we entered and started to wave our arms and look at the images created."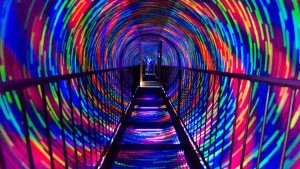 "While doing this, I noticed a heat patch (red in color) coming from my breast," she continued. "We thought it was odd and having looked at everyone else they didn't have the same. I took a picture and we carried on and enjoyed the rest of the museum."
She didn't see the photo until she was back at home after her trip, "A few days later when we returned home I was flicking through my pictures and I saw the image."
And after a quick online search, Gill, a deputy-director of finance for a university, learned that oncologists occasionally use thermal heat to detect cancer, "At this point, I searched on Google to see what this could mean and I saw a lot of articles about breast cancer and thermal imaging cameras."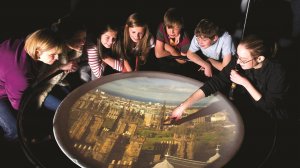 So she made an appointment to get it checked out, and that's when she recieved her cancer diagnosis, ""I made an appointment with the doctor and as it turns out I do have breast cancer, thankfully really early stages."
After the experience, she wrote a letter to Camera Obscura, explaining how their image had impacted her life.
"I just wanted to say thank you, without that camera I would never have known," she said about the tourist destination. "I know it's not the intention of the camera but for me it really was a life-changing visit. I cannot tell you enough about how my visit to the Camera Obscura changed my life."
Learn more about SurvivorNet's rigorous medical review process.