Facing Childhood Cancer
Isla Palul, 3, was diagnosed with retinoblastoma at just 14 months old after her mom noticed unsusual signs.
Her mom Rebecca noticed her right eye "whizzed out to the side and back again" as she was playing with her toys.
Retinoblastoma is the most common type of eye cancer found in children, but it is rare; approximately 200-300 children will be diagnosed with it in the U.S. each year.
When you notice something unusual in your body, or in your loved one's, talk to a doctor; advocate for your health and lead each doctor's appointment with a plan.
Isla Palul was just 14 months old when her mom Rebecca noticed a "subtle" symptom in her daughter's right eye that she initially thought was just lazy eye — but this ultimately led to a retinoblastoma diagnosis, a type of eye cancer that typically affects children under age 5.
The 35-year-old mom of two, who lives in Putney, London, with her 36-year-old wife Charlotte, was told of Isla's diagnosis in January 2021. Now, more than a year later, Isla is 3 years old and her tumor has decreased in size. Her parents are spreading awareness in hopes to help others notice eye cancer symptoms in their children early on.
Read More
"I remember playing with Isla on the floor, and her looking down at a toy then looking up at me," Rebecca said in a recent interview, according to the
Childhood Eye Cancer Trust
. "When she looked up, her right eye whizzed out to the side and back again as if it couldn't focus." The unusual eye movement was first noticed by Isla's moms around Christmas time in 2020. Rebecca continued, "We also noticed her iris would sometimes wobble. Both happened only a few times, they were quite subtle things. We assumed she had a lazy eye, and perhaps needed glasses. I remember not feeling very worried about it."
It was between Christmas and Jan. 1 that Isla's moms reached out to her doctor, who referred them to the Pediatric Clinic at St George's Hospital near London.
Isla then underwent a red reflex test (an examination of pupil reflections), which revealed her left eye seemed normal but her right eye did not. Following the test, Isla was referred to another doctor and booked for an MRI.
"During these checks. The nurse put a pair of special sunglasses on Isla. The glasses only had one lens, on the left-hand side, so the nurse could only see what Isla's right eye was doing," she explained. "Isla was sitting on my knee facing away from me, but with her left eye covered, I could see that her right eye couldn't focus on anything and was moving about all over the place."
In January 2021, Isla was diagnosed with a stage D tumor in her right eye at the Royal London Hospital.
Rebecca continued, "I remember being really shocked. A doctor came to examine Isla's eye. I remember her saying to me, 'Unfortunately, there is a tumor in her right eye', and being completely blindsided. I cried and Isla looked at me perfectly happy probably wondering what was going on."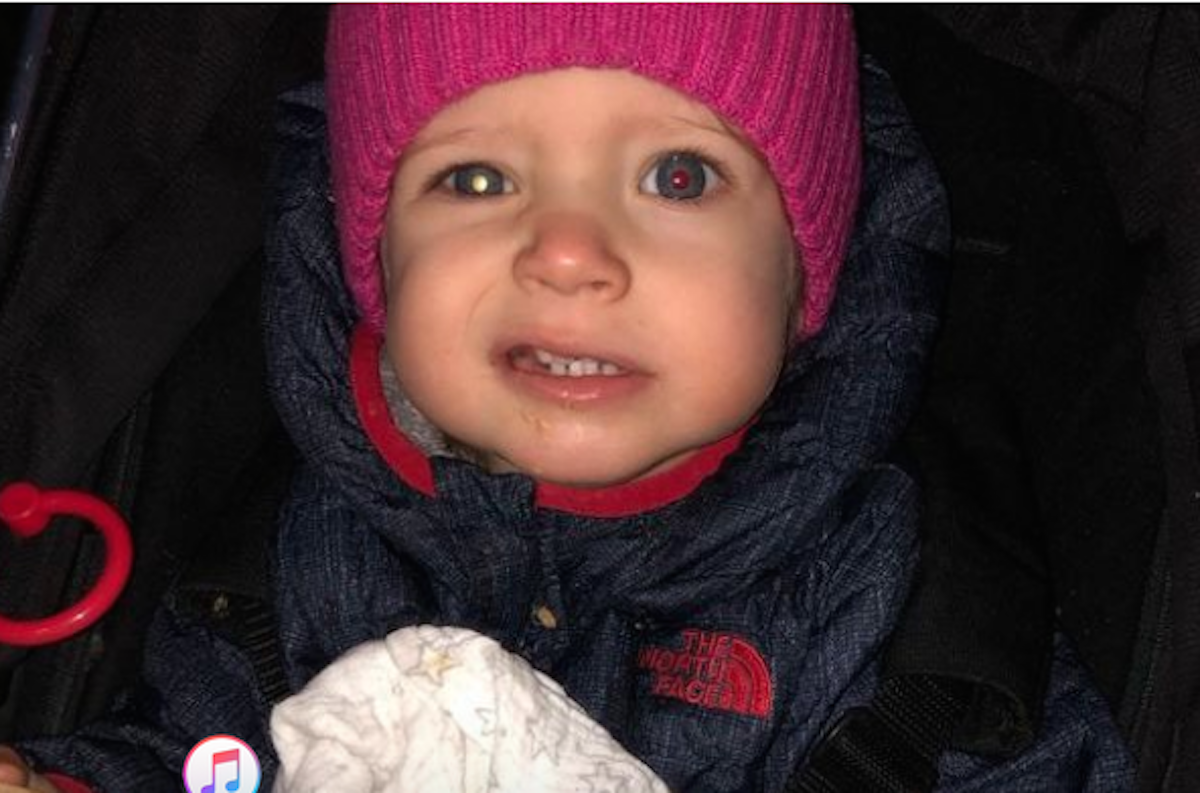 Thankfully, the tumor was deemed a "smaller stage D," which meant Isla's eye didn't have to be removed.
Isla then began systemic chemotherapy, treatment with anticancer drugs that travel through the blood to cells across the body.
"Before they could start this Isla needed to have a lumbar puncture and an MRI to make sure the cancer hadn't spread outside of her eye," she added. "She also had a port fitted into her chest to make it easier for the chemotherapy to be administered, and for regular blood samples to be taken."
It wasn't until after Isla completed six rounds of chemo that her parents noticed a white glow in her eye in a photo they took, a common sign of retinoblastoma.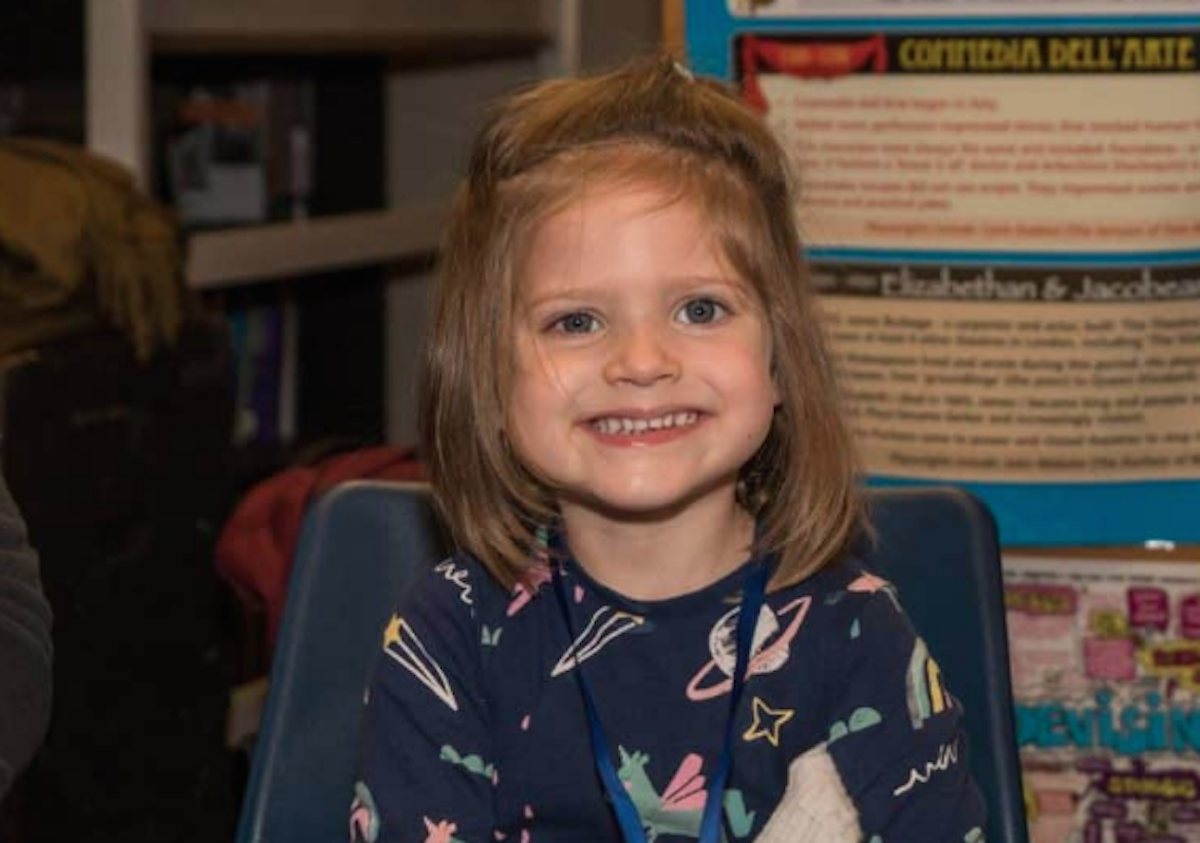 Isla, who was rewarded with the CHECT Champion award from the Childhood Eye Cancer Trust last year, fought cancer through chemotherapy "like a little trooper," her mom said.
"Although she must have felt terrible, she kept smiling. She kept us all going! The chemotherapy did its job, and the tumor shrank and is now stable, which is amazing," Rebecca said. "There are some tiny tumor seeds which keep appearing and growing in Isla's eye, so she has needed to have lots of cryotherapy to treat these. Isla has had periods of quite a few months where everything seems to be looking good."
Isle, however, has relapsed a few times and had to undergo more cryotherapy therapy, which she still needs. She also has reduced vision in her right eye. But her moms remain hopeful her treatments will come to an end.
"Isla is so brave. She's taken everything in her stride and has just kept going! She's been through more in her first few years than anyone should have to. She is amazing. She is an inspiration to us every day. She loves Frozen, really enjoys swimming, and has just started gymnastics. She's very busy," Rebecca said, adding that Isla became a big sister to her baby Theo in the summer of 2022, and "they adore each other."
Understanding 3-Year-Old Isla Palul's Type of Eye Cancer
The term eye cancer can refer to any cancer that begins in the eye. The most common type of eye cancer is ocular melanoma, however, the type Isla Palul has – retinoblastoma – happens to be the most common type of eye cancer in children.
RELATED: Warning Signs! The Top Ten Childhood Cancer Symptoms That Can Be Missed
This type of cancer usually develops in infants and very young children, and it rarely is found in children older than age 6. Overall, retinoblastoma is rare, but it makes up for about 2% of all childhood cancers. Additionally, approximately 200 to 300 children are diagnosed with the disease annually in the United States.
The Impact of a Childhood Cancer Diagnosis on the Whole Family
About 75 percent of children with retinoblastoma have a tumor present in only one eye (which is called unilateral retinoblastoma), but another 25 percent will have both eyes affected (something called bilateral retinoblastoma).
Thankfully, more than nine out of 10 children across the nation with retinoblastoma are able to be cured.
This type of cancer can also be inherited. However, most children diagnosed with retinoblastoma do not have a family history of the disease – regardless of whether theirs is heritable or non-heritable.
Meanwhile, children with heritable retinoblastoma have a 50 percent chance of eventually passing on the RB1 gene change that causes the tumor to their offspring. Children diagnosed with non-heritable retinoblastoma do not pass on an increased risk of developing the disease.
Symptoms of Retinoblastoma
Retinoblastoma is most often diagnosed after a parent or doctor notices something unusual about a child's eye. Since parents know their kids best, it's crucial for parents to be vigilant of their children's bodies and speak up about any changes or unusual behavior they notice.
Two of the more common signs and symptoms include:
White pupillary reflex (leukocoria) – the pupil appears white or pink instead of red when you shine a light in the eye
Lazy eye (strabismus) – the eyes don't appear to look in the same direction
Other less common signs and symptoms can be:
Vision problems
Eye pain
Redness of the white part of the eye
Bleeding in the front part of the eye
Bulging of the eye
A pupil that doesn't get smaller when exposed to bright light
A different color in each iris (the colored part of the eye)
And if the cancer spreads outside the eye, symptoms can vary depending on where it's located.
Symptoms for these scenarios can include:
Loss of appetite and weight loss
Headache
Vomiting
Lumps under the skin in the neck
How To Be A Better Caregiver For Your Loved One
It's important to note, however, that the majority of these signs and symptoms are most often caused by something other than retinoblastoma. Regardless, you should always mention any of these signs or symptoms to your child's doctor should they arise, as the outlook for retinoblastoma patients is not as good if the cancer has had time to metastasize (spread) outside of the eye.
Treating Retinoblastoma
The main ways to treat retinoblastoma are:
Surgery (Enucleation) for Retinoblastoma
Radiation Therapy for Retinoblastoma
Laser Therapy (Photocoagulation or Thermotherapy) for Retinoblastoma
Cryotherapy for Retinoblastoma
Chemotherapy for Retinoblastoma
In Isla Palul's case, she first underwent systemic chemotherapy before needing cryotherapy.
Systemic chemotherapy is when chemo drugs are injected through an IV or given by mouth to enter the bloodstream.
This form of chemo is offered in cycles, with periods of rest in between each treatment cycle, which lasts for a few weeks. In total, systemic chemo is done over the course of several months.
Some of the drugs used to treat retinoblastoma are Carboplatin, Cisplatin, Vincristine, Etoposide, Cyclophosphamide, Topotecan, Doxorubicin.
"Most often, 2 or 3 drugs are given at the same time. A standard combination is carboplatin, vincristine, and etoposide, although for very small tumors, only carboplatin and vincristine may be enough," as per the American Cancer Society. "Other drugs might be used if these are not effective.
Advocating for Yourself While Navigating the Medical World
Meanwhile, cryotherapy is done with a small metal probe "that is cooled to very low temperatures, killing the retinoblastoma cells by freezing them."
According to the ACS, "It is only effective for small tumors toward the front of the eye. It is not used routinely for children with several tumors."
This form of treatment is done while the child is under general anesthesia. "The probe is placed on the outer surface of the eyeball next to the tumor, which is then frozen and thawed several times," the ACS adds. "Cryotherapy is usually given 2 or 3 times, with about a month between treatments."
Advocating for Your Child
Here at SurvivorNet, we always encourage people to advocate for themselves when it comes to cancer and, more generally, health care. When it comes to a child, the parent must become the advocate.
And even if you're called "pushy" or people dismiss the concerns you have for your child, it's important to remember that you never know when speaking up about a seemingly unproblematic issue can lead to a very important diagnosis—cancer or otherwise.
Seeking multiple opinions is one way to make sure you or your child is getting the proper care and attention. You should also try to remember that not all doctors are in agreement. Recommendations for further testing or treatment options can vary, and sometimes it's essential to talk with multiple medical professionals.
Contributing: SurvivorNet Staff
Learn more about SurvivorNet's rigorous medical review process.
---