Learning About Lymphoma
Izzy Fletcher, 23, from Derby, England, was diagnosed with stage two Hodgkin lymphoma after feeling like her head was "going to explode" and her chest tightened up after drinking one glass of alcohol. She initially dismissed her symptoms as an allergy to alcohol.
Fletcher, who is set to start chemotherapy this month, admits that the most important lesson she's learned from her diagnosis is that "if you are worried about something, just go and get it checked out."
Lymphoma is a cancer of the immune system that affects infection-fighting cells called lymphocytes. And there are more than 40 different types of lymphoma.
Common lymphoma symptoms are painless swelling in lymph nodes, fatigue, fever, and night sweats.
What a college graduate, from Derby, England, believed to be alcohol-induced headaches turned out to be signs of stage two Hodgkin lymphoma.
Izzy Fletcher, 23, first started noticing unusual symptoms—feeling like her head was "going to explode" and her chest tighten up—after drinking one glass of wine in March 2022.
Read More
"It would be really strange, because I'd have one drink and the reaction to that would seem to last forever," Fletcher said, according to
The Mirror
. "I got one drink, I think it was a glass of wine or something. I started drinking it and had what started as a really splitting headache. It was really odd," she explained. "My head felt like it was going to explode. I had a really tight chest."
Related: College Co-Ed, 21, Thought Her Bad Stomach Pain Was A 'Hangover From Partying Too Much:' It Turned Out To Be Cancer
"If I was going out and knew that I was going to be drinking a lot, as soon as I started drinking more [the pain] went. So everyone was encouraging me to drink more," Fletcher continued. "My boyfriend used to say to me that it was just psychological and that if I [don't] think about it then it won't happen. And then you think, 'am I going crazy?'"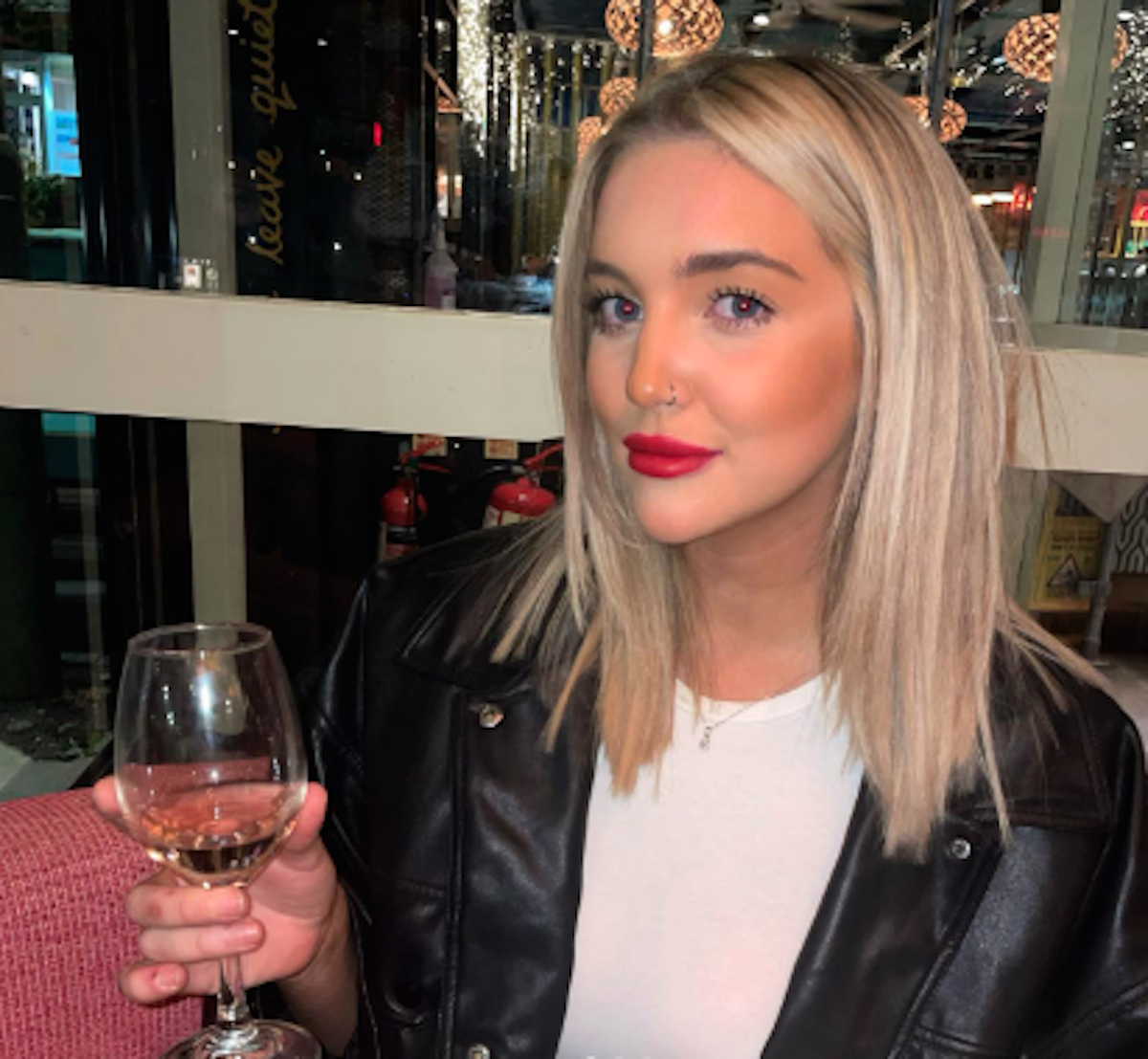 Following her ongoing symptoms, Fletcher decided to seek medical advice and underwent Southampton University Hospital in December.
After seeing a doctor and undergoing testing, Fletcher was relieved to learn that she had Hodgkin's lymphoma on January 10, a cancer which was also linked to the cough she had, confirming she "wasn't going crazy."
In a video shared on her TikTok, Fletcher noted that the cough, which was frequent and mostly came at night, was her "number one symptom." Her second "red flag" was the pain she experienced while drinking alcohol.
Another symptom she had was "really itchy legs," rashes, fatigue, and lumps above her collarbone.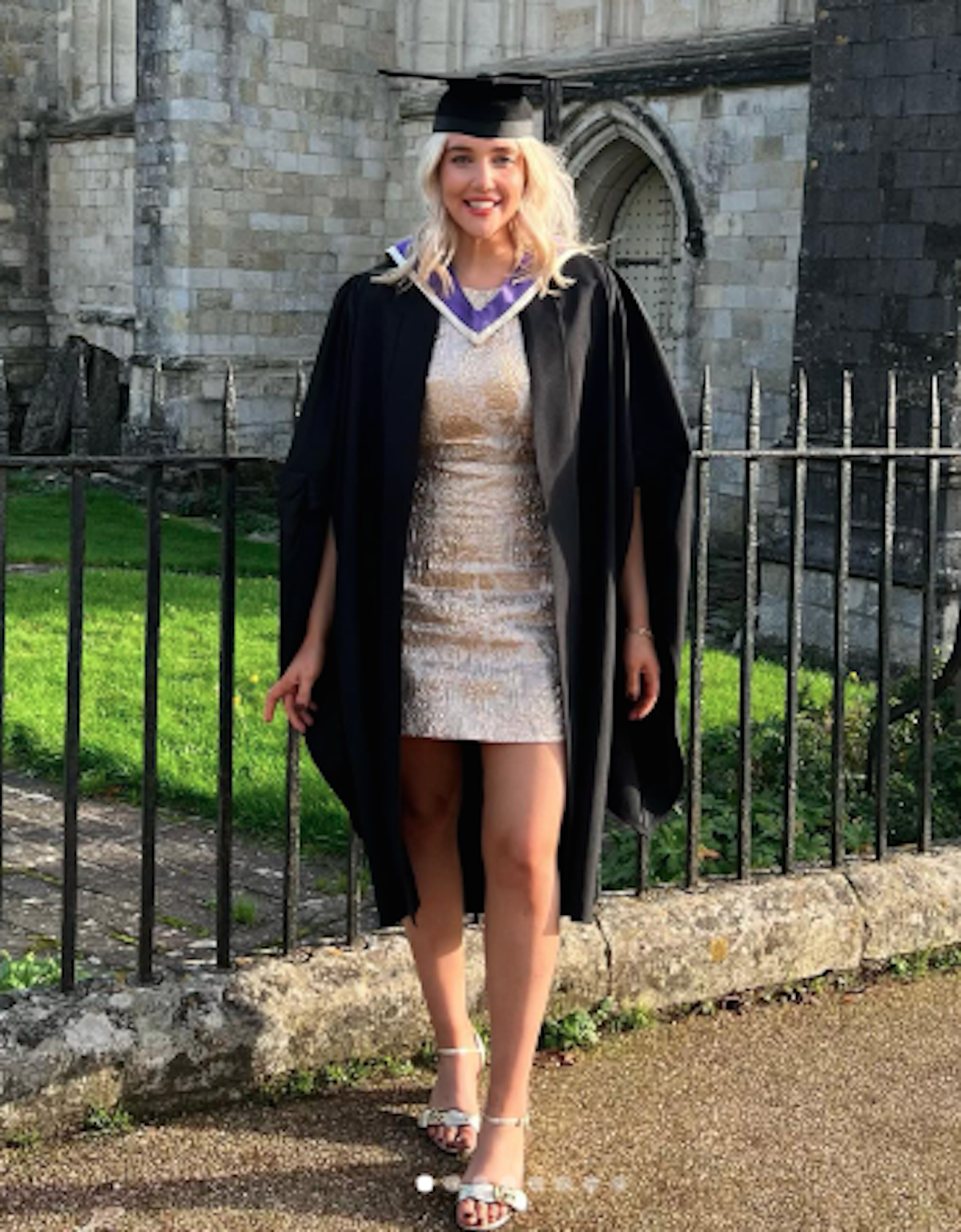 Fletcher, who has admitted to feeling anxiety in recent weeks, is set to start chemotherapy this month and is sharing her story in an effort to inspire others to get checked when experiencing unusual symptoms.
She admits that the most important lesson she's learned from her diagnosis is that "if you are worried about something, just go and get it checked out."
Fletcher, who describes herself as having "always been a big drink" who "loved to party," added, "I will still have a drink if I fancy it, you've just got to take it day by day. But sometimes, you know that the pain just isn't worth it if you're not going to be going hard and doing tequila shots all night."
Now, as the 23-year-old is set to embark on a six-week chemotherapy journey, which said has a "really high success rate," she is taking to TikTok to offer some insight into how she's handling everything.
In a recent video shared on her TikTok page, Fletcher explained, "I just want to say, I seem really happy and like myself now, and it's really weird because it's kind of like grief going through a cancer diagnosis. … I feel fine and then in like an hour I'll be crying my eyes out. So the rollercoaster of emotions is very strange."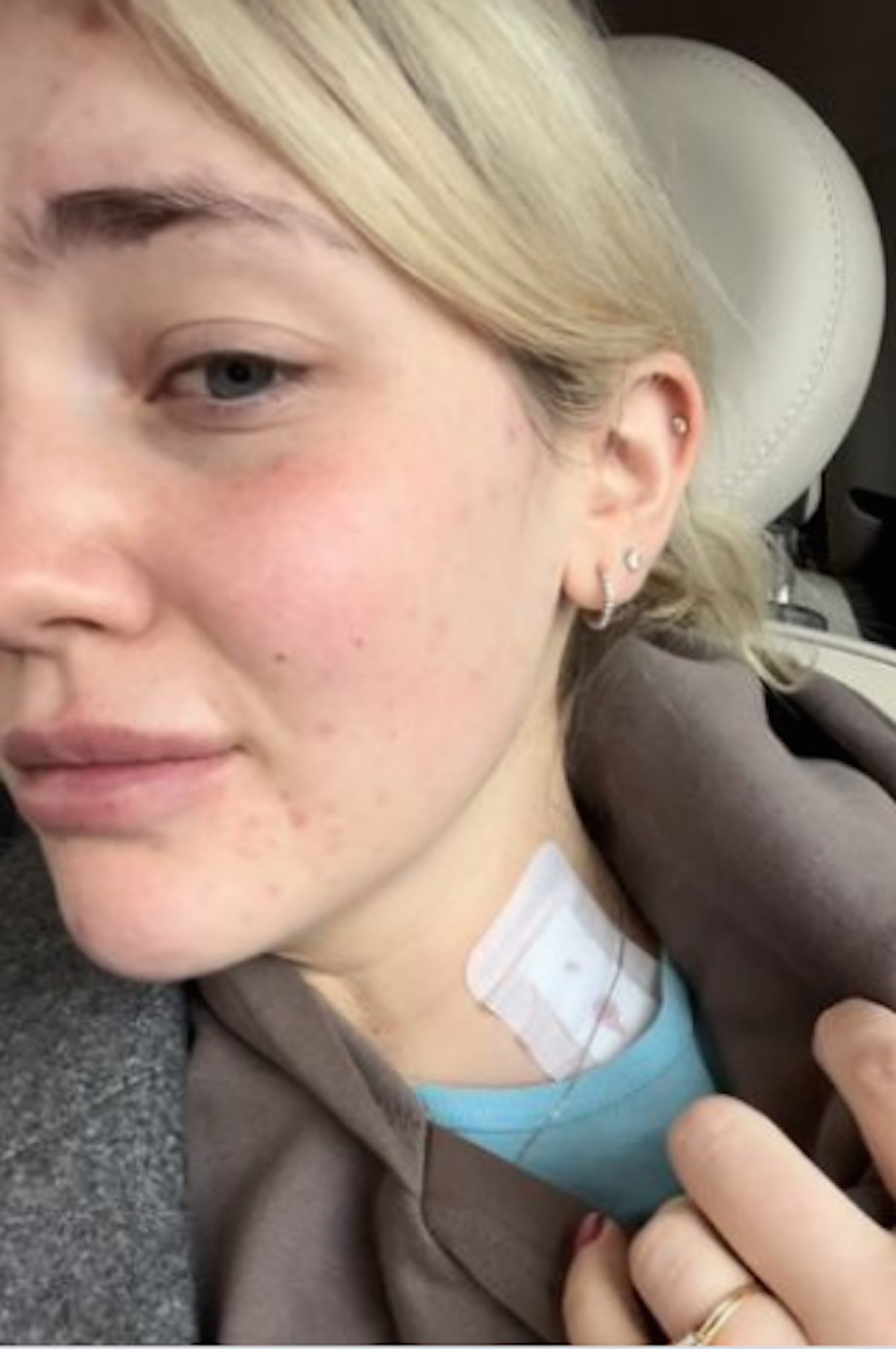 Understanding Lymphoma
Lymphoma is a type of blood cancer. Blood cancers can affect the bone marrow, blood cells, lymph nodes and other parts of the lymphatic system. The Leukemia & Lymphoma Society reports that every three minutes, one person in the U.S. is diagnosed with a blood cancer.
More specifically, lymphoma is a cancer of the immune system that begins in the white blood cells called lymphocytes. Lymphoma begins when lymphocytes develop a genetic mutation that makes them multiply much faster than normal. This mutation also forces older cells that would normally die to stay alive. From there, the quickly multiplying lymphocytes collect and build up in your lymph nodes, the small glands in your neck, armpits, and other parts of your body.
What Kind of Lymphoma Do You Have? Why Your Type Matters
It's important to note there are more than 40 different types of lymphoma. Hodgkin lymphoma and non-Hodgkin lymphoma are the main two sub-categories with the latter being more common. Diffuse large B-cell lymphoma (DLBCL) is the most common form of lymphoma.
The type of white blood cells linked to the disease determines the distinction between Hodgkin lymphoma and non-Hodgkin lymphoma. If doctors are unable to detect the Reed-Sternberg cell — a giant cell derived from B lymphocytes — then the cancer is categorized as non-Hodgkin lymphoma.
You might be at a higher risk for lymphoma if you:
Have been infected with the HIV or Epstein-Barr virus
Had an organ transplant
Have a family history of lymphoma
Have been treated with radiation or chemotherapy drugs for cancer in the past
Have an autoimmune disease
Signs of Lymphoma
One thing to note about lymphomas is this type of cancer often creeps in quietly, without symptoms. And even when symptoms do show up, they don't necessarily point directly to cancer. In a previous interview with SurvivorNet, Dr. Elise Chong, a medical oncologist at Penn Medicine, explained that lymphoma symptoms could be difficult to detect.
Sneaky Lymphoma Symptoms Often Lead to a Late Diagnosis
"The symptoms of lymphoma, especially if you have a low-grade lymphoma, often are no symptoms," Dr. Chong explained. "People say, but I feel completely fine, and that's very normal."
While people with lymphoma do not always have symptoms, some possible signs are:
Painless swelling of lymph nodes in your neck, armpits or groin
Persistent fatigue
Fever
Night sweats
Shortness of breath
Unexplained weight loss
Itchy skin
No matter what, it's important to communicate anything unusual happening to your body with your doctor. Even if there's nothing to worry about, it's good to rule out the possibility of more serious issues.
The Stages of Non-Hodgkin Lymphoma: How Your Stage Affects Your Outlook
Lymphoma Treatment Options
Lymphoma treatment, in general, depends greatly on the nature of your specific diagnosis. For non-Hodgkin lymphoma patients, their cancer is more likely to spread in a random fashion and be found in different groups of lymph nodes in the body. Hodgkin lymphoma cancers, on the other hand, are more likely to grow in a uniform way from one group of lymph nodes directly to another.
And even if you're not diagnosed until a later stage, Dr. Chong assured SurvivorNet that "unlike other cancers, where advanced stage is a death sentence, that's certainly not the case for lymphoma."
"We have many treatments with which people can either be cured with advanced stage lymphoma or have very good remissions," Dr. Chong said. "So it doesn't change how treatable someone is, even when they do have advanced stage lymphoma."
Some lymphomas, called indolent lymphomas, might not even need to be treated right away because they're slow-growing. In this case, careful monitoring — including imaging scans such as PET/CT — is used to track the progress of the cancer and gauge whether it needs treatment yet.
"Where I use PET/CT in my practice quite a bit is if I'm observing a patient … and there is some new symptom or situation which makes me concerned that the patient may be changing from an indolent lymphoma to a more aggressive lymphoma," Dr. Jakub Svoboda, a medical oncologist at Penn Medicine, previously told SurvivorNet. "We refer to it as transformation."
The Importance of Advocating for Your Health
Whether you are currently battling cancer or worried you might have it, it's always important to advocate for your health. Cancer is an incredibly serious disease, and you have every right to insist that your doctors investigate any possible signs of cancer.
And, as we saw in the case above, it's always crucial to speak up about any changes to your health — regardless of whether you suspect there's anything sinister behind them.
Be Pushy, Be Your Own Advocate… Don't Settle
"Every appointment you leave as a patient, there should be a plan for what the doc is going to do for you, and if that doesn't work, what the next plan is," Dr. Zuri Murrell, director of the Cedars-Sinai Colorectal Cancer Center, told SurvivorNet in a previous interview. "And I think that that's totally fair. And me as a health professional — that's what I do for all of my patients."
Mental Health: The Basics
The term mental health refers to both our emotional and psychological well-being. Our mental health can affect how we think, feel, and behave. Certain triggers like stress, traumatic events, or change in your physical health can affect mental health. One of the things Lovato stresses to her fans and followers is the importance of keeping tabs on your mental health, which could mean seeking treatment for some. This doesn't necessarily mean traditional therapy because while it may be really helpful (even life-changing) for some, that doesn't mean it's for everyone.
Problems with mood and overall mental well-being can be attributed to several factors. For some people it's genetic, while others may be experiencing a response to some sort of stressor or past trauma.
Learning To Cope With Mental Health Struggles
"I think flexibility is really a core of how to manage it," Dr. Samantha Boardman, a New York-based psychiatrist and author, tells SurvivorNet. "Are your coping strategies that you're using now, are they helpful in the way that they were in the past?"
Dr. Boardman suggests working to recognize any negative thoughts that may be making the process of cancer treatment more difficult, and trying to dismantle those to be more "realistically optimistic."
Related: Responding to Stress: How to Cope With Complex & Changing Emotions
In order to keep your mental health in check, it's important to be aware of signs — which can be subtle — that there is something affecting your mind. These signs include:
A change in eating or sleeping habits
Losing interest in people or usual activities
Experiencing little or no energy
Numb and/or hopeless feelings
Turning to drinking or drugs more than usual
Non-typical angry, upset, or on-edge feelings
Yelling/fighting with loved ones
Experiencing mood swings
Intrusive thoughts
Trouble getting through daily tasks
These symptoms can be wide-ranging and vary a great deal from person to person. Everyone experiences grief differently, for example. However, if you are feeling unusually sad, on-edge, or like you're no longer interested in activities you used to love, know that there are many treatment options available and many different healthy ways to help you cope.
Contributing: SurvivorNet Staff
Learn more about SurvivorNet's rigorous medical review process.
---