Common Hodgkin Lymphoma Symptoms Sometimes Missed
Molly Hunt, 21, found out she had Stage 2 Hodgkin lymphoma after confusing early signs of blood cancer with tiredness and feeling hungover.
Lymphoma is a cancer of the immune system that affects infection-fighting cells called lymphocytes. And there are more than 40 different types of lymphoma.
Common Hodgkin Lymphoma symptoms are swelling in lymph nodes that can cause a lump near the collar bone, neck, or under the arm. Meanwhile, fatigue, fever, night sweats, and weight loss can be present for several months. And itchy skin may send patients to a dermatologist seeking answers.
Molly Hunt, 21, was living life as an average college student and suspected nothing of it when she felt sick after a night out of drinking with her friends. She wrongly likened her stomach pain after consuming alcohol and extreme fatigue to hangover symptoms.
By February 2022, Hunt noticed a lump the size of two grapes on her collarbone, which prompted her to get checked and ultimately find out she had Stage 2 Hodgkin lymphoma.
Read More
"I was extremely tired.
Sometimes I thought it was a hangover
and sometimes I put it down to the workload at uni. I thought I was overdoing myself," Hunt told Kennedy News. "I found myself going to less and less lectures because I was just so tired. Even if I went to bed at 10pm sometimes I'd be waking up at 1pm because I was exhausted. I couldn't really focus on a lot of things as the tiredness was that bad."
She continued, "I was going out and drinking quite a lot, and the day after I'd get a really bad pain in my tummy underneath my diaphragm. I felt like I had to contract to get the pain away and tense my whole body, it was quite a surreal pain. I just thought 'oh this is new, my body must not be able to tolerate alcohol as much.'"
Soon Hunt started going out less with her college friends because she would anticipate feeling "abnormally awful" the next morning. It wasn't until about four months after her symptoms started that she discovered a lump on her collarbone in February 2022 and her skin started to get itchy.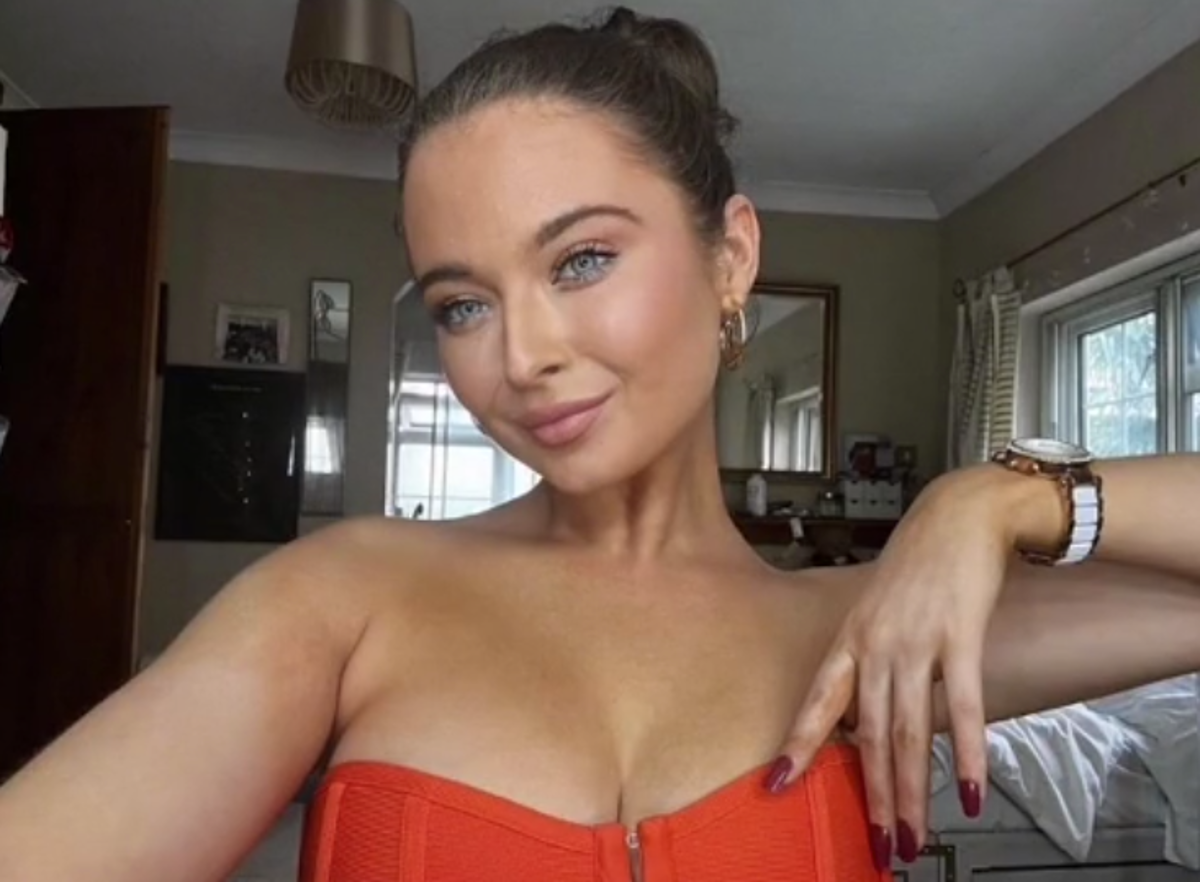 In a video update posted this summer, Hunt shared with her TikTok followers this summer, she explained that doctors first thought the lump on her neck was due to swollen lymph nodes from glandular fever. But when she returned to the doctors in March, the lump worsened and she was sent to have a scan.
"They decided to do a biopsy straight after my scan because my lump was too big and my neck started to become covered in lumps. My skin became itchy and I got tired very easily," Hunt, who started chemotherapy on June 20, explained. "I found out a month later that I have Stage 2 Hodgkin's lymphoma which is a type of blood cancer."
After her lump didn't go away, Hunt was put on a two-week cancer referral and sent to get an ultrasound. Doctors then found a second lump and performed a biopsy on May 3. Then, what Hunt describes as the "hardest thing" she's ever heard of in her life, the university student learned of her cancer diagnosis on June 1. She was also found to have an 8cm growth in her chest.
Related: 7 Sneaky Symptoms of Hodgkin Lymphoma: Doctor Told One Teen Her Itchy Rash – Later Diagnosed at Stage 4 – Was 'Nothing to Worry About'
And although Hunt was scared for her future and "the unknown," she started chemo on June 20 and has been in remission as of this month. She was originally set to do 12 rounds of chemo, but she only needed five.
Molly is now raising awareness for Hodgkin's lymphoma and money for a charity called Lymphoma Action through a GoFundMe page she set up. "My message would be – nobody knows your body like yourself and if you know that there's something off get it checked because it can definitely save your life," she added. "As soon as I found my lump I was in the doctors, which was why I caught it early so I'm quite lucky."
What is Hodgkin Lymphoma?
Lymphoma is a cancer of the immune system that affects infection-fighting cells called lymphocytes. And there are more than 40 different types of lymphoma.
"Lymphoma is split up into a number of different categories," Dr. Elise Chong, a medical oncologist at Penn Medicine, tells SurvivorNet. "The first distinguishing breakpoint, if you will, is non-Hodgkin lymphoma versus Hodgkin lymphoma," she adds, "and those sound like two different categories. But non-Hodgkin lymphoma comprises the majority of lymphoma, and Hodgkin lymphoma is a single specific type of lymphoma."
Hodgkin lymphoma has distinctive, giant cells called Reed-Sternberg cells. The presence of these cells, which can be seen under a microscope, will help your doctor determine which of the two lymphoma types you have.
What Kind of Lymphoma Do You Have? Why Your Type Matters
There are a few other important differences between non-Hodgkin lymphoma and Hodgkin lymphoma to note. For one thing, non-Hodgkin lymphoma is much more common. And you're more likely to be diagnosed with it after age 55. People usually develop Hodgkin lymphoma at a younger age, like Immy.
It should be noted that another difference between these two types of lymphoma is that non-Hodgkin lymphoma is more likely to spread in a random fashion and be found in different groups of lymph nodes in the body, while Hodgkin lymphoma is more likely to grow in a uniform way from one group of lymph nodes directly to another.
Related: 'Itchy' College Co-Ed, 20, Finds Sinister Lump In Her Neck While Rolling Around In Bed Due to Night Sweats: It Turned Out To Be Cancer
These two different types of lymphoma behave, spread and respond to treatment differently, so it's important for you to know which type you have.
Risk factors for Hodgkin lymphoma
There are a few factors that can increase a person's risk of developing Hodgkin lymphoma, including:
Age (the disease is most common in people in their 20s and 30s or after age 55)
Family history (those who had a close family member with the disease may have a higher risk)
Epstein-Barr virus (EBV) infection (EBV is the virus that causes mononucleosis)
HIV (people with HIV may have a higher risk for the disease)
Weakened immune system
There has also been some speculation that exposure to weed-killers, like Roundup, can cause lymphoma — either Hodgkin lymphoma or non-Hodgkin lymphoma — to develop. However, this has not been conclusively proven.
Related: ''Grey and Lethargic' Girl, 12, Had 'Itchy Skin And Night Sweats' Her Doctors Said Were A Just A Viral Infection; It Turned Out To Be Cancer
Dr. Catherine Diefenbach Explains What We Know About Roundup's Link To Lymphoma
"There hasn't been a study that has conclusively proved a causal link between Roundup and lymphoma, although it does look like Roundup probably increases lymphoma risk," says Dr. Catherine Diefenbach, a hematologist/oncologist at NYU Langone Health. "Instead, we need to understand why there's a higher number of lymphoma cases among people who use Roundup."
Related: 27-Year-Old Man Thought Itchiness & Exhaustion Was Caused By a Hangover, It Turned Out To Be Cancer: Always Get Checked
Studies show an association between exposure to certain weed killers and non-Hodgkin lymphoma — however, association does not mean cause.
Signs and Symptoms of Hodgkin lymphoma
A Hodgkin lymphoma diagnosis can emerge from one or more of the following symptoms, according to the Mayo Clinic.
Severe itching
Painless swelling of lymph nodes in neck, armpits, or groin
Night sweats
Fever
Unexplained weight loss
Persistent fatigue
Increased sensitivity to the effects of alcohol or pain in your lymph nodes after drinking alcohol
Contributing: SurvivorNet Staff
Learn more about SurvivorNet's rigorous medical review process.
---