A Philadelphia Flyer's source tells SurvivorNet that the 23-year-old player Oskar Lindbloom is still receiving treatment. "His treatments are not completed, but we're all rooting for him and praying for his full recovery," says the source. We had previously reported that the Swedish-born NHL player had completed treatment.
The SurvivorNet community wishes Oskar well.
Read More
Lindblom received a round of support from hockey fans when the NHL tweeted, "Who's the best player wearing No. 23 in the game today?" Fans flooded the site with votes for Lindbloom who was diagnosed with a fairly rare cancer called 
Ewing's sarcoma
 last December. The disease can form in the soft tissue or the bones.
RELATED: The Philadelphia Flyers' Inspirational Oskar Lindblom Cheers His Team on Amid Treatment — 'He Just Brightens Your Day'
Lindblom is nearing the end of his treatment. "He feels great, considering the condition he's in," said Brett Flahr, Flyers assistant general manager told the Philadelphia Inquirer in late April, "He's such a great kid and he's determined. His focus is to play as soon as possible.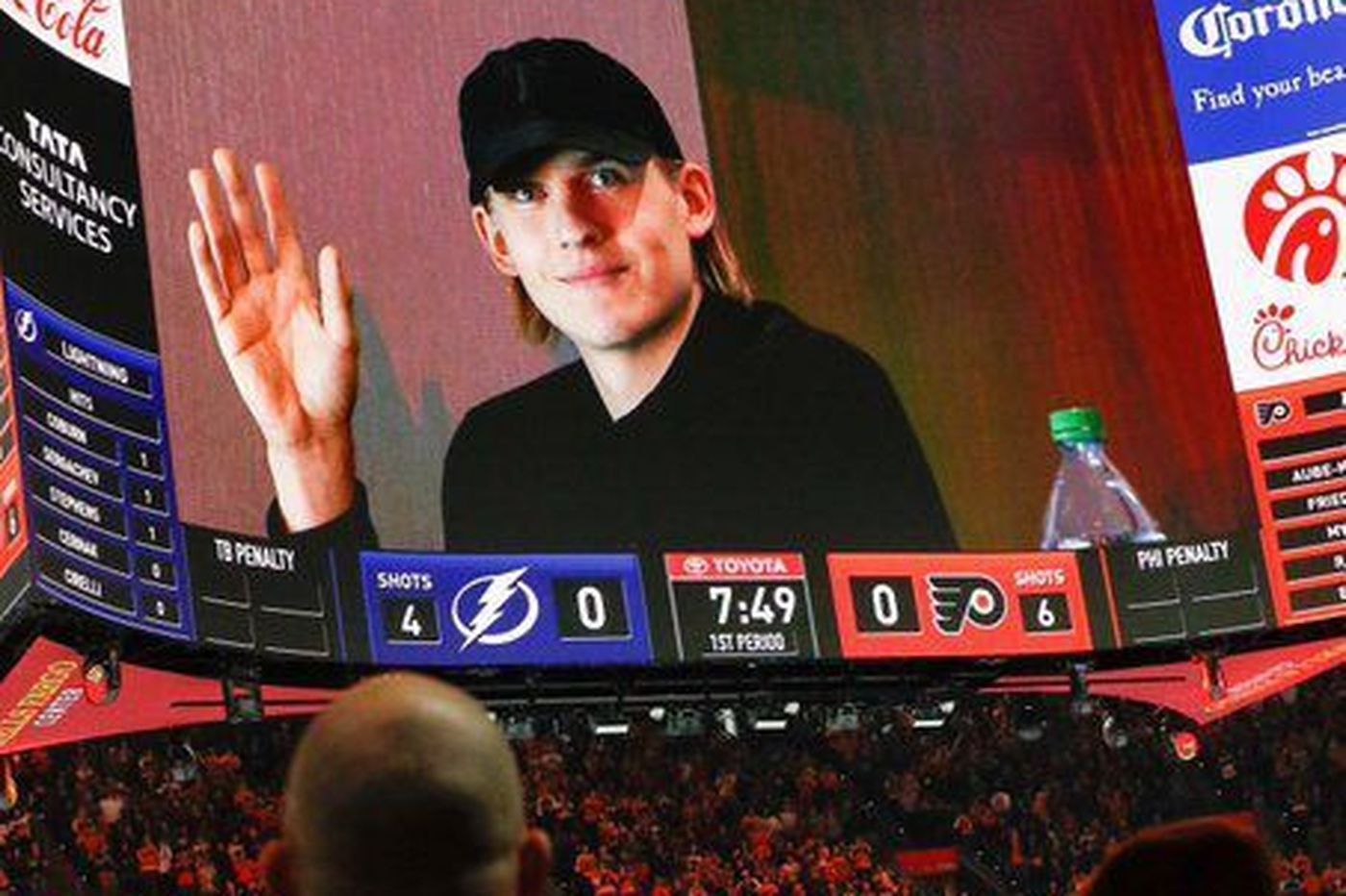 Lindblom received a standing ovation at Philadelphia's Wells Fargo Center as he began treatment for Ewing's Sarcoma.  
He's doing things like cardio [workouts] to keep up his strength as much as he can. I think as soon as he gets his last treatments, the worst is over for him." Flahr reported that Lindblom's doctors have told the young forward "it couldn't have gone any better for him."
We know who the strongest is. https://t.co/diD8eoWNcv pic.twitter.com/8Rzlj7dP2f

— x-Philadelphia Flyers (@NHLFlyers) May 29, 2020

With the news of his diagnosis, Flyers fans launched the hashtag #OskarStrong and waved "I Fight for Oskar" signs at games to support the breakout player from Sweden, who was tied as team lead for goals with 11 goals in 30 games, according to CBS Philly. He also has 7 assists.
View this post on Instagram

Lindblom's cancer battle also strengthened his team. "Obviously we want to win," player Kevin Hayes told NBC Sports, "but hockey is an extreme lower level … compared to cancer. He's going through a battle and … he just brings a bunch of energy to this room." Lindblom's equipment hangs at the Wells Fargo Center, ready for his return.
What Is Ewing's Sarcoma?
A cancer that grows in the bone or soft tissue, Ewing's Sarcoma can also develop in the bones and other parts of the body. It's most common in adolescents and young adults, from teen years to the mid-20s, according to the National Cancer Institute. Signs of the disease include:
Pain and/or swelling, usually in the arms, legs, chest, back, or pelvis.
A lump (which may feel soft and warm) in the arms, legs, chest, or pelvis
Fever for no known reason
A bone that breaks for no known reason
While the Flyers did not reveal details of Lindblom's case, treatment for Ewing's sarcoma may involve a combination of chemotherapy, radiation, and surgery. treatment plans are determined by the location of the cancer — whether it's in the bones or soft tissues — and the size of the tumor at the time of diagnosis.
RELATED: Flyers' Oskar Lindblom, 23, Ends Season Early after Being Diagnosed with Rare Cancer — What are the Options for Treatment?
A rare cancer, more than 16,000 new cases diagnosed each year. If cancer is caught early, in a localized stage, the 5-year survival rate for Ewing's sarcoma is around 83%, according to the American Cancer Society.
Genes, Age, and Ancestry
Major advancements in treatment have improved the outlook for those diagnosed with the disease, according to the Mayo Clinic. After completion of treatment, lifelong monitoring is recommended to watch for potential late effects of intense chemotherapy and
RELATED: Fit & Fighting: The Inspirational Athletes Changing the Ways We Think About Cancer
radiation. The disease begins when a cell develops changes in its DNA — most often a gene called EWSR1. The mutated gene tells cells to multiply quickly, resulting in a mass (tumor) of abnormal cells that can invade and destroy healthy body tissue. When doctors suspect Ewing's sarcoma, they may test cancer cells to look for changes in this gene.
Risk factors include age — the disease is most often seen in children and teenagers — and ancestry. Ewing's sarcoma is more common in people of European ancestry and much less commonly diagnosed in people of African and East Asian descent.
Learn more about SurvivorNet's rigorous medical review process.